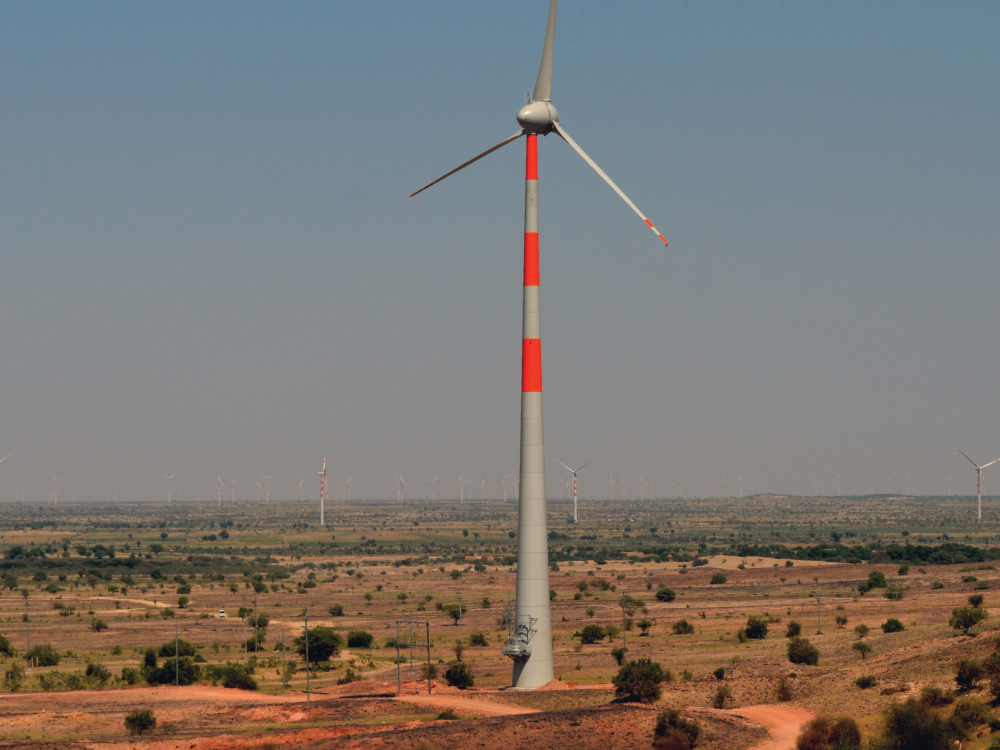 Case studies
Ostro Energy
With increasing demand for power and frequent energy shortages, India presents a great opportunity to invest in high quality, clean energy provision that will help boost the economy's growth and beneft local communities while also ofering potential to generate signifcant returns to investors.
The opportunity
As the ffth largest wind market in the world, India has a target of 100GW for solar and 60GW for wind energy generation by 2022. Yet it is also a highly complex market that has the potential to trip up the unwary. In 2012, Actis, with its proven, replicable model for building strong, growing energy businesses, coupled with on-the-ground presence, spotted an opportunity to build a scalable renewable energy company to help meet India's 5%-7% annual growth in demand for power. Unable to fnd the right business to back, we opted to take a diferent perspective and created a new platform adopting the same model as our previous renewable energy investments – Chile's Aela Energía, Brazil's Atlantic Energias Renováveis, Mexico's Zuma Energía, Africa's Lekela and Costa Rica's GME.
Using our contacts and reputation, we identifed and attracted two exceptional and highly experienced individuals to become COO and CEO of our newly created Ostro Energy (Ostro) in 2014. We committed US$230m to establish the company with further capital deployed to commence development of a promising pipeline of projects, starting with 100MW in Tejuva and Rajgarh in Rajasthan.
What did we do?
Within four months we had assembled a team of 70 people and received approval from the Actis investment committee to develop 800MW of wind capacity and 200MW of solar capacity. Importantly, our rigorous due diligence process highlighted the need to focus on areas where execution risk on projects was lowest, given the complex and occasionally unpredictable nature of the regulatory regime in some Indian states. It also identifed areas where ESG considerations were high priority. with actions identifed to ensure that Actis had a licence to operate not only in the more formal regulatory sense, but also by ensuring that Ostro had the backing of local communities.
In common with all our energy investments, we assessed the value drivers for Ostro according to the Actis Energy Impact Model, which encompasses six categories: Finance, People, Social/Community, Infrastructure, Environment and Governance. This is a framework that enables Actis and management to monitor the company's progress and performance against these focus areas using detailed KPIs and driven by comprehensive incentivisation structures.
As with other markets in which Actis invests, India lacks established standards in areas such as workers' accommodation, labour conditions and access to safe drinking water and sanitation. To help management address these issues, we created a Labour Accommodation Standards Policy to ensure that Ostro adhered to international best practice and, crucially, created a trickledown efect by requiring that contractors and sub-contractors working on Ostro projects also adhered to these standards. In addition, the company developed a Security/Human Rights Protocol in line with UN voluntary guidelines. Not only do these policies mitigate risk and elevate standards at Ostro sites, they also build a higher quality and more valuable company.
Actis places a strong emphasis on applying its experience from other similar businesses. At Ostro, that meant applying lessons learned from building energy businesses as well as engaging a third-party technical ESG consultant to review best practice in wind farms across India. This clearly informed our priorities at Ostro. However, the fndings have also been shared with other Actis companies so they can beneft from work we've done.
How has the company developed?
In a market usually beset by signifcant project delays, Ostro's performance stands out. It is currently ahead of plan with 650MW of wind assets in operation and a further 460MW of wind and solar power projects under construction across Karnataka, Gujarat, Rajasthan and Telengana.
This is the result of having built a strong management team, establishing the right processes in the business and an insistence on adhering to best international practice. Actis brought in two energy project experts to work closely with management and contractors to ensure high standards are met and that projects are fnished on time. This discipline and the emphasis on rigorous ESG standards at Ostro has enabled the company to secure additional lines of debt fnance from development fnance institutions such as the International Finance Corporation to fund project development.
In addition, as an investor in over 50 companies around the world, Actis is able to draw on its strong procurement capability. In the same year as we established Ostro, we also created a Mexican wind energy business with an initial development of 350MW of capacity. This allowed us to negotiate better value contracts with global suppliers we trusted and knew could deliver.
Our approach to value creation is also evident in Ostro's health and safety record. In one year alone, workers undertook nearly 2,150 hours of safety training and the company's rigorous safety assessment process identifed and corrected 301 potential hazards. The result was that not a single hour of lost time was recorded due to injury.
Ostro's social impact has been signifcant in other areas. One example is its water ATMs in Rajasthan, one of India's driest states. Communities in the region face challenges in gaining access to drinking water, an issue compounded by the naturally occurring high fuoride content of the groundwater, which causes dental and skeletal problems, joint immobility and afects children's growth. The ATMs are an innovative solution that use osmosis and UV to purify water, providing safe drinking water for a small fee for the inhabitants of eight villages across the state. In January 2017 alone, around 75,000 litres of water were discharged through the ATM scheme, with usage growing as the scheme is rolled out across more villages.
During construction phases, the company has directly contributed to the creation of over 1,500 jobs for Indian workers and Ostro has implemented a variety of programmes to improve the lives of local communities.
The future
With 100 full time employees, Ostro is now an established renewable energy company with a reputation for delivering on time and to a high standard. It has an ambitious development plan with a strong pipeline of projects under evaluation in both the wind and solar generation spaces. It is therefore well positioned to capitalise on the Indian government's recent 10-year energy blueprint, which predicts that 57% of the country's electricity capacity will come from non-fossil fuel sources by 2027.