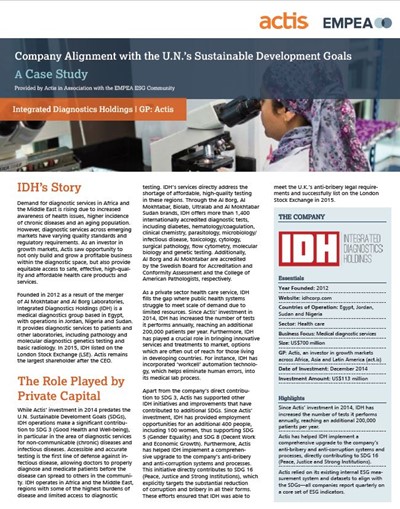 Company Alignment with the U.N.'s Sustainable Development Goals
IDH's Story
Demand for diagnostic services in Africa and the Middle East is rising due to increased awareness of health issues, higher incidence of chronic diseases and an aging population. However, diagnostic services across emerging markets have varying quality standards and regulatory requirements. As an investor in growth markets, Actis saw opportunity to not only build and grow a profitable business within the diagnostic space, but also provide equitable access to safe, effective, high-quality and affordable health care products and services.
Founded in 2012 as a result of the merger of Al Mokhtabar and Al Borg Laboratories, Integrated Diagnostics Holdings (IDH) is a medical diagnostics group based in Egypt, with operations in Jordan, Nigeria and Sudan. It provides diagnostic services to patients and other laboratories, including pathology and molecular diagnostics genetics testing and basic radiology. In 2015, IDH listed on the London Stock Exchange (LSE). Actis remains the largest shareholder after the CEO.
For the full story click the download link.