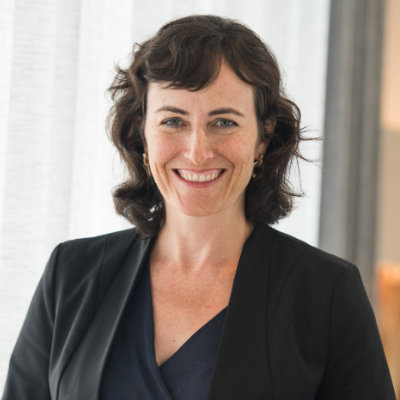 Lisa Pinsley
Head of Africa Energy Infrastructure, Actis
Recently promoted to Head of Africa, Energy Infrastructure at Actis, Lisa Pinsley has spent most of her career in emerging markets and most of her life in male-dominated environments. Here, we catch up with her to talk about her views of getting ahead when you are in the minority and why frontier markets are an exciting place to be.
Can you tell us about your career journey?
"I spent my early career in Afghanistan, initially working for the United Nations Development Programme, where I was advising on disarmament, demobilisation and reintegration and then for the Afghan Finance Minister on economic reform. These roles were fascinating, and an education on how an emerging market works on the micro and macro levels, but they showed me the limitations of the public sector – there are a lot of stakeholders, and projects are subject to election cycles, so it's hard to get things done. There were some extremely talented Afghan staff at the UN as the job was one of the best paid in the country and it offered a route out of the country, which was extremely unstable. But I realised that I wanted to be in the private sector, building long-lasting economic blocks, such as manufacturing, energy, hotel chains and improving agriculture to export standards, as a means to driving productive, enduring development. I completed an MBA and at the time, the renewable energy revolution was really taking off so I knew that was the area for me to focus on.
I wanted to stay in emerging markets, so I moved to AES Africa Power Company, then to Globeleq and on to American Capital. Globeleq at the time was an Actis portfolio company and Actis acquired a number of businesses from AES and American Capital – they were the most active, focused and flexible buyers of assets – and so I already knew the firm before I joined in 2016. I now manage a team of seven across London and Cape Town and am responsible for African investments for Actis' energy long-life infrastructure funds."
How have you found the gender balance through your career?
"I have always been in situations where I am in the minority. I went to a boys' boarding school in the US that in my first year became coeducational but was still predominantly male. I then went on to study applied mathematics at Harvard, where I was often the only female in the class. I'm not sure I noticed the gender dynamics until I went on to do an MA in literature, where, for the first time in my life, I was with mainly female classmates.
Overall, financial services is male-dominated, especially in more senior positions and the same is true of Afghanistan, where men have positions of power because of cultural norms and even the ex-pat community was largely made up of men. So, it's been a constant in my life and I've charged on with blinders on. My approach may have been a bit naïve, but in some ways, my naivety helped me get through."
What challenges do you think women face in these kinds of situation?
"I think men are often groomed for positions in a way that women tend not to be. I have never felt groomed until finding this support at Actis – I'm not complaining; it's the way things are. I've always let my work speak for itself, and have felt that I had to prove myself more than others because of my gender.
I think having a family is when the challenges really start to bite in terms of career trajectory. The first years of a child's life are so all-consuming, you have to be able to take time out and travel less. In my first maternity leave, I took three months, but it was difficult because this industry is so deal-based and it's not straightforward to hand over a deal and then take it back
again. This realisation meant that with my next two children, I decided to hand over many of my day to day responsibilities and continue working on the advanced deals I wanted to do, and I worked from home on these. I had a nanny and a hands-on husband and was able to take calls from lenders or advisors in my pyjamas if I needed to.
If there is a positive to be drawn from our experiences with COVID-19, I hope that it is a greater realisation that flexible working can happen and that should really help women's ability to manage a young family and her career."
Did you ever have a role model?
"When I was 24, I was working for an internet start-up in London and my manager there was quite inspirational. She was in her 30s, former management consultant, had kids and she was bright and assertive. She was an early role model for me, but since I've joined here, Lucy Heintz, my boss has been an amazing role model."
How is Actis working to improve the gender balance and diversity in the firm?
"Actis is trying really hard here and the most important thing is that the executive committee takes the issue very seriously, with Lucy driving the initiatives. We have an open door policy, mentoring schemes, unconscious bias training and there have been a series of speakers at events. It means the issue gets exposure, and it is at the front of people's minds. That doesn't on its own solve problems, but it creates awareness of what the problems may be, whether they are related to gender or race – to make improvements, you have to be prepared to raise uncomfortable issues.
We do have women in senior positions, with Susan Wilkins, our CFO, and Shami Nissan, our Head of Responsible Investment, on our executive committee, and with Lucy as head of Energy Fund 5, but there is a recognition that there is much more we can do, especially when it comes to attracting more women into investment positions who can then move up the organisation."
What advice would you offer others looking to get into senior positions?
"You need to work at marketing yourself and your achievements. Don't expect others to notice what you're doing – you really have to be proactive about this. Use 'I', not 'we' so you make sure you take the credit for a good job. Spend time being strategic in how you manage your reputation upwards rather than focusing on your work downwards. And, finally, pay for good help at home."