Press release
Actis forms strategic partnership with leading Vietnamese manufacturing group and industrial real estate developer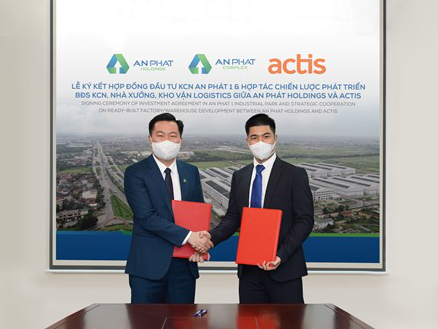 Actis, a leading global investor in sustainable infrastructure, has today announced that it has formed a strategic partnership with An Phat Holdings, a leading company in advanced technology and environmentally-friendly plastic production in Southeast Asia and a prominent industrial real estate developer and operator in Vietnam. The partnership involves Actis investing over US $20 million into a joint venture with An Phat Complex, a member of An Phat Holdings to develop An Phat 1 Industrial Park.
The relationship between Actis and An Phat Holdings goes beyond the initial investment as both sides have also agreed to form a strategic partnership to develop ready-build factory and warehouse (RBF / RBW) for lease worth US $250 million.
The strategic partnership comes at a time when global manufacturers accelerate the diversification of supply chains to minimise the disruption that the COVID-19 pandemic caused as well as to accommodate the China Plus One Strategy, whereby manufacturers create an additional base outside of China. The site is favourably located in the Hai Duong province, a tier-1 industrial city in the centre of the Vietnam Northern Key Economic Zone, which benefits from a skilled work force, high quality infrastructure, highway connectivity to the major deep sea and air ports and its close proximity to the Chinese border.
An Phat 1 Industrial Park, is one of the two industrial parks owned by An Phat Holdings in the Hai Duong province. It is 180 hectares in size and its aim is to develop Hai Duong's leading sustainable, high-tech industrial park that will house a wide range of sectors from electronics, food and beverage and injections moulding among many others. It will also benefit from well-managed industrial park facilities that will support hard and soft infrastructure for manufacturers on site.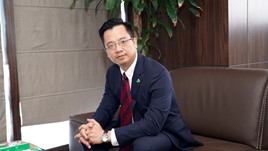 Mr. Dinh Xuan Cuong - Vice Chairman, Chief Executive Officer of An Phat Holdings said, "An Phat 1 Industrial Park project marks the beginning of a long-term and strategic partnership between An Phat Holdings and Actis. The partnership will not only see Actis providing the initial capital, but also provides resources to implement new projects and maximise the potential of the industrial real estate segment for the area. Sharing the same goal of developing environmentally friendly Industrial Parks, An Phat Holdings and Actis will cooperate to develop industrial zones as well as ready-built factories and warehouses for lease, with the aim of building the leading logistics centres in Hai Duong, in north Vietnam."
Reflecting on the partnership, Brian Chinappi, Head of Asia Real Estate at Actis said, "The industrial and logistics sector is consistent with our strategy to invest in sustainable infrastructure in growth markets in Asia and globally. We see compelling opportunities to pursue our build-to-core strategy in this sector, reinforced by what we at Actis refer to as the 4Ds: demographic shifts, digital disruption, deficient supply and demand for yield.
"Vietnam's industrial and logistics real estate market is poised for outsized growth given the sustained relocation of manufacturing bases from markets like China, strong growth in domestic exports and imports, and an accelerating shift to e-commerce retailing. An Phat Holdings has a strong track record in this space, a clear development strategy, and like Actis, it is fully committed to sustainable development. We are excited to embark our journey with them starting with the development of An Phat 1 Industrial Park".
An Phat 1 Industrial Park is currently in the site clearance stage as it prepares for construction to begin in the third quarter of 2021. When it is fully operational, An Phat 1 Industrial Park aims to attract 50-70 manufacturing plants and warehouses, creating jobs for approximately 12,000 workers.
Sign up to the street view for the latest news and insights