Press release
An enabling enterprise environment and accountability are key for long term future of Nigeria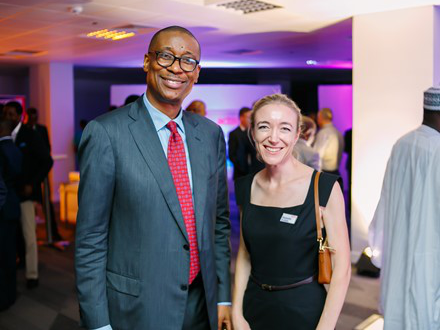 Actis, a leading growth markets investor, hosted over 200 senior public and private sector decision makers in Lagos at Heritage Place in Ikoyi to share Actis's perspectives on the Africa opportunity and potential for Nigeria. The discussion focused  on the role of private capital in developing the local economy and the investment opportunities available in the country as well as  the government's commitment towards economic diversification.
The discussants included Dr. Okechukwu Enelamah, a respected private capital investor and now the honourable Minister of IndustryTrade and Investment; Natalie Kolbe, global Head of Private Equity at  Actis, Funke Okubadejo, Director  Real Estate, Actis West Africa and Tony Abakisi, Investment Principal at Actis.
The Federal Government has laid out a roadmap towards diversifying the local economy and enhancing public infrastructure whilst supporting high growth sectors in the country and boosting exports.
Commenting on Nigeria's economy, Okechukwu Enelamah, Minister of Industry, Trade and Investment said, "I want Nigeria to be the number one growth market. Nigeria presents diverse investment opportunities in areas that would not only support the local economy but also deliver significant yields to foreign investors like Actis. Private capital has an important role to play in our medium to long term focus on re-building an enabling business environment. We as a government and I in particular accept responsibility for our policies and also for ensuring implementation. Therefore we can be held accountable."
The Ministry of Industry, Trade and Investment has implemented various reforms to boost and restructure the economy that includes the introduction of the Nigeria Industrial Revolution Plan (NIRP). President Muhammadu Buhari also approved the establishment of the Enabling Business Environment Council (PEBEC), aimed at making Nigeria more attractive for investments, with the Vice-President Prof. Yemi Osinbajo as Chairman and Dr. Enelamah as Vice-chairman.
Natalie Kolbe, Partner and co-Head, Private Equity at Actis, said, "Actis has been investing in Nigeria for around seven decades and we are here for the long term. We have recently committed a significant amount of capital across our asset classes from malls and office space to financial services and power generation.
"We are realistic about the current macroeconomic environment but we have invested through the cycles before. That experience makes us pragmatic in our approach. We remain extremely optimistic and excited about the potential here in Nigeria."
The international community is also optimistic about Nigeria's economic progress. A recent report by the World Bank stated that the country will experience moderate rebound in 2017 on back of Federal government's expansionary budget, expected to begin to yield by next year. The Federal government has also recently injected N600billion into the economy for capital/infrastructure projects, with an aim to create activities in the private sector which in turn will lead to job creation in the country.
Actis' previous and current investments in Nigeria include Mouka: the leading Nigerian mattress brand; Diamond Bank: one of Nigeria's leading banks; Jabi Lake Mall: Abuja's one-stop leisure, restaurant and retail destination; The Palms, the first ever international-standard diversified retail mall in Nigeria; Heritage Place: a world-class office development in Lagos's commercial and retail area; Ikeja City Mall: a world-class retail and leisure mall in Ikeja, Lagos; Vlisco Group: the market leader in designer wax fashion fabrics; UAC of Nigeria Plc, the leading food-centric conglomerate; Upstream: the leading emerging markets mobile monetisation company and Emerging Markets Payments Holdings (EMPH): a pan-African payments business, Sigma, the leading Nigerian Pension Fund Administrator and most recently a $300m commitment to the Azura power platform targeting 3000MW in Edo state.
Sign up to the street view for the latest news and insights