Press release
Actis partners with Arc Skills in Kenya to offer internationally accredited construction qualification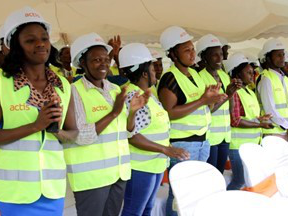 Leading growth markets investment firm Actis, today recognised 130 students for achieving internationally accredited certification in various construction trades on the Garden City Technical training program during a graduation ceremony held at Garden City Mall in Nairobi.
The graduation ceremony marks a partnership between Actis and Arc Skills, an international Skills Development Centre, established to train disadvantaged youth in vocational studies, thereby creating a positive sustainable social impact. The training aims to help young community members in the area surrounding Garden City area secure their livelihood by equipping them with quality training that meets global standards.
Speaking during the ceremony, Actis Senior Partner Torbjorn Caesar, said: "Responsibility to the wider society has always been central to our business and is fully integrated into our investment processes. We are proud to partner with Arc Skills and we are inspired by the young people who have been through the programme to date. Nearly half of those who have gone through the programme have already found employment. We hope that the internationally accredited qualification they received today will mean a better future for all our graduates, their families, their communities and their country. "
As a prominent Real Estate investor Actis also seeks to contribute towards the growth of the construction industry, helping bridge the markets skills gap by offering training to artisans. Some of the major challenges to youth unemployment in Kenya are the skills mismatch and inadequate training for mid-level technicians and artisans in the current and emerging labour markets.
According to Kenya National Bureau of Statistics, the key drivers of GDP growth in Kenya are forecasted to be services (finance and ICT) and construction. Kenya's construction industry output has risen on average 13% year on year since 2014. There is an estimated gap of about 30,000 engineers, 90,000 technicians and 400,000 artisans, with the shortage of mid-level technicians and artisans hampering the country's economic growth prospects.
Commenting on the partnership formed, Arc Skills CEO, Peter Kimurwa said, "This collaboration forged with Actis has great promise to improve the construction industry by offering training and skills development solutions to tackle the critical skills gap."
In this initial stage Actis has targeted 300 youth in industry relevant artisan trades over an initial 12-month project period. The students have been selected from different community based organizations in the informal settlements around the Garden City Mall – this offers opportunities to many a youth, who for different reasons, have no access to post-secondary education.  The vocational curricula are based on Australian occupational standards and industry best practices, and are tailored to meet local certification standards and the local labor market needs. The mode of training is practical and modular, with the entire training taking place on live construction sites.
The training is conducted on a monthly basis and is aligned with the timeline of the on-going construction project and the skilled labour needs of the project in a 'just-in-time' fashion.  Students then receive an internationally accredited certification from the Australian Vocational Training and Employment Group (AVTEG) on completion of the training.
"I am grateful to Actis and Arc Skills for granting me this training opportunity. I have learnt a great deal and now I can offer quality work for my employer. I also feel like I am at a place of higher advantage of securing jobs because I am now a certified artisan. This training has opened my eyes to new possibilities and I hope to further my education and make my dreams a reality." Kevin Ombogo a beneficiary of the training.
Actis is looking to scale up the project in the coming months with its partners to increase the number of youth that can benefit from the training by expanding their Corporate Social Investment program.
Sign up to the street view for the latest news and insights