Press release
Actis ranks 23 out of 50 of the world's largest infrastructure investors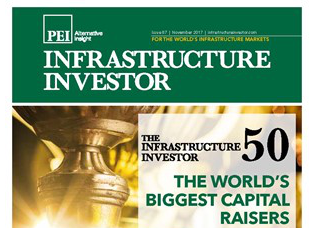 Actis ranks 23, up from 50 in 2016, in Infrastructure Investor's ranking of the world's largest infrastructure investors.
The Infrastructure Investor 50 ranks fund managers by the amount of capital raised by infrastructure direct investment programmes over five years. This year, the five-year window spans from 1 January 2012 until 31 August 2017. Infrastructure Investor's 2017 report shows a 12 per cent rise in funds raised to $316 billion, from $282 billion in 2016.
Actis has raised over US$13 billion since inception, and invested in more than 200 opportunities across the growth markets. Actis' energy and infrastructure businesses invest in buy-and-build power generation platforms, distribution businesses and operating infrastructure assets in Latin America, Africa and South Asia. The opportunity is driven by market growth, scarcity of electricity supply in growth markets and demand for private investment. Our energy funds have committed over US$4.8 billion in more than 32 power companies across 25+ countries generating 17GW of energy capacity and directly impacting 68 million consumers.
Mikael Karlsson, Head of Energy at Actis commented: "The hike in ranking signals Actis' pre-eminence in growth market investing, reflecting confidence in our existing energy franchise and is a good sign for our new infrastructure strategy. We see an attractive long-term opportunity investing behind growth markets infrastructure."
Actis was recently featured as a 'Most Consistent Top Performing Fund Manager' and a 'Top Ten Largest Unlisted Infrastructure Fund Manager' in the 2017 Preqin Performance Monitor.
Sign up to the street view for the latest news and insights