Press release
PROPARCO and Société Générale Cameroun are supporting Actis' development of the first certified green mall in Central Africa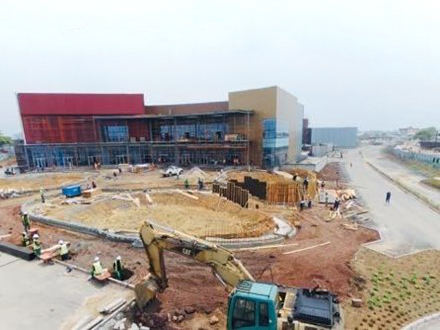 Like many cities in Sub-Saharan Africa, Douala, the economic capital of Cameroon with 4 million inhabitants, is experiencing rapid population growth, particularly among the middle class, and a strong urban transformation. Changes in consumer habits and the increase in purchasing power are giving rise to demands for a formal, modern and diversified offer.
Douala Grand Mall has been designed as a destination mall, offering retail, restaurants and culture attractions. Douala Grand Mall will host a supermarket, 160 shops and boutiques, 22 restaurants and a cinema on 18,500 m2 of rental space. It will open towards the end of the year and will be the first major shopping centre in the region. The mall is located in the immediate vicinity of the International Airport, in an urban area with 4 million inhabitants. It will have a capacity to receive up to 300,000 visitors a month.
The construction of this Doula development will improve the city's attractiveness, develop the surrounding areas and strengthen the fabric of the formal economy of the Cameroonian capital. Douala Grand Mall is expected to create over 4,500 direct jobs, including 3,200 in the construction phase, with an expected 1,200 in the operating phase. It will help boost the development of a real centre of attraction for Douala.
Actis has opted for an EDGE certification process, which will increase the energy efficiency of the development. In addition, a wastewater treatment unit is being built in the complex and Actis has paid particular attention to local supply for the construction, by using 25% of local materials.
The opening of Douala Grand Mall is contributing to the achievement of the Sustainable Development Goals: #SDG 8 Decent work and economic growth, by creating over 3,500 direct and indirect jobs, #SDG 9 Industry, innovation and infrastructure, by developing unique facilities in Central Africa, #SDG 11 Sustainable cities and communities, by developing facilities that meet high environmental standards (EDGE certification) and #SDG 12 Responsible consumption and production, by developing a business cluster to improve the city's attractiveness and develop the surrounding areas.
Sign up to the street view for the latest news and insights