Press release
Lucy Heintz named as one of the most influential people in the European wind sector for second year running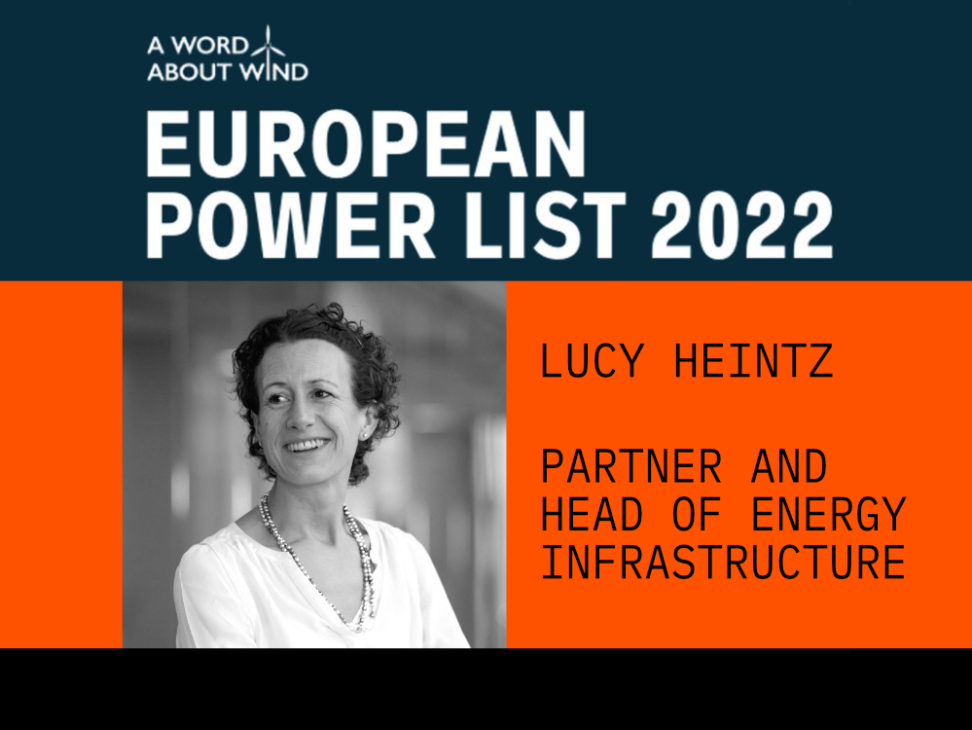 27 April 2022, London: Lucy Heintz, Partner and Head of Energy Infrastructure at Actis, has been named in the European Power List 2022 – showcasing the Top 100 most influential people in the European wind sector. This is the second year in a row that Lucy has been named, underlining her influence in the sector, and she moves to 68 in the list, up from 76 in 2021.
The independent report measures the individual influence of key players in the wind energy sector, charting their impact on the industry over the past year. Each candidate was assessed, rated and ranked by an impartial senior advisory board.
Lucy is recognised an advocate of sustainability, passionate about financing the energy transition, and supporting decarbonisation in markets across the globe. She has been instrumental in driving Actis' renewable energy strategy, with over 25 years' experience investing in and managing power businesses and has led global deal teams.
Lucy and the Actis Energy Infrastructure team have invested in over 70 renewable energy projects to date, generating approximately 11GW of renewable energy globally. Highlights over the past year include completing fundraising for Actis Energy 5 with US$6 billion of investable capital, enabling it to mobilise more capital to invest behind the Energy Transition and successfully realising three major energy investments in Latin America – the largest independent renewable energy platform in Brazil, the largest renewable energy IPP (independent power provider) in Chile and a leading IPP in Mexico.
Lucy Heintz, Partner and Head of Energy Infrastructure at Actis, said: "I'm delighted to be listed alongside so many talented individuals – all of whom are helping to forge a new, innovative path in developing and enabling much needed renewable energy sources. This accolade is also testament to the whole team at Actis, made up of investment, operational and sustainability professionals, who bring deep industrial expertise, aligned to all-important local knowledge, networks and relationships in order to successfully invest behind the energy transition and build competitive returns along the way."
Richard Heap, Editor-In-Chief, A Word About Wind, said: "There can be no doubt that the European wind industry faces some major challenges. However, the world still needs to make a transition towards renewable energy sources. That will need a rethink by countries across Europe about how they can support developments such as wind farms, solar farms and storage – and, more than that, it will require strong leadership from those who can take advantage of the available opportunities. These are the leaders we celebrate in the European Power List report – both our top 100 list of influential people in wind and our top 30 list of stars in wind-and-storage."
Sign up to the street view for the latest news and insights