Press release
Citibank and Actis Sustainable Finance teach-in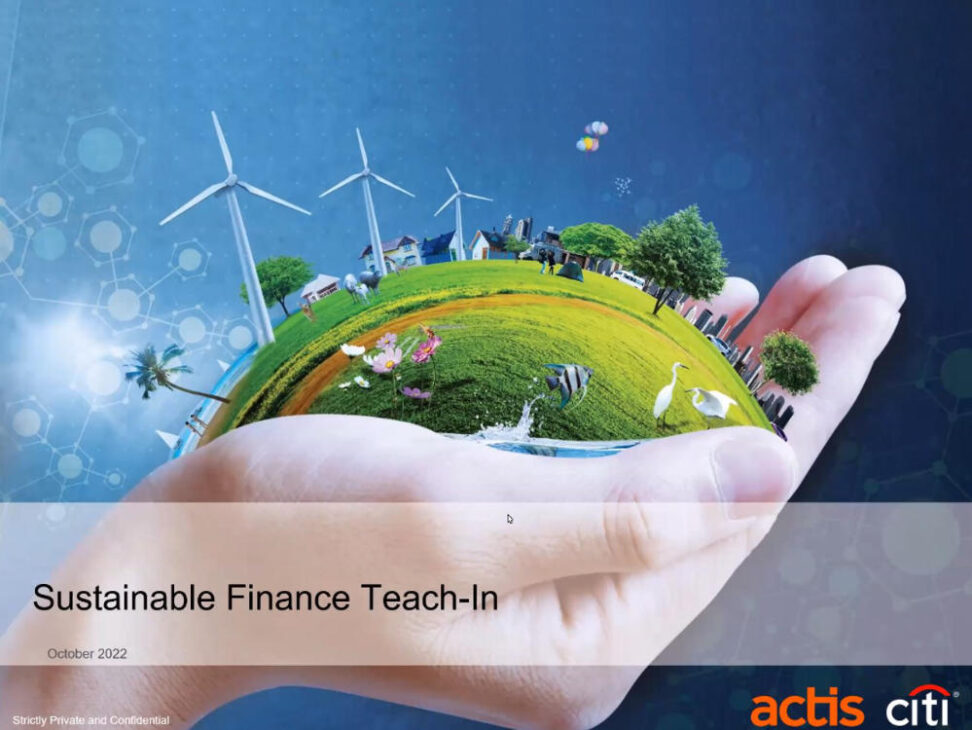 Actis' Banking and Sustainability Teams recently collaborated to hold a teach-in with Citibank's Sustainable Finance Team for both Actis IPs and portfolio companies.
Over 70 attendees joined the two sessions. They covered the explosive growth of the sustainable finance market; relevant debt products and deals (such as green bonds and sustainability-linked loans), example sustainability KPIs, and how Actis companies can leverage sustainable finance opportunities as we transition to a low-carbon economy.
Given Actis is both investing in sectors which provide sustainability solutions and building sustainability leaders across its portfolios, it makes sense to align it's financing needs with it's sustainability achievements.
Actis has already made headway in this area with its AE5 Impact Subscription Facility which was launched in January 2022, as well as portfolio company issuances such as Atlas Green Bond, and BTE's conservation loan with The Nature Conservancy.
Olivia White, Consultant, Sustainability, says: "This is still a relatively nascent market and we are seeing a vast range of innovative and creative KPIs, which can often deliver a pricing benefit as well as credentialising a corporate sustainability strategy ranging from carbon emission reductions to safety improvements, inclusion and diversity milestones to gender benefit, and community investment to skills building."
Given Actis' portfolio companies are already working on industry-leading sustainability initiatives, its IP and portfolio companies are encouraged to explore opportunities around sustainable financing when re-financing and structuring capital investment. Most of its banking partners also have sustainable finance targets in place, so are keen to engage and partner with companies to co-create sustainable finance opportunities.
"At Actis Sustainability is central to our strategy and our financing should be aligned to this theme", Mark Nielson, Head of Banking at Actis added.
Sign up to the street view for the latest news and insights