Press release
Actis and Encap invest in US solar platform Catalyze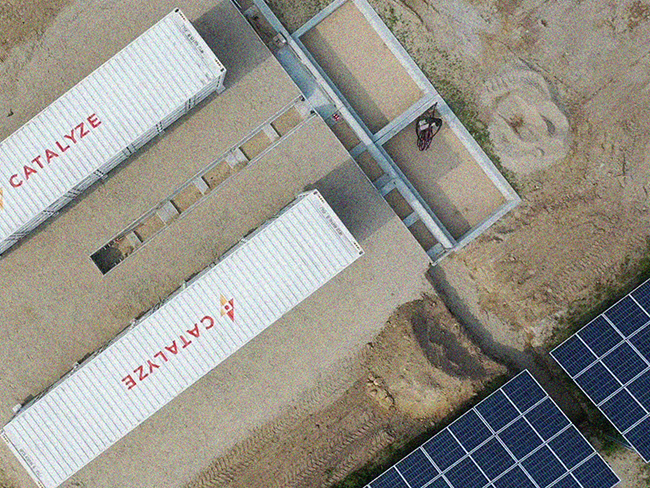 Actis has partnered with EnCap to invest in Catalyze, targeting a build-out of around 600MW capacity of solar and battery storage
 London, 28 February 2023:  Actis, a global investor in sustainable infrastructure, has announced that it will acquire a co-control stake in US based energy platform Catalyze. Through this transaction, Actis and EnCap Investments L.P. (EnCap) will partner in Catalyze.
Catalyze partnered with EnCap in 2019 and has since built a leading clean energy transition company. It develops, owns, and operates distributed solar and battery storage infrastructure for commercial and industrial properties, operating across 30 US States. Catalyze serves industrial and commercial real estate owners via long-term power purchase agreements and energy-services contracts.
Actis has committed to provide equity capital, investing up to around US$300 million from its Energy Fund 5, which represents US$6 billion of investable capital, and is focused on investing in global energy transition opportunities. By partnering with EnCap, Actis will provide funding to accelerate the continued growth and scale of Catalyze. It will also bring deep sector expertise and fresh equity capital to support the development of a proprietary growth pipeline.  Importantly, the projected risk-adjusted returns of the investment in Catalyze are additive to Energy Fund 5's well-diversified portfolio.
Catalyze is operating in one of the most attractive and fast-paced growth segments of the US renewables market and will benefit from the powerful tailwinds behind both the US' low carbon energy transition and The Inflation Reduction Act, which is set to see an investment of almost US$370 billion in clean energy, industry, manufacturing and other climate change mitigation efforts, as well as a reduction in greenhouse gas emissions by more than 40% by 2030 from 2005 levels.  Catalyze is well-positioned to become a national leader in the C&I space,  serving industrial and commercial real estate owners.
Actis has a strong track record in building and operating successful and leading renewable energy businesses. Recent investments include renewable energy platforms Yellow Door Energy in the Middle East and North Africa, Levanta Renewables in Vietnam and Rezolv Energy in Central and Eastern Europe.
Michael Harrington, Head of Strategy, Head of Americas for Energy Infrastructure at Actis, said: "In the US, the share of energy generation from renewable sources will increase significantly over the next 30 years. By partnering with EnCap in Catalyze – our first US investment – we are well placed to help meet that transition and demand. Our experience of building and operating renewable platforms around the world enables us to implement best practice growth and execution plans for Catalyze, as we seek to expand the operating asset base of the business and its footprint in North America. We look forward to working with EnCap to develop Catalyze and its renewable energy offering, with a core focus on scaling the business and delivering a sustainable and positive impact."
Actis' Energy Infrastructure team invest on a global scale in buy and build power generation and distribution businesses, supporting the energy transition and accelerating the journey to Net Zero. To date, Actis has invested in over 70 renewable energy projects with approximately 12GW of renewable energy capacity globally, and is targeting another 12.5GW.
For this transaction Kirkland & Ellis LLP served as the legal advisor and Nomura Greentech as the sole financial advisor to Actis and Latham & Watkins LLP and RBC Capital Markets advised EnCap.
About Actis
Actis is a leading global investor in sustainable infrastructure. Actis has raised US$24 billion since inception and has more than US$15 billion of assets under management. A team of over 120 investment professionals operates from 17 offices across five continents. Actis' global experience, operational know-how and strong culture allows it to build and operate global sustainability leaders of scale, while delivering competitive returns for institutional investors and measurable positive impact for the countries, cities and communities in which it operates. Actis is a signatory to the United Nations backed Principles for Responsible Investment (UNPRI), an investor initiative developed by the UNEP FI and the UN Global Compact. The firm has consistently been awarded the highest rating score in the UNPRI independent assessment.
Learn more about Actis' proprietary Impact Measurement Framework and Transition Tool here:
www.act.is/sustainability/
Actis Media Contact:
H Advisors/Maitland
+44 (0) 207 379 5151
actis-maitland@h-advisors.global
About EnCap Investments L.P.
Since 1988, EnCap Investments has been a leading provider of growth capital to the independent sector of the U.S. energy industry. The firm has raised 23 institutional investment funds totaling approximately $39 billion and currently manages capital on behalf of more than 350 U.S. and international investors. Founded in 2019, the EnCap Energy Transition platform is led by four Managing Partners, each with 30 – 35 years of experience in the development and operations of renewables and power generation.
For more information, please visit: www.encapinvestments.com
Sign up to the street view for the latest news and insights