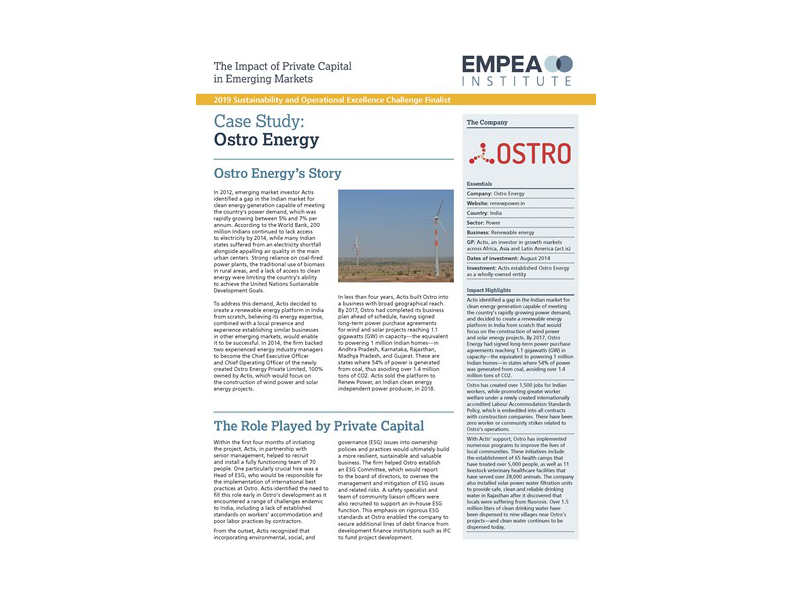 Actis in the Media
Ostro EMPEA case study
Case Study: Ostro Energy
Ostro Energy's Story
In 2012, emerging market investor Actis identified a gap in the Indian market for clean energy generation capable of meeting the country's power demand, which was rapidly growing between 5% and 7% per annum. According to the World Bank, 200 million Indians continued to lack access to electricity by 2014, while many Indian states suffered from an electricity shortfall alongside appalling air quality in the main urban centers. Strong reliance on coal-fired power plants, the traditional use of biomass in rural areas, and a lack of access to clean energy were limiting the country's ability to achieve the United Nations Sustainable Development Goals.
To address this demand, Actis decided to create a renewable energy platform in India from scratch, believing its energy expertise, combined with a local presence and experience establishing similar businesses in other emerging markets, would enable it to be successful. In 2014, the firm backed two experienced energy industry managers to become the Chief Executive Officer and Chief Operating Officer of the newly created Ostro Energy Private Limited, 100% owned by Actis, which would focus on the construction of wind power and solar energy projects.
In less than four years, Actis built Ostro into a business with broad geographical reach. By 2017, Ostro had completed its business plan ahead of schedule, having signed long-term power purchase agreements for wind and solar projects reaching 1.1 gigawatts (GW) in capacity—the equivalent to powering 1 million Indian homes—in Andhra Pradesh, Karnataka, Rajasthan, Madhya Pradesh, and Gujarat. These are states where 54% of power is generated from coal, thus avoiding over 1.4 million tons of CO2. Actis sold the platform to Renew Power, an Indian clean energy independent power producer, in 2018.