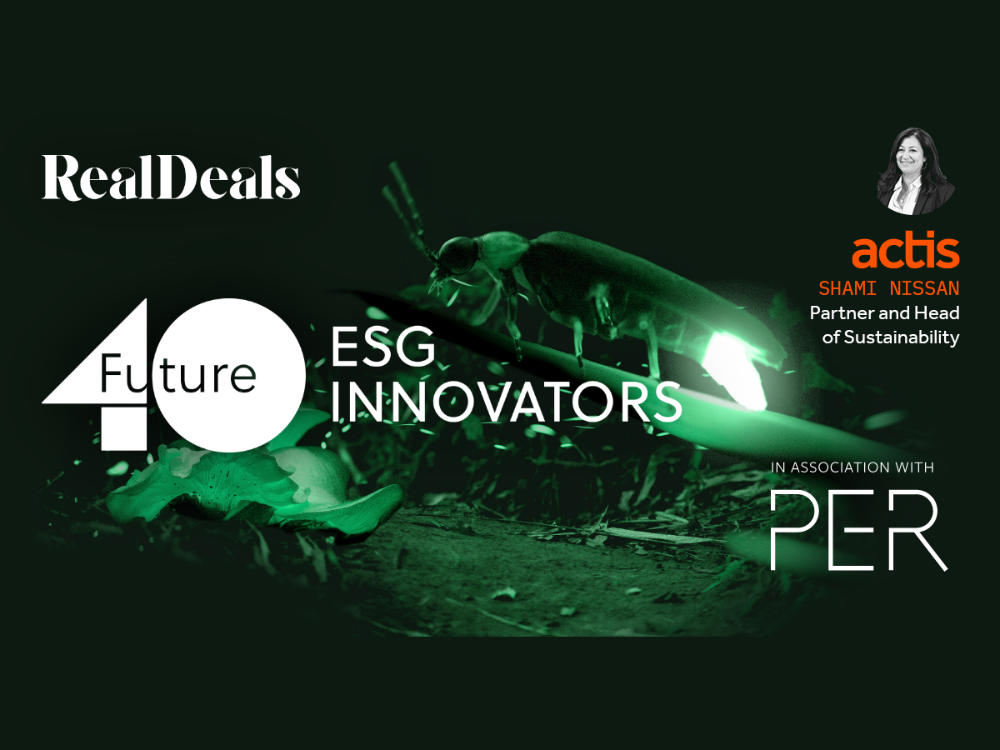 Awards
Actis Partner And Head Of Sustainability Shami Nissan Voted Real Deals Future 40 ESG Innovator
Actis partner and head of sustainability Shami Nissan has been voted a 'Real Deals future 40 ESG innovator'. A recognition comprising individuals, funds, consultancies and advisers that are aligning profit and purpose.
This year's Future 40: ESG Innovators, in partnership with PER, highlight how private-market investment is making a measurable difference to our society and environment. The nominees offer insights on ground-breaking ESG practices and organisations that champion ESG excellence.
Shami Nissan is recognised globally for her approach to Sustainability and her impact on Actis' strategy and portfolio management. Leading a dedicated in-house team of six, with 80+ years of combined experience, Shami spearheads Actis' ESG strategy which is two pronged; to invest in sustainable sectors which provide solutions to global sustainability challenges and to work together with portfolio management teams, from the outset of a new investment, with the explicit aim of creating new companies that are recognised as sustainability leaders in their own right.
Actis has developed two key proprietary tools – the Actis Impact Score, rooted in the UN SDGs and to measure impact, and the Transition Tool, to facilitate assessment of climate-related risks in the diligence process. The latter is a key tool to support the firm's net zero commitment by 2050.
Commenting on the award Shami said: "At Actis, we create sustainability leaders in our portfolio – these companies are more competitive, more resilient, deliver positive impacts to environment and society and are ultimately more valuable as a result. For us returns and sustainability go hand in hand. I'd like to thank Real Deals for this honour and for the recognition which must be shared with my fantastic colleagues in the Sustainability Team, and everyone at Actis and our portfolio companies who support our work on impact, ESG and sustainability."
Actis has been a PRI signatory since 2009 and has reported publicly to the PRI since 2010. In September 2022, Actis was awarded the highest rating for the fifth consecutive year – the highest score of 5*, higher than the median industry average.
Actis is a founding signatory to the International Finance Corporation's Operating Principles for Impact Management for which Shami played a leading role in the standards' development and sits on the Advisory Board. Shami is also an advisor to the G7 Impact Taskforce.
Actis is a member of GFANZ's Net Zero Asset Manager Initiative, and has committed to align Actis' portfolio to Net Zero by 2050, with interim 2030 targets in process.
Sign up to the street view for the latest news and insights.