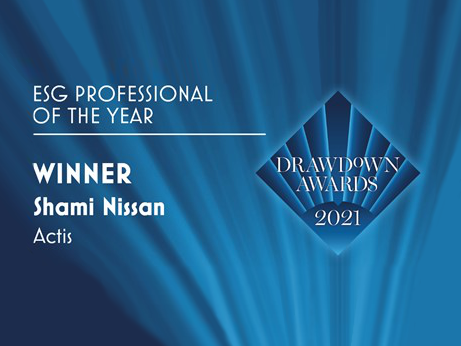 Awards
Actis' Shami Nissan wins 'ESG Professional of the Year' at Drawdown Awards
Shami Nissan, Head of Sustainability at Actis – a leading global investor in sustainable infrastructure – has been named 'ESG Professional of the Year' at the Drawdown Awards 2021. Her award was based on the views of a panel of industry professionals and peers.
The Drawdown Awards aim to celebrate excellence and innovation within the private capital industry, with emphasis placed on driving up standards in services and operations.
Actis' dedicated Sustainability team, led by Shami, works across the business to ensure its existing portfolio, investments and exits, all align with its core "values drive value" approach. In 2017, the team developed the Actis Impact Score (AIS), a model based on agreed standards for impact measurement and management. It targets the UN SDGs. Actis uses the AIS throughout the lifecycle of an investment to ensure that the impact intent is clear across the firm and reduces the risk of misalignment in objectives.
Shami Nissan said: "We have never seen a compromise between responsible investing and delivering competitive returns. Our experience is that investing responsibly creates businesses that are more resilient, more innovative, and better able to deliver societal benefits. They are, ultimately, more valuable. I'd like to thank Drawdown and its judges for this award, which really must be shared with everyone at Actis who absolutely prioritise our work on impact, ESG and sustainability more broadly."
Last month, Shami was invited to join the G7's Impact Taskforce (ITF) as an Advisory Panel Member, where her focus is on creating long term solutions for a sustainable and inclusive recovery from the Covid-19 pandemic. In June, Actis was ranked top of New Private Markets' inaugural list of the world's largest impact managers in private markets, Impact 20.
Shami has over 20 years' experience in responsible investment, primarily serving the private equity, banking, and development finance sector. Prior to joining Actis, she worked for PwC, Strategic Value Advisors, and for the United Nations Development Programme in Central America. She is a member of the Actis Executive Committee and the Inclusion and Diversity Working Group.
Sign up to the street view for the latest news and insights.