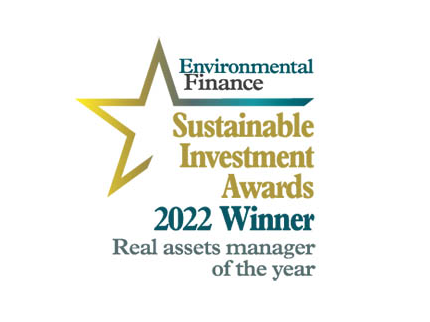 Awards
Actis wins Real Assets Manager of the Year Award at Environmental Finance's Sustainable Investment Award 2022
The Sustainable Investment Awards 2022, hosted by Environmental Finance, recognises asset managers, analysts and data providers incorporating ESG across all asset classes.
Actis, a leading global investor in sustainable infrastructure, has been voted Real Assets Manager of the Year at this year's Sustainable Investment Awards hosted by Environmental Finance. The award recognises Actis' commitment to incorporating Environmental, Social and Governance (ESG) factors across all its asset classes.
Environmental Finance is a leading publication providing information for responsible investors looking to support projects that mitigate climate change or make a positive impact. The 2022 Sustainable Investment Awards seeks to recognise asset managers, analysts and data providers incorporating ESG across fixed income, listed and private equity, debt funds, multi asset funds, infrastructure funds and fund of funds.
Environmental Finance recognised Actis' work on several fronts:
Actis will continue to invest in critical infrastructure assets which catalyse systemic change and help the world to align to a Net Zero pathway.
Shami Nissan, Partner and Head of Sustainability at Actis said: "We are thrilled to be recognised as Real Assets Manger of Year by Environmental Finance for our sustainability efforts. Actis has been investing in sustainable infrastructure globally since 2004, creating sustainability leaders within their respected sectors – companies that lead the way and set the bar on global sustainability best practice, deliver measurable positive outcomes, are resilient and futureproofed and more valuable as a result."
Actis is a signatory to the Net Zero Asset Managers Initiative which supports the goal of Net Zero emissions by 2050 and we recently announced our own portfolio-wide 2050 Net Zero target.
Sign up to the street view for the latest news and insights.