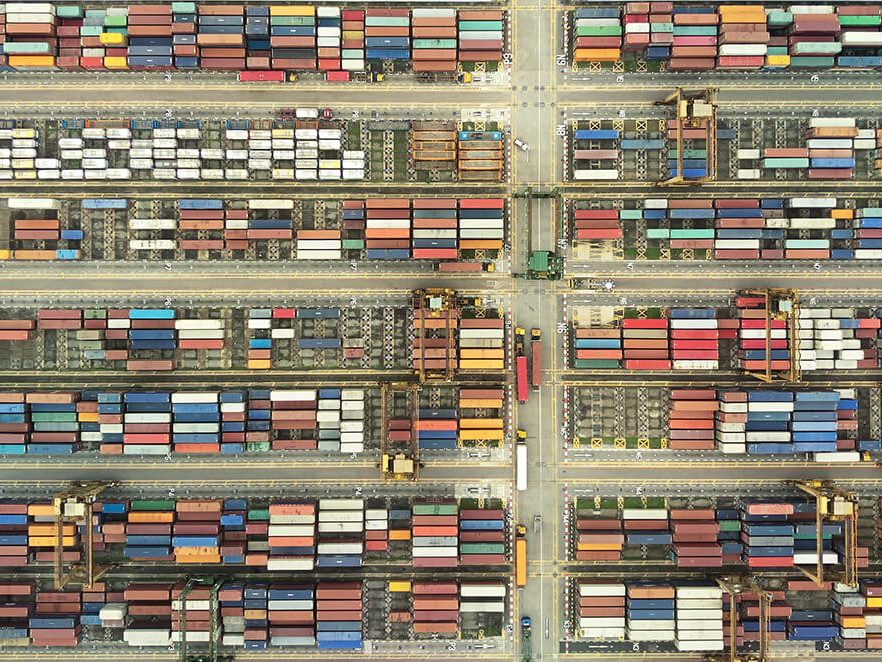 The Street View
China's new logistics
Demand from manufacturers seeking space to store their products and components was the earliest driver of China's logistics property market. Over the past decade, this market saw significant leasing demand from the E-commerce sector, now the most critical sales channel for the world's largest consumer market. As a result, Grade A logistic plants in China are hot properties for investors looking for both development and stabilised warehouse projects that cater to e-commerce firms, 3PLs, retailers and other firms serving the consumer sector.
China's growing consumer class, particularly the middle-income sector, has supported the rising consumption trends. The number of middle class households is expected to increase from 89 million in 2007 to 361 million in 2027, based on Oxford Economics at a CAGR of 7.2%, while the CAGR in the US during the same time period is only at 0.2%. Whilst COVID-19 outbreak did impact consumption over the short term, demographics and policy support are much more resilient and longer-lasting positives. E-commerce retailers benefit from this situation as shoppers gravitate towards buying from the safety of their homes. We have seen increased warehousing demand for fresh food and medical supplies.
In the first 6 months of 2020, online sales penetration rate increased by 5.6%, far higher than average growth rate of 2.5% during 2015-2019.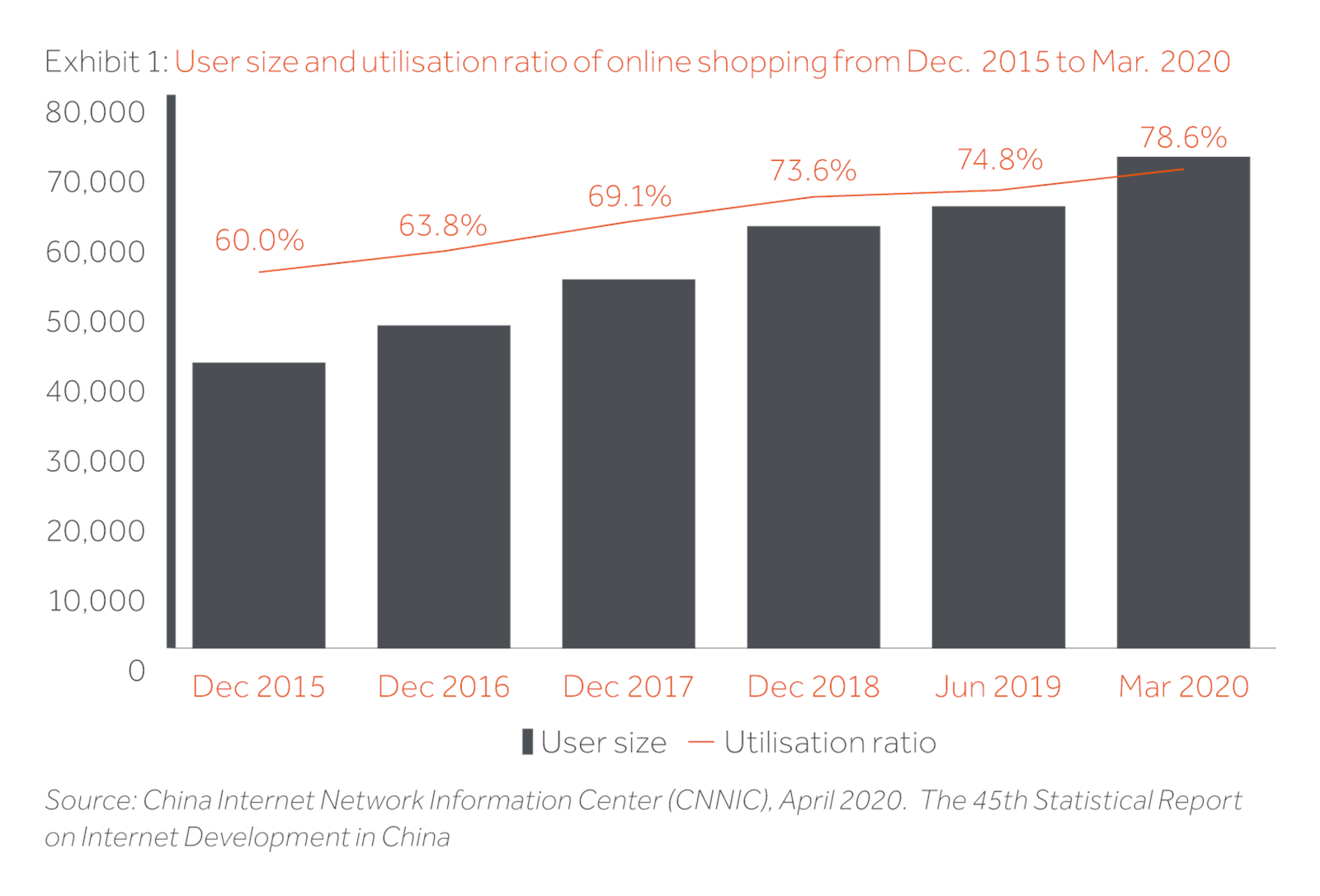 China's evolution towards a consumption led economy will continue to boost its rapidly growing E-commerce Sector. Based on Cushman & Wakefield research, Gross merchandise value (GMV) of China's E-commerce industrial was only RMB 1.9 trillion in 2013, GMV is expected to increase to RMB 13.6 trillion in 2021, at a CAGR of 27.9%.
Alongside with the domestic consumption growth story, the rise in E-commerce spending has been major tailwind for the logistics real estate market. With E-commerce expanding its offerings into fresh food and cross-border merchandises, warehousing requirements from cold storage and imported goods has already emerged as the new demand driver for modern logistics warehouses. It is estimated that China's e-commerce logistics revenue will increase by an annual growth rate of 18-25% from 2019 to 2023 according to iResearch Inc.
Grade A logistics property stock in China's major cities quadrupled between 2010 and 2019, but it merely accounts for 4.8% of the total logistics stock in China and was not sufficient to meet the booming logistics demand for high quality warehousing space.
Tenants increasingly prefer to lease modern warehouses to maximum operational efficiency and to meet the compliance requirement. As one example, vast majority of old and poor quality stock simply doesn't meet the fire safety standard. Industrial land supply has contracted across China since 2012.
Contraction in land supply for logistics warehouses will be more severe than industrial land in general. Logistics land generates less output, taxation and employment compared to other traditional industrial uses such as manufacturing, but a large number of new logistics facilities can impact local traffic and the environment in surrounding areas. Therefore, the supply of logistics land from local governments in industrial zones across China is usually relatively limited. Local government has increasingly stringent requirements on tax commitment, owner occupation and restriction on transfer.
For example, in Beijing, the local Government issued Circular 39 on 12 January 2018, which reduced the maximum land tenure for industrial developments (including logistics) from a standard 50 years to 20 years. With such a shorter land tenure, no pure logistics land has been granted since 2018 in Beijing. Such practice of having a shorter land tenure for new logistics land supply has since been adopted by a number of other cities in China including Shenzhen, Shanghai, Kunshan and Chengdu.
In general, Grade A logistics properties include specifications such as optimal space utilisation, high operating efficiency, storage safety, flexibility to customise, and high loading capabilities. In terms of the development and construction schedule, it normally takes around 12-24 months from land acquisition to stabilised occupancy/completion, while development cycles for large-scale commercial real estate projects can take at least 36 months or more.
Given an attractive yield spread upon stabilisation as well as a shorter development period, most institutional capital has traditionally been concentrated in develop-to-core logistics investment models targeting opportunistic returns, in which investors have formed partnerships with experienced developers with strong presence in China or those leading developers raising development funds from institutional capital directly.
Most of this logistics development activity has been concentrated in three major regions with the greatest investment potential, the Great Bay Area (GBA in the south), the Yangtze River Delta (in the east) and Beijing Tianjin area (in the north). Wealth and spending levels in the first twenty years of China's reform period were also largely concentrated in these three regions, particularly so-called Tier 1 cities in each of these regions.
The most centrally located cities in these three centres alone cover over 25 million consumers in a two-hour drive. And in the highly populated urban areas of YRD and GBA, there are mega cities (and logistics warehouse in them), which provide access to around 60 million people.
In recent years, a growing population base in tier 1.5, tier 2 and even tier 3-4 cities has witnessed a steady growth in wealth and consumption. At the same time, China's massive investments in road infrastructure has laid the groundwork for increasingly efficient distribution networks across the different regions. Chinese E-commerce players have started to enter smaller towns and expand the supply of products and services, enhancing network demand for a wider range of logistics facilities. Grade A logistics markets in satellite cities are becoming another strong warehouse location in China.
Located in proximity to the country's largest tier 1 cities, these satellite markets are attractive for spillover demand for those who wish to serve consumer markets in the Tier 1 cities, but are unable to find warehouse space there due to supply constraints. Rents are relatively low and there are typically more space options for tenants in satellite markets. In recent years, satellite markets that sit between multiple large cities have emerged as ideal locations for regional distribution.
With a great number of Grade A logistics projects generating consistent rental income through mature tenant bases and higher weighted average lease expiry (WALE), stabilised quality logistics assets are becoming more attractive to yield-focused investors targeting core return. For example, in Q2 2020, GLP reached a final close for a core China logistics fund with RMB15 billion fund size. CBREGI and Logos also jointly launched a RMB core fund with a fund size of RMB5.5 billion in Q12020 with domestic insurance companies as key investors.
We expect to see even more capital inflows to large core logistics fund vehicles with institutional quality portfolios. The opening of domestic listed markets for real estate through the development of REITs will further accommodate core vehicles, by introducing liquidity and direct capital. There was a positive step in this direction on April 30 2020, with the announcement by the National Development and Reform Commission (NDRC) and China Securities Regulatory Commission (CSRC) of a pilot program for mutual funds to issue publicly traded REITs with a focus on infrastructure, including warehouses as the only property sector.
Over the longer term, we believe investors interest in China's logistics sector will remain strong as the sector benefits from strong economic and demographic fundamentals that extend across short market cycles. In addition, the upcoming domestic REITs will provide a new channel of liquidity for prime logistics assets, which is set for a period of accelerated and sustained growth.
Actis Asia Real Estate has one of the most experienced teams on the ground with deep understanding of the local China property and strong local network. Based on that, Actis has worked with one leading logistics developer to jointly invest in and develop Grade A logistics facilities in Tier 1 and key Tier 2 gateway cities in China.We aim to gradually expand our exposure in the China logistics development sector.