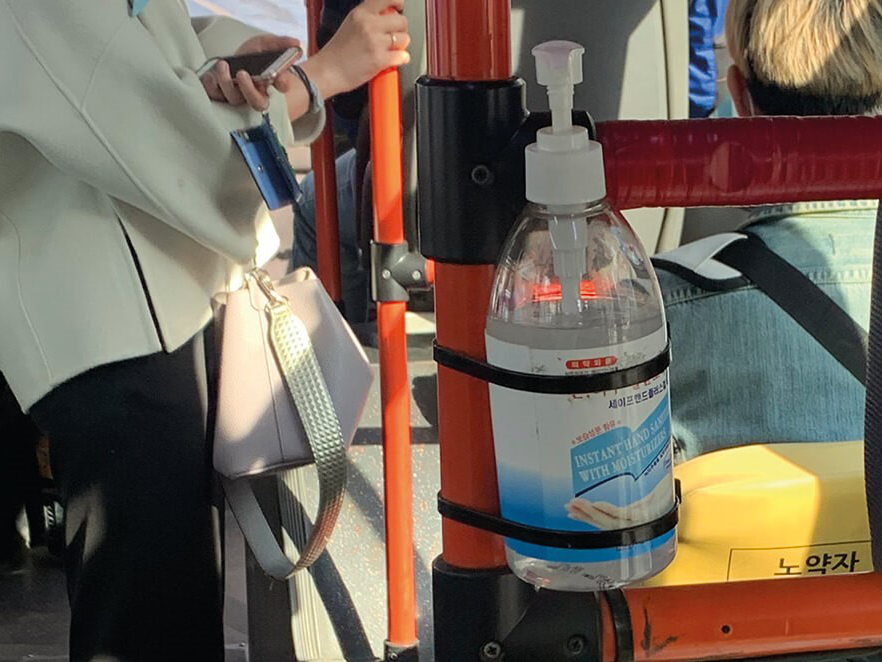 The Street View
COVID-19 chronicles in Korea
Despite significant turbulence in the early stage of the outbreak in Korea, life now has mostly reverted to normal with the exception of everyone wearing a mask and frequently using hand sanitisers.
Korea may not have the most sophisticated medical technology in the world, yet it is top class in terms of offering quality medical treatments on time at affordable costs. Visiting a medical clinic or general hospital has always been relatively easy and affordable.
This did not change substantially throughout the outbreak due to a number of reasons: (i) the dedication and commitment of medical staff; (ii) the Government's prompt, efficient and transparent responses testing and tracking new cases almost instantaneously; (iii) a centralised public healthcare system that provides everyone access to quality medical services at an affordable price, and (iv) one of the world's highest concentrations of medical facilities per capita.
Costs associated with the entire COVID-19 process, from testing to treatment are covered by the Government for all citizens, when such testing is deemed necessary by doctors. According to the Ministry of Health and Welfare. as of 17 April, there are 612 screening clinics across Korea.
Demand for daily necessities has risen, yet many retail stores both online and offline are still full of supplies including hygiene products with no sign of panic buying. In addition to the Government regulated masks one can easily purchase any consumable items he/she needs at retail price, even in regions such as Daegu city which suffered the largest number of confirmed cases.
Large public gathering activities have been reduced (e.g., cherry blossom festivals routinely held in April), yet there are still many people in the streets and in public places, while making reasonable efforts to practice the so-called two metre "social distancing". The most notable change in these public places and the peoples' general behaviours is the increased awareness for sanitation and hygiene. It has become almost impossible not to see a hand sanitiser in any public place even including city buses and subway stations that also give away free masks often.
Nevertheless, maintaining these available supplies has not been an issue.Many people never stopped working from the office throughout the outbreak and enterprises that required working from home are beginning to end the policy. Since the outbreak, the Actis Korea team has remained in its office, located in Gangnam, which has had no confirmed cases. Likewise the 99,141 m2 Young City building we developed in Southwest of Seoul has continued to operate since the outbreak.
Since completion, Young City has become a landmark office towers building in its submarket, successfully attracting target anchor tenants such as a call centre. While these tenants implemented a work-from-home policy partially to reduce the risk of the spread, they have been largely unaffected with zero confirmed cases and they are now reinstalling their staff.
On 15 April, Korea successfully held a parliamentary election in the midst of the pandemic becoming one of the first nations to hold a national election as scheduled since the outbreak, while many other nations postponed.
Nevertheless, the negative impact is still serious
The economy has been hit by rapidly declining export activities and shrinking businesses.
Domestically, the impact has been particularly severe on the self-employed and SMEs as (i) they are often the most vulnerable to such exogenous impacts, (ii) they mostly operate at offline retail venues suffering the heaviest blow, and (iii) Korea has one of the highest percentage of self-employed in the world.
Our newly opened mixed-use hotel and multi-tenant retail facility in Seoul has been severely hit by the crisis, though the hotel is still faring relatively well with occupancy of 20-40%, much higher than other competing hotels.
Understanding the challenges, we have been actively supporting our retail tenants suffering significant revenue cuts through marketing and promotions both monetarily and strategically. We are implementing extra measures for the property management companies to control the virus spread including offering free hand sanitisers and installation of thermal cameras and antibiotic films across the entire facilities.
Korea has taken many initiatives to minimise the virus' impact on the economy through both monetary and fiscal policies.
Key monetary policies include (i) lowering the policy rate by 0.5%p to a historic low 0.75%, (ii) providing unlimited liquidity over the next three months through open market operations (OMOs), which is effectively the nation's first attempt of quantitative easing, (iii) expanding the pool of eligible OMO participants to include select non-bank financial institutions as well as the list of eligible OMO collaterals, (iv) easing collateral requirements for net settlements in the Bank of Korea ("BOK") payment system, and (v) increasing the ceiling of the Bank Intermediated Lending Support Facility targeting SMEs by KRW 5 trillion (c.0.26% of GDP) to KRW 30 trillion and lowering the interest to 0.25%.
The BOK also opened a bilateral swap line with the Fed for US$60 billion to stabilise the FX market. The Government announced a financial stabilisation plan of KRW 100 trillion (5.3% of GDP) focusing on supporting SMEs severely hit by the pandemic and stabilising the financial market including both equity and bond.
The impact of the virus
The outbreak is expected to accelerate growth of online activities including retail, entertainment, education, and businesses. It has provided an opportunity for consumers to familiarise themselves with online platforms and activities, previously considered offline territory.
Online orders of consumables have surged, data traffic created by media streaming service platforms has grown rapidly, and online schooling and working from home are now widely adopted across the nation.
This trend has two key implications from a real estate perspective – (i) growing data traffic drives demand for cloud services, which require massive data centre space for operation and (ii) prompt and accurate delivery of a wide variety of daily consumables are the key to success for online retailers and this requires sophisticated logistics facilities located in strategically valuable areas.
That being said, offline space will continue to remain an attractive venue. Offline retail is becoming a form of entertainment offering unique shopping and visiting experiences that online platforms cannot.
The same is true for hospitality businesses including accommodation services, which are expected to recover as travellers will eventually return back and locals will spend their leisure time at entrainment destinations.
People are already becoming increasingly weary of staying indoors with limited activities and such suppressed demand for offline retail and entertainment could result in a sharp recovery once the crisis is over.
A key lesson that the pandemic has taught us is the increased awareness about sanitation and hygiene, which has an important implication for offline space. Hence, maintaining hygienic and clean environment will become a key attraction factor for visitors and over the long term, offline spaces will provide more pleasant and safe environment that could attract more visitors.