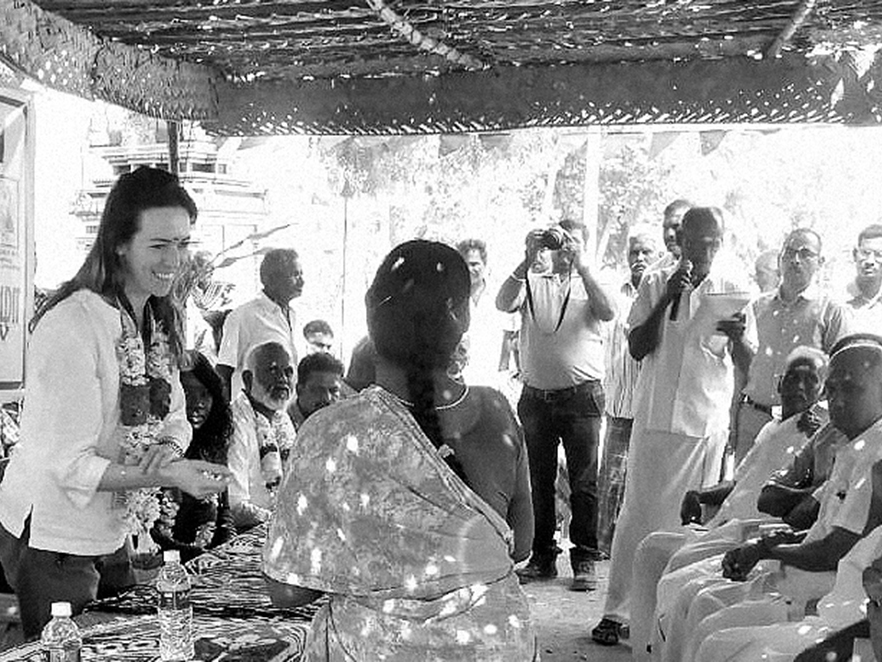 The Street View
Infrastructure and Sustainable Growth
Infrastructure provides the backbone to economic development. It keeps goods, people, services, electricity and data flowing. But beyond economic growth and job creation, infrastructure development also delivers societal impacts – increased access to education and health services, financial inclusion, women's economic empowerment and improved quality of life.
Without reliable electricity, clean water, efficient transport and access to communication networks, economic productivity is stifled, incomes remain low and poverty persists. There is a huge, untapped opportunity to provide underserved populations with all the benefits that modern infrastructure provides. But significant investment is required to drive infrastructure growth and unlock its role in meeting the United Nations Sustainable Development Goals (UN SDGs). We look at this through the prism of two key investment arenas for Actis – energy transition and digital infrastructure.
Electricity infrastructure is paramount to economic and social well-being
Access to modern energy services remain crucial to human well-being and economic development, according to the International Energy Association (IEA). The electrification of these services is critical for tackling climate change and helping deliver a just and equitable transition. Electricity infrastructure, however, remains a major development challenge as noted by the IEA, with over 768 million people lacking electricity access globally, mostly in sub-Saharan Africa. On a macroeconomic level, energy shortages are a significant drag on economic growth and job creation. For example 76% of firms in Nigeria cite lack of electricity as the biggest constraint on their operations according to the Center for Global Development.
In addition to a direct correlation of energy access with income levels (see Exhibit 1), electrification boosts other indices of wellbeing and equality. Research by CDC on the development impact from electricity highlights the following benefits with the strongest evidence (Exhibit 2).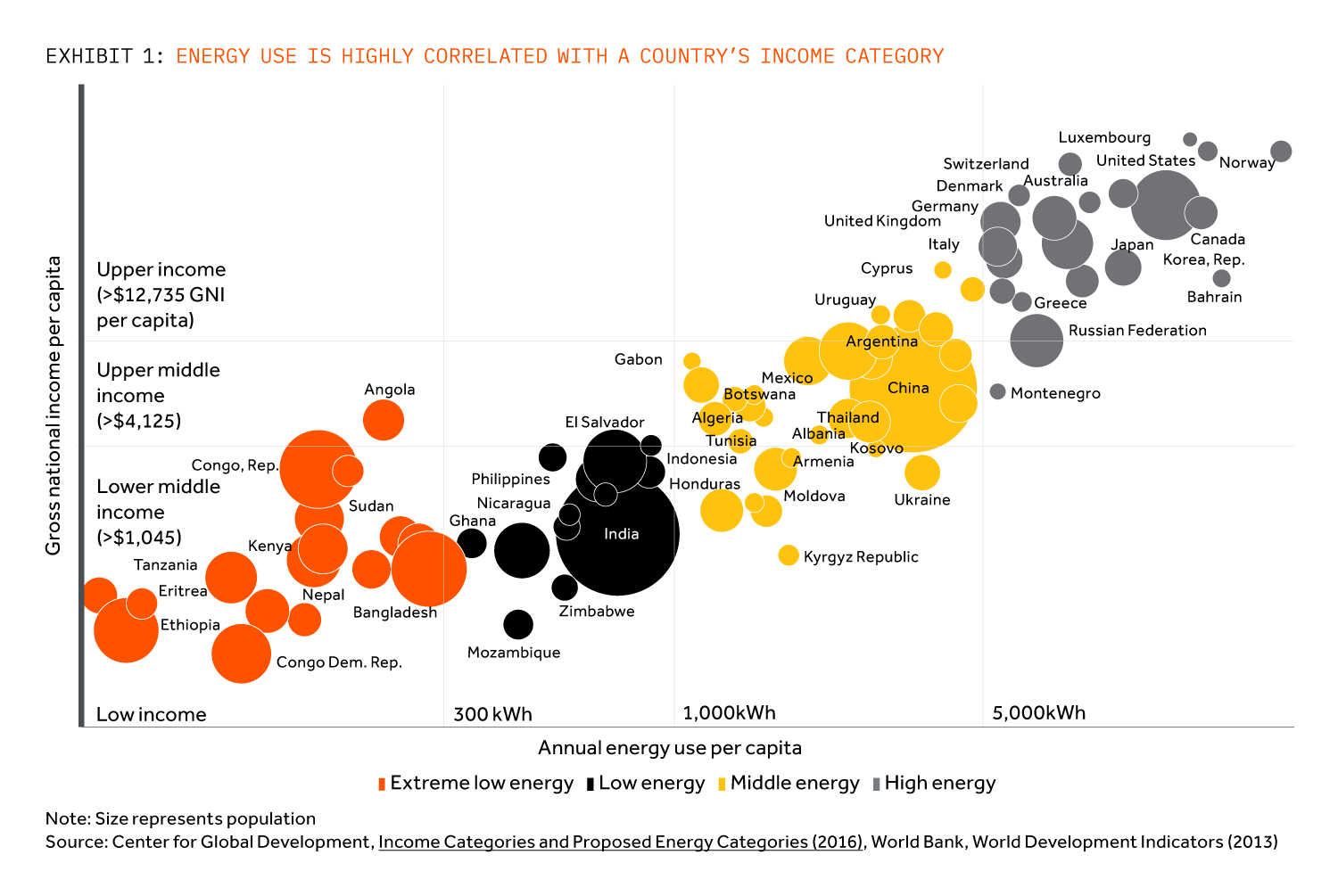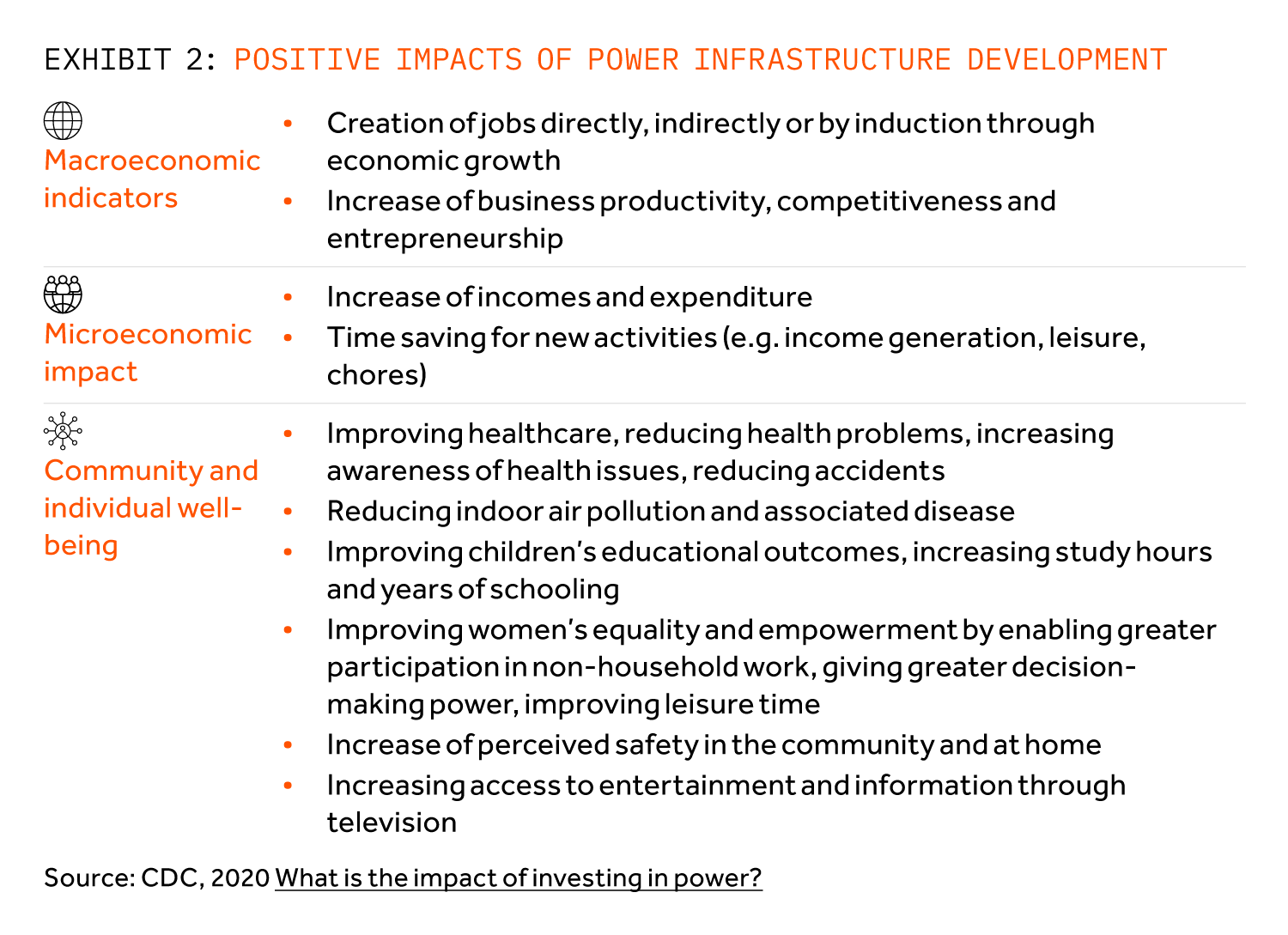 As the fourth utility, digital infrastructure catalyses economic development and boosts societal impacts
Data centres, towers and fibre, which all enable internet access, have become amongst the most fundamental forms of infrastructure globally. Internet connectivity – enabled by vast networks of digital infrastructure – promotes social and economic inclusiveness, efficiency and innovation.
Digital infrastructure's link to GDP is clear – it is estimated that a 10% rise in mobile broadband provision can yield a 1.5% increase in GDP per capita (which increases to 2.5% in Africa), according to the International Telecommunication Union (ITU) Other indirect benefits for individuals and communities include:
• Enables gender-inclusive enterprise where an online platform connects women to customers, providing them with a marketplace to sell their goods from their own homes.
• Provides education online which has been critical during the COVID-19 lockdowns which forced schools online, meaning communities without reliable internet connection were unable to access education, further exacerbating inequalities in lowerincome regions lacking internet access. This is exemplified by reports from Actis' South African fibre-to-home company, Octotel, which observed pass rates in schools covered by its fibre of 89% during 2020, compared 79% in unconnected schools.
• Facilitates access to healthcare which is increasingly digitised, particularly since COVID-19.
• Strengthens business resilience by enabling remote working where 10% of the global workforce (supporting nearly 300 million jobs) worked from home during COVID-19 lockdowns according to the World Economic Forum.
• Improves agricultural productivity where digital solutions can make agricultural interventions more precise and connect farmers to other actors in the value chain.
• Catalyses financial inclusion by enabling electronic payment systems and e-banking.
Despite these benefits, poor digital literacy remains a barrier to unlocking the true impact of digital infrastructure, so it's vital that local people can develop digital skills. Actis portfolio company, Rack Centre (data centre) has launched a 'Skills to Employment Program' to develop the digital skills of up to 170 low-middle-income young people in Lagos.
Infrastructure needs to be sustainable and resilient
These investment needs are clear. But how do they align with a Net Zero world? How can we decouple economic growth and carbon emissions and avoid the poorest nations being locked into outdated carbon intensive infrastructure?
We recognise it is not sufficient to simply construct infrastructure at the lowest price point. We strive to build assets which are future-proofed, decarbonised, and inclusive which in turn strengthens livelihoods, tackles poverty and reduces inequality in a virtuous cycle for economic prosperity and development.
We leverage our extensive operational expertise to create "sustainability leaders" across our portfolio companies (Exhibit 3).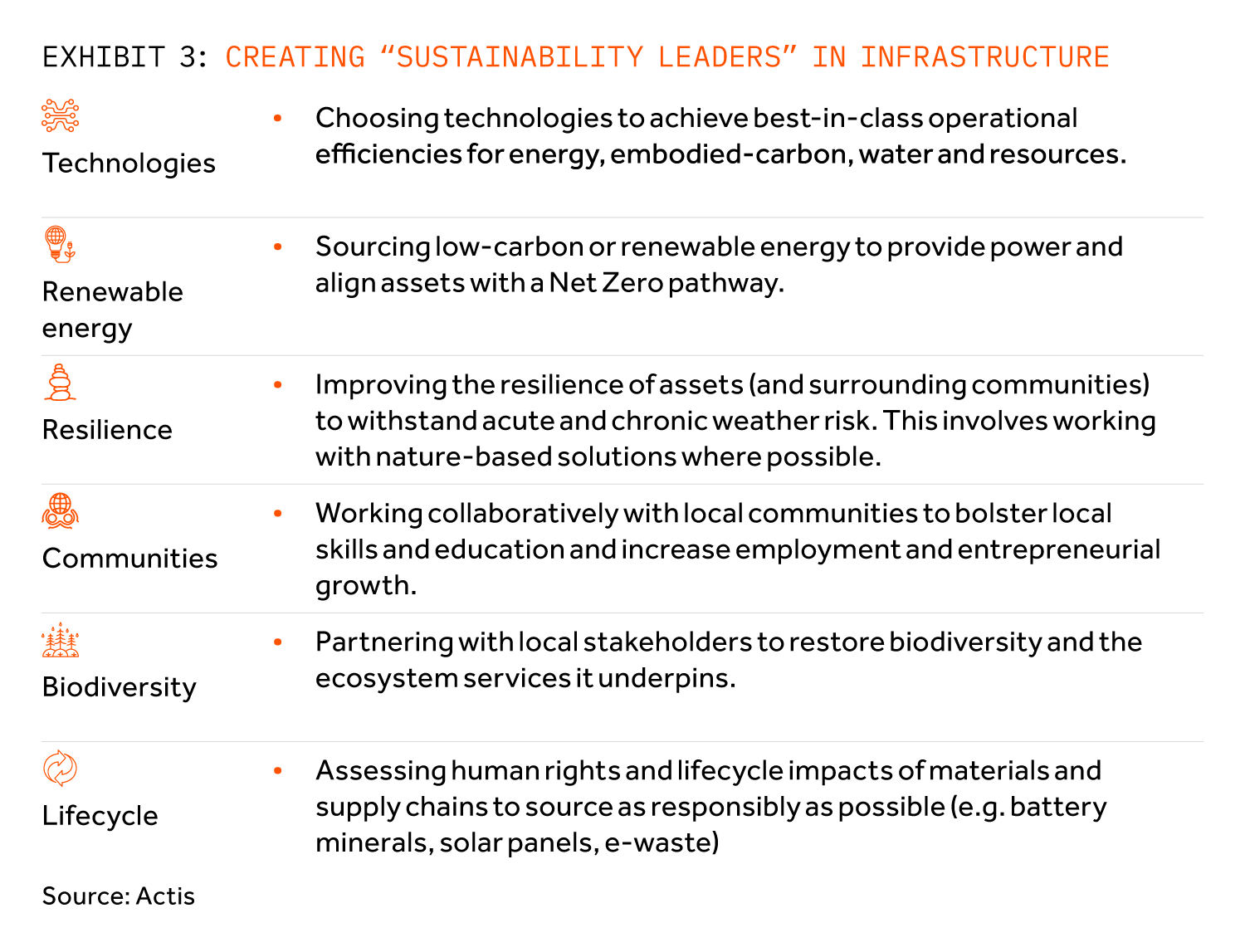 IT IS NOT SUFFICIENT TO SIMPLY CONSTRUCT INFRASTRUCTURE AT THE LOWEST PRICE POINT. WE STRIVE TO BUILD ASSETS WHICH ARE FUTURE-PROOFED, DECARBONISED AND INCLUSIVE
As we build, operate and transform infrastructure to support a low-carbon future, we must also continue to explore emerging technologies which support this transition. These include green hydrogen, electric vehicle charging networks, decarbonised cement and green steel. By doing so, we can build infrastructure that drives truly sustainable and inclusive economic growth, and unleashes the sector's enormous potential to achieve the UN SDGs.