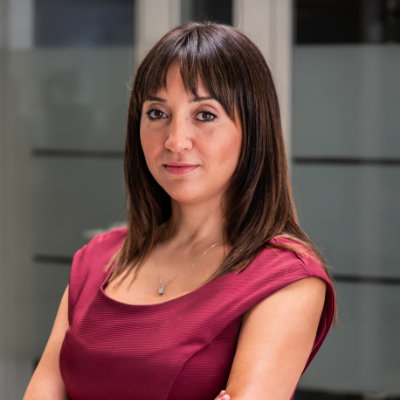 Duygu Tokgoz
Group Chief Financial Officer, Uludag Enerji Group
With a love of maths, it was clear to Duygu from a young age that she wanted to pursue a STEM-related career, but it was at university that she chose economics and finance. Now Group CFO of Uludag Enerji, an Actis-backed supplier of electricity distribution and retail sales services in Turkey, she is relishing her responsibilities for the company's finance and strategy. Here, she talks about her career journey and why she believes women need to build a sisterhood.
Tell us about your role and why you chose finance as a career?
"As Group CFO, I am responsible for the finance functions of Uludag's three divisions – retail, distribution and service companies. We're the fifth largest group in our sector in Turkey, so it's quite a large responsibility. My role includes areas such as project finance, treasury and reporting as well as involvement in the energy demand and forecasting department. I also have responsibilities around business strategy and am part of the decision-making team for the long-term plan for Uludag.
I was always good at maths at school and I wasn't sure at that stage whether I wanted to go into engineering or finance. When I went to university, though, I found my passion – finance and economics. I love number-crunching because there is always a story behind the numbers."
How did you develop your career from there?
"I started out at PwC, where I worked as an auditor. It's challenging work and it often involves long hours – it can be all-consuming. But I really enjoyed learning new skills and the fact that each client I worked with had a different issue to solve. These were often cross-functional issues and so we'd work across different teams. That was very motivating because you'd get to see different perspectives and learn about the various roles in business.
While I was at PwC, I did a secondment in San Jose in California. That was eye-opening for me because we were such a diverse team and it was the first time I realised how valuable this is. We were working on challenging projects, often involving very large businesses and having a culture of inclusion was hugely important to getting the work done well. After PwC, I worked at a variety of energy companies, where I got to know the industry – it's a dynamic and complex field. I joined Uludag before Actis' involvement and was promoted to Group CFO when it invested in the company. There is a glass ceiling for many women here in the Turkish energy industry, which is male-dominated and, as far as I know, I'm one of the very few female CFO's of an energy distribution business in Turkey."
You mentioned that inclusion and diversity was an important aspect of getting work done well at PwC. Why do you believe this is the case?
"I was a foreigner working in the US, but the team was so diverse and inclusive, I never felt discriminated against. It felt quite different to my experience in Turkey, where there tends to be far less diversity in workplaces.
PwC actively created an inclusive culture and it was clear that if you worked hard you would be recognised. While in the US, I was promoted to manager position and received the highest rating in my appraisal for outstanding performance. Cultures that value diversity give employees the courage to prove themselves and show their potential; if you don't have this, it can be demotivating because people just feel they are not being recognised for their work."
What challenges have you faced in your career?
"I have worked hard and that has meant sacrificing work-life balance for many years. I was born in a small city in Turkey and I left my family there to go to university. I always felt the need to prove myself to my family and my colleagues and so I put a lot of pressure on myself. However, I am now much more comfortable – I know I have abilities and that they are recognised. I still work hard, but I don't feel under such pressure. It's healthier."
What is Uludag doing to promote inclusion and diversity?
"There is still a long way to go, but Uludag is ahead of other companies here in the industry, where there are very few women in senior roles. Currently, 54% of my team are women. We also have run projects to raise awareness for women's health, such as breast cancer, initiatives on ending violence against women, and paying attention to gender equality and women's empowerment. We have received awards in recognition of our work here.
For change to happen, though, you need to start early. That's why we have run projects at middle and primary schools to encourage girls to consider having careers in the energy industry. We are pushing against some cultural barriers since the family roles in Turkey are quite entrenched – there is still a strong tradition for men to earn the money and women to take on the domestic work. The whole point of view needs to change and we need to start early.
We're now focusing heavily on sustainability. That is in part because we need to comply with regulations and to obtain loans from financial institutions, but it is also because we want to be doing this. You have to be sincere if you are going to bring about positive change. We are putting in place KPIs for recruitment, training and mentorship, for example, to help bring women through to senior positions."
What do you think it will take to level up opportunities for women in your industry?
"I witnessed some good practice in the US. When I was at PwC, I worked with a senior manager who had three children. She was offered the kind of flexibility you need to be able to balance family and work – she had the option of working either half days or three days a week. I found this as really helpful because you shouldn't have to choose between work and the rest of your life.
This stands in contrast with some of the practice I have seen in Turkey and so there is a lot we can do to level the playing field here. One of my friends here, for example, was up for promotion, but didn't get it because she went on maternity leave. There is a role for positive discrimination here, I think.
The other area that women can address themselves is networking. We need to build up good network, participate in events and training and in mentorship projects. This helps women empower each other. There is a strong brotherhood culture here in Turkey that plays out when men watch football matches together and discuss business, for example. We need to build a sisterhood along the same lines so that we all feel included and can advance."
What are the most important lessons you've learned in your career so far?
"Know and demand your value. For others to appreciate this, you need to be able to speak up without hesitation and be prepared to voice your opinion in meetings – you can put an impact on the direction of what's happening. You also need to make yourself heard if you are willing to influence the strategy. I have always ensured myself that my technical skills are strong and realised later in my career that soft skills are equally important. The political and economic situation is always changing here in Turkey and so you have to be quite agile.
It's also important to adopt a 'can-do' attitude so that you not only identify and point out problems but are part of the solution. Don't be afraid to ask for help when you need it and create a strong network around you – that's very empowering."