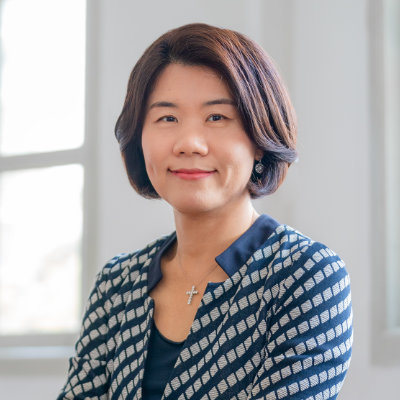 Ji Hyung Kim
General Counsel, Bridgin Power
As General Counsel at Bridgin Power, an Actis-backed gas power platform in Southeast and South Asia, Ji Hyung Kim is responsible for establishing the company's legal services, providing legal support for acquisitions, projects and business development, and engaging with a variety of stakeholders, including regulators, project partners governments and lenders. We asked Ji about how she developed her career and navigated challenges that emerged along the way.
Why did you join Bridgin Power?
"I had spent 20 years working in the energy, infrastructure and sustainability fields and I was looking for a senior position where I could bring this experience to bear – it's great to be able to do this while also building out a new platform. It's a fascinating role and I am enjoying setting up the legal procedures and practice in the company as well as having a hands-on role in business development and projects. One of the aspects I particularly like is getting involved in large-scale projects – this involves working with up to 40 people from different organisations and backgrounds, including in engineering, finance, human resources, management, regulatory bodies, and with communities local to the projects."
Can you tell us about your experience before Bridgin?
"I was General Counsel at French waste management group called Veolia for three years and before that, spent several years at Korean conglomerate POSCO group, where I was General Counsel leading multiple transactions on energy-related infrastructure projects. I set up the legal department there and grew the team to 11 people – the role gave me a lot of valuable experience including acquiring managerial responsibilities. I travelled worldwide to countries such as Vietnam, Indonesia, the Philippines, Mexico, the US,Uzbekistan and Africa and conducted commercial negotiations with many different stakeholders. I've also been a member of the Panel of International Arbitrators for the Korean Commercial Arbitration Board since 2018."
What kinds of challenge have you come up against through your career?
"Despite working in construction and energy, which tend to be very male-dominated industries, I have been fortunate to have worked in companies with a respect for women and the challenges we can face as working mums. I've really appreciated these environments because they have been supportive and I have worked with people who believed in me and my work. At POSCO, for example, I took part in a women in leadership programme that really helped me with developing networking skills and determining what my long-term goals should be.
Very often, women run into short-term hurdles, such as juggling families and careers. You get into a mindset where you just can't stop – but you have to take time to sustain yourself. That's why, towards the end of the pandemic, I decided to set up my own consultancy firm. It allowed me to spend time helping my three children with online learning, but it also gave me space to re-focus and work out where my priorities lie. It freed my mind and helped me have a more generous view of how I could appreciate life and work rather than just trying to push myself continually to the limit. I can now focus on the pure enjoyment and appreciation of my role here are Bridgin."
How important do you think role models are in inspiring women to become leaders?
"I think they are very important, because they help you see what's possible. I had mentors in the law firms I worked at and some of them were – and still are – very inspirational. I still feel a connection with many of them. I recently saw that one of them, who has also become a General Counsel, had visited the White House and I was cheering for her. I hope to be just as inspiring to someone else.
Yet role models don't necessarily have to be working in your chosen field. I've been inspired, for example, by the nanny who looked after my children. She told me not to give up when she could see things were challenging. She helped me see that the difficulties I was facing were temporary and that there was a prize ahead if I stuck with it – the enjoyment of more senior roles later on. She turned out to be right. Another experience I remember made an impression on me when I was younger. I was at a conference organised by UBS in NYC and spoke to women, who was an investment banker, there that had been expressing milk for their babies – it showed me that it was possible to work and have young children. It also helped me see the value of female support and networks – a sense of solidarity."
What advice would you offer to younger female professionals looking to advance their careers?
"Learn how to network effectively. It's a really important skill and it reinforces your professional knowledge and experience. Networking is vital if you want to reach a senior position because you need strong interpersonal skills – my capacity to engage and liaise with all the different stakeholders that comes as part of my role is the result of having worked on my networking capability. I think confident networking often comes more naturally to men, but many women need to work on the set of skills. Network internally with colleagues at your own organization, but also with peer groups outside of work.
Asian female professionals are also sometimes fearful of taking leadership roles and to them, I'd say: Go for it, don't be afraid, grasp the opportunities that come up.
And finally, I'd say: Be kind to yourself and appreciate all the skills you have. If you can be confident in what you can do, you can be a role model for your family – including your own daughters – and beyond."