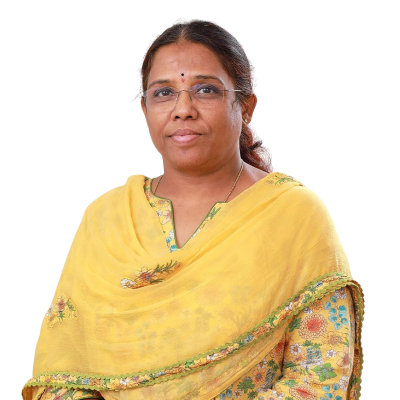 Sandhya Sama
Chief Financial Officer, Rx Propellant
Becoming CFO of Actis-backed life sciences real estate platform, Rx Propellant, has moved Sandhya Sama into a strategic and intellectually challenging role – a shift she welcomes with open arms. Here, Sandhya explains why being direct in communications is important if you want be heard and why being open to learning from a variety of different people can help you get on in life.
Why did you join Rx Propellant?
"I could see the role would offer far more than an average CFO position. Here, I have a very strategic role and I am involved in the decision-making about how we grow the organisation. It's a unique business in that it's the first life sciences real estate platform in India. That means we don't have past performance record or specific market data to go by, so we can really make a mark in this space and gain first-mover advantage. As a team, we have a lot of energy and entrepreneurial spirit, as we feel we need to prove ourselves and the concept as a means to deliver value. It's also a great opportunity for me to have this position based out of Hyderabad.
My role is intellectually challenging and solution oriented as opposed to a traditional bookkeeper. It's great to be involved in areas such as fundraising, acquisition finance, M&A and business development as I feel I can add value. It's quite different from previous roles where I have spent a lot of time in retail , manufacturing and agri industry., , but you have to work through these roles to learn the skills you need higher up in organisations."
So how did you progress to this role?
"I started out as an auditor at PwC and EY accountancy firms – that's a solid base for a career in finance and business. I then spent some time in an entity backed by Blackstone, and that exposed me to investor relations and helped me gain understanding of the wider business. There are only few multinational companies in Hyderabad, so working in private equity-backed companies is often a good place to learn about different business strategies, organisation building, sustainable processes and global financial reporting. In my past roles, as CFO and part of senior management, I was responsible for areas such as debt capital, structured funding, corporate governance, Board reporting, investor relations and helping management teams to understand the potential risk and return profiles of projects.
I have been fortunate enough to grow in all my roles, which is not necessarily a common experience for women in India."
Why do you think you were able to make your voice be heard, then?
"I am a fact based speaker – I call a spade a spade. I feel it's important to speak my mind, especially if I see that the risks involved in a course of action are material. I have always given my unbiased inputs to allow the decision-maker to take the decision based on information.
But I also think that the culture of an organisation is important in ensuring all voices are heard. At Rx, it feels as though you are given the opportunity to speak and that the team considers inputs objectively. It's an organisation where you are given feedback and the rationale for such feedback. We're a small team of 35 people, but it is largely balanced by gender. We operate an open door policy so that management signal to employees at all levels that they can talk about issues or ideas openly. The environment is one where views are exchanged and opinions valued. Actis has helped us build this – it's a culture that encourages discussion and asks employees to be rigorous in arriving at their opinions so that decisions are based on facts and data."
How important do you believe role models are in developing a career path?
"They are very important. You need positive influences to help steer you through. My mother has been one of my role models. She didn't receive any formal education, but she is a great multi-tasker and quick to take responsibility for what she does. She is a strong believer in accountability. When I professionally qualified and was about to begin my career, she advised me to work competently without compromising values. I still hold to that and because of this people know what I stand for.
I have also had a couple of professional role models. One was my reporting manager in my first job as a chartered accountant at Lovelock & Lewes (which is now PwC). Even today, I admire the way she conducts herself in her job and continually sharpens her weapons of knowledge and understanding. She taught me the importance of spending time with more junior members of the team and ensuring they understand and have what they need to produce work to a good standard – that's so important because when you become more senior, you are relying on their work for decision making. And finally, Managing Partner I worked earlier with is still my professional guru – I go to him when I need help with challenging decisions."
What advice would you give to others looking to advance their careers in finance?
"Be open to learning from all those around you and don't always assume you know better. I have found there is so much to be learned from a range of sources, including office helpers, junior team members as well as superiors. And when it comes to getting up to speed with technical knowledge, there are no shortcuts. It's very tempting for younger professionals to search for information on the internet, but this needs to be backed up with solid and thorough understanding that you can only get by referring to books. There is no substitute for thorough technical knowledge and application of knowledge in relevant situations.
And finally, know what you can do and what you can deliver – you can't take everything on and it's never a good idea to over promise and then find you underdeliver."