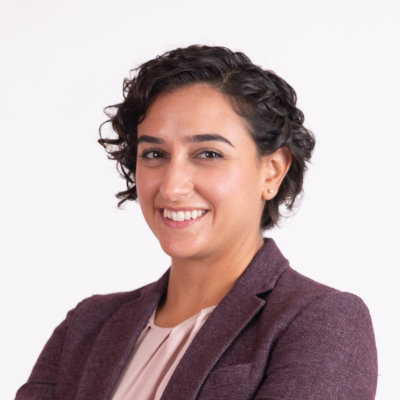 Tania Jarjur
General Counsel, Yellow Door Energy
Having taken what she describes as an "atypical" route to into law, Tania Jarjur is now General Counsel at Yellow Door Energy, a platform operating in the Middle East and Africa that offers distributed solar energy to commercial and industrial customers. We caught up with Tania to find out how she got there and what it will take to get more women into STEM-related careers.
Can you tell us about your role at Yellow Door Energy?
"As General Counsel, no two days are ever the same. I'm responsible for a wide variety of areas, which makes the job very interesting. This includes working on projects, where I negotiate customer and vendor contracts, on acquisitions, entering new markets, project finance, resolving disputes and litigation, reporting to shareholders. I also need to ensure the company complies with all the relevant regulations, such as anti-bribery and anti-money laundering, whistleblowing, and deep-dive 'know your customer' due diligence work to ensure that the counterparties we work with don't violate our policies. I'm also on hand to help various team members with their work."
Why did you decide on law for your career?
"I took an atypical route. Most people in the US education system know they want to become a lawyer from a young age, but I didn't. I knew I wanted to work in development and to have a career that could make a positive impact – I just had to find a way to make that happen. While doing a bachelor's degree in business, I came to understand that if I wanted to make a difference, CSR programmes or charity work would not be sufficient – there has to be a financial incentive for development to happen. Law school beckoned.
Then, after graduating from law school, like many of my peers, I had a lot of debt and so went into corporate practice. This gave me great exposure to the worlds of business and law and I had the privilege of working with some very talented and commercially minded partners. I learned from their pragmatic approach to issues surrounding oil & gas, renewable energy and shipping, and gained experience in infrastructure through project development, acquisition and corporate finance work."
How did you come to join Yellow Door Energy?
"I met the team at Yellow Door Energy while I was in private practice, and the company later became my first client when I established my own legal consulting firm. The team and its vision really stood out because they were trying to figure out how to make the distributed energy generation business model work. Two years later, our paths crossed again and I started out at Yellow Door Energy as legal counsel when the company was raising seed finance. The company has given me the opportunity to grow personally and professionally while also pursuing a role with purpose because of its focus on sustainable energy."
What kinds of challenge have you had to overcome in your career?
"Both the legal and energy industries are very male-dominated. In private practice as a female associate, I saw from day one that I would have to work harder than my male colleagues to gain recognition. There were very few female partners or women in senior leadership positions who could have your back and I remember a female HR professional telling me I'd have to put in more effort than others to get on. There was also an attitude that you could either be a good lawyer or a good mother, but you couldn't be both. I was the only female attorney at both the law firms I worked in while in the UAE and I felt I had to stay later at work than male colleagues to prove my worth. When you're junior, that environment can be motivating, but as you progress, it's actually pretty demotivating."
What has your experience been like at Yellow Door Energy? And what kinds of initiative does the company have to promote an inclusive culture?
"I've had a very different experience at Yellow Door Energy. I still have to work hard, but here it's not because of my gender and I feel as though my work is valued. When I joined, there was a female head of risk, and she really inspired me. She was highly competent, had strong ethics and had a real confidence in the work she did. She was also herself at work – she didn't feel she needed to adopt a male perspective or persona – and that was a real breath of fresh air. She allowed me to have the confidence to just be me and that means I can devote my energy to my work rather than trying to be something I am not.
There is still some way to go, but at Yellow Door Energy, we are trying to address gender imbalance in the region and industry. Here in the Middle East, just 20% of the energy industry's employees are female; at Yellow Door Energy, that figure is 35% so far. Our entire legal department is female – that's not intentional, by the way, as we don't hire based on gender – and we are trying to recruit more female engineers. Actis has supported us in putting in place some initiatives. We now have an I&D committee and we've recently conducted an employee survey that will help inform how we further promote inclusion in the company. We also offer flexible working arrangements, and we better maternity leave and support than other companies in the region. I firmly believe that, given time, we will get there."
What do you think is needed to level the playing field for women in your industry?
"There is a lot that companies can do in their recruitment processes and to retain more female staff. But actually, we need to ensure the candidates are there in the first place. That means we need to do more at the education stage. It's very difficult to hire female engineers if they are not coming through STEM-related education routes. In law, I've observed that many women tend to go for areas that are considered female-friendly, such as family law. As a society, we need to encourage women to take on different roles, and universities and colleges need to consider carefully how they advertise and promote courses to women."
What are the most important lessons you have learned in your career?
"Don't be afraid to ask. I was always nervous to speak up or ask questions for fear of looking dumb or not knowing enough. But you don't need to know everything and you can save yourself a lot of time and effort if you can just be confident about not having all the answers. I've learned the hard way that if you don't ask, you don't get. I've also learned to be more self-promotional and to take credit when I've achieved something – I had to teach myself to do this.
And finally, I've learned that it's OK to take risks. It can be very easy to feel that you have to follow a formulaic path and that you have to be a small cog in a big machine, but you can get to where you want to be by looking at situations creatively or differently. When I was younger, I would never have imagined I could get to work in a job I love and at a senior level by forging my own path."