Press release
Actis and Mainstream Renewable Power sign agreement to sell Lekela Power in Africa's biggest renewable energy deal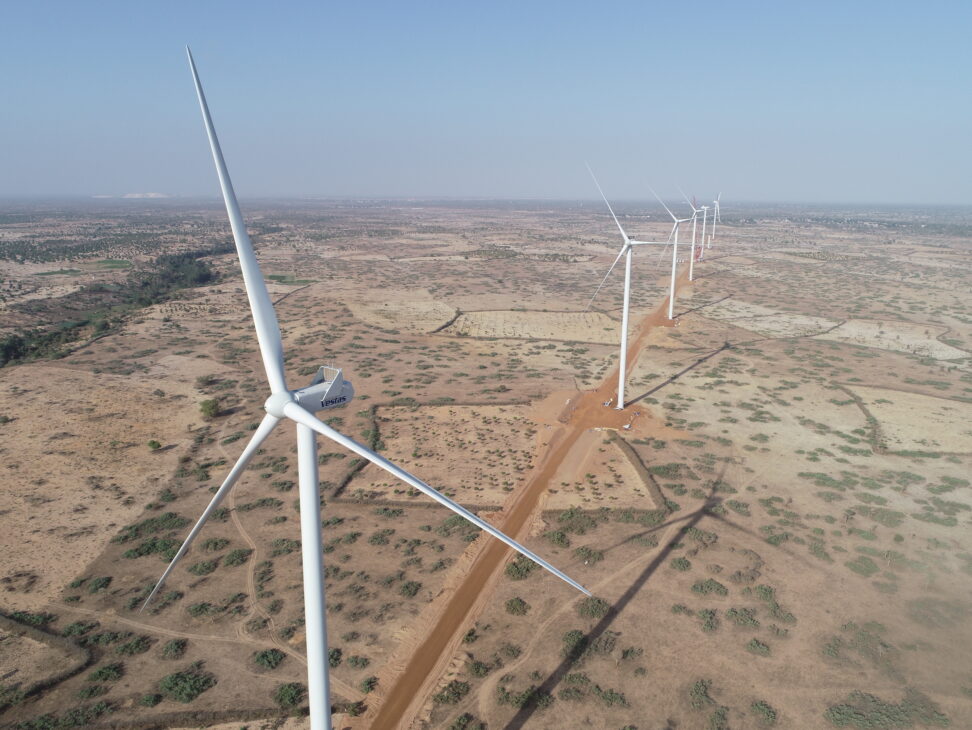 Actis and Mainstream Renewable Power ('Mainstream') have signed an agreement to sell Lekela Power ('Lekela'), Africa's largest pure-play renewable energy IPP, to Infinity Group and Africa Finance Corporation ('AFC')
This planned exit reflects the successful culmination of Actis and Mainstream's partnership strategy for Lekela, with the platform consisting of a leading management team, over 1GW of fully operational assets and significant growth prospects
London, 18 July 2022:  Actis, a global investor in sustainable infrastructure and Mainstream, the global wind and solar company, have signed an agreement to sell the Lekela platform to Infinity Group and AFC, subject to regulatory approvals and customary closing conditions.
Established in 2015 to deliver clean, reliable energy across Africa, Lekela has become the African continent's largest pure play renewable energy Independent Power Producer ('IPP'). The platform consists of over 1 GW of fully operational wind assets, including five operational wind farms in South Africa (624MW), one operational wind farm in Egypt (252MW), one operational wind farm in Senegal (159MW) as well as development opportunities in Ghana, Senegal and Egypt.
The platform was established as part of a joint venture between Actis (60%), and a Mainstream-led consortium called Mainstream Renewable Power Africa Holdings ('MRPAH') (40%). The planned exit reflects the successful culmination of their partnership strategy for Lekela, following a comprehensive value creation approach.
Throughout the development, construction and operations journey, Actis and Mainstream have delivered on their guiding and robust sustainable development standards, guided by close engagement with local communities.
With the support of Actis' and Mainstream's dedicated sustainability professionals, Lekela has implemented the highest international standards in health, safety and environmental protection. Lekela has also developed a deep commitment to local development and continues to operate a community investment programme that finances entrepreneurship, educational and environmental protection initiatives.
Lucy Heintz, Partner and Head of Energy Infrastructure, Actis, said: "This exit highlights the hands-on approach we take at Actis as builders and operators of leading energy platforms of scale, delivering positive impact. We're proud to leave Lekela strongly positioned for its next phase of growth as an acknowledged sustainability leader supplying much-needed clean energy to communities across Africa, building on our Net Zero commitment. With our dedicated sustainability team, we have focused on an active ownership approach allowing us to deliver deep commitment to local African communities and environmental protection initiatives, investing behind the Energy Transition and delivering financial performance for our investors."
Shami Nissan, Partner and Head of Sustainability, Actis, said: "It's a testament to the work we have done in partnership with Lekela's management team that Lekela was rated one of the highest performing companies globally by Sustainalytics, under its ESG Risk Rating assessment process in November 2021. In particular, Sustainalytics noted Lekela's strong management of land use and biodiversity issues, business ethics, occupational health and safety and community relations."
Mary Quaney, Group Chief Executive, Mainstream Renewable Power, said: "There has never been a more critical time to accelerate the global transition to renewable energy, for the health of both our planet and our communities. Much of Africa is acutely vulnerable to climate change and we are proud to have worked with Actis, as well as the communities, governments, project lenders, equipment suppliers and contractors across Africa, to deliver over 1GW of operational wind power that will continue to have a positive impact for decades to come. Our vision is of a world electrified by renewable energy. Together with our strategic shareholders Aker Horizons and Mitsui, we are well positioned to lead and truly accelerate the transition to renewables in South Africa, across the African continent and in markets globally."
Mohamed Ismail Mansour, Co-Founder and Chairman, Infinity said: "Our acquisition of Africa's largest independent power producer in the renewables sector is a major milestone in our strategy for growth across the African continent. We are proud to be playing a key role in contributing to a brighter future for Egypt, South Africa, Senegal and the African continent as a whole."
Samaila Zubairu, President and CEO, AFC said: "This acquisition marks an important milestone in our journey to build a 3GW renewable energy platform. We are focused on reducing Africa's massive energy deficit through expanding the quantum of electricity using the various energy sources available throughout the continent. Consistent with AFC's mandate to fast-track Africa's economic development, we have since 2007 developed and financed energy generation and access assets throughout the continent. Working together with our partner, Infinity, we aim to more than double the capacity of our joint operating assets over the next 4 years, which stands at 1.4 GW after the Lekela acquisition."
Nayer Fouad, Co-Founder and CEO, Infinity, said: "The acquisition of Lekela is a key milestone for us at Infinity as it not only becomes the largest such acquisition in the history of the continent but also signifies the continuous growth and expansion of Infinity's efforts to create a sustainable supply of clean green energy. We will continue to build upon our endeavors to create a truly sustainable ecosystem for green energy in Africa."
In June, Actis and Mainstream announced the completion of the sale of its Chilean joint venture, Aela Energía, to the Canadian-listed developer Innergex Renewable Energy, another milestone deal and proof of Actis and Mainstream's leading role in accelerating and delivering the transition to renewable energy.
Citi and Clifford Chance advised Actis and Mainstream on the Lekela transaction.
The Actis Energy Infrastructure team invest on a global scale in buy and build power generation and distribution businesses. The team has invested in over 70 renewable energy projects to date, generating approximately 11GW of renewable energy globally.
Highlights over the past year include completing fundraising for Actis Energy 5 with US$6 billion of investable capital, enabling it to mobilise more capital to invest behind the Energy Transition and successfully realising three major energy investments in Latin America – the largest independent renewable energy platform in Brazil, the largest renewable energy IPP (independent power provider) in Chile and a leading IPP in Mexico. In April 2022, Actis announced the signing of an agreement to sell Sprng Energy, one of India's largest renewable energy companies and most recently announced the launch of a power generation business dedicated to delivering an equitable Energy Transition in Southeast Asia and an investment in Omega Energia, the largest publicly listed pure-play renewable energy generation company in Latin America.
Sign up to the street view for the latest news and insights