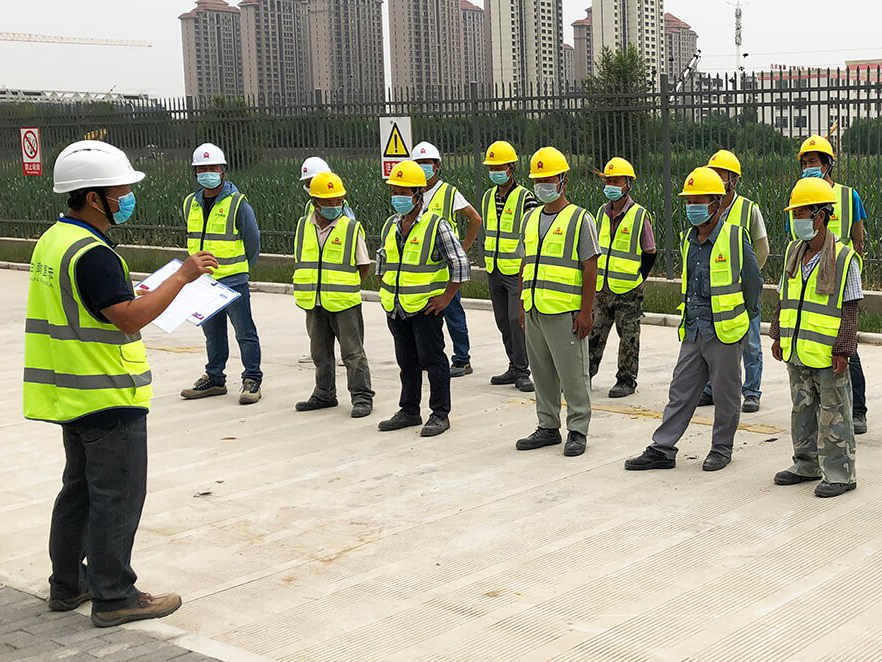 The Street View
The Actis view: COVID-19: Operational challenges in Real Estate, China
On 10 June 2020 Beijing marked 56 days without any new reported COVID‑19 cases. Over the last two months since our previous Street View, China has been engaging in the arduous task of recovery. In early May, I made my first business trip in five months, from Shanghai to Beijing, for the site inspection of our data centre development project. The whole country had recovered to a stable level of economic vitality.
However, on 11 June Beijing then reported a new confirmed case. From 11 to 22 June, more than 170 people tested positive for the virus. On 16 June, Beijing raised its public health emergency response level from three to two, the second-highest ranking. The fight continues…
In China, we have three logistics developments and one data centre under construction, all of which resumed site work by mid-April with at most 400 workers on a single site. We and our partners have implemented preventive measures including, among others, guides for the updated site protocol; daily body temperature checks on site entrance; compulsory face mask wearing and regular sanitation of the site office central air conditioning system. Further, every visitor to the site area must pass the health and high-risk area exposure screening before admission to site. This is done by adopting a smartphone with a countrywide "health QR code" system which tracks the cellphone owner's COVID‑19 and high-risk areas exposure record in the last 14 days. See more in our podcast.
Business goes on, but not as usual…
While construction work resumed in April, our other industry contacts had continued to work throughout the pandemic. In early May, we were invited by one of the big-four real estate firms to a Grade-A office building virtual asset tour, with real time streaming as an introduction to the asset. The live broadcast was held on DouYin. The Chinese twin app of TikTok has seen an increase in hits due to the mass lockdown of cinemas and is now spreading virally in India, South East Asia and Africa with DAU over 400 million.
Another software which is performing well throughout the pandemic is one all of us are familiar with, Zoom. Although we believe that existing relationships and face-to-face meetings are still pre-requisites for any deal to happen, we managed to proceed a pipeline deal without interruption. During the peak of the pandemic in March/April, we maintained momentum with several rounds of preliminary "Zoom" due diligence tours of the target asset.
While some early stage due diligence work can be done with Zoom, how about construction site visits? During the domestic travel restrictions in China, we arranged regular drone inspections of the construction sites allowing a tangible check in on progress.
Leasing activities also continued during the pandemic. We have three logistics sites located in different cities in China where most of our potential tenants were not able to visit. We provided a virtual tour the projects under construction, allowing the viewers virtual access to every corner of the asset.
Please click on our podcast to see clips of the above mentioned video streaming, VR site tours and how TikTok works on the real estate investment side.
Digitalisation
The Government's commitment to "New Infrastructure", is driving further investment in digitalisation and technology advancements.
The Chinese Government's policy push in March 2020 for 'New Infrastructure' is expected to result in USD530 billion of new development, including digital infrastructure and data centers. The policy has given an additional boost to the sector already enjoying structural tailwinds. These include further promotion of e-commerce and industrial digitalisation, experience of deploying 5G and IoT, with cloud infrastructure as a big enabler, and Artificial Intelligence development drawing on more computing power. The COVID‑19 fallout only accelerated the digitalisation trends.
History repeats itself, habits strengthen and paradigm shifts
Alibaba was a B2B company before 2003, its B2C business started during the SARS period in 2003 when China was badly hit by the outbreak. Before that, people considered online shopping as just an option. But when traditional options are no longer available, people's habits strengthen and the paradigm shifts. As of 2019, TaoBao and TMall's (B2C platforms under Alibaba) annual GMV had grown to USD 947 billion.
COVID-19 will continue to accelerate digitalisation trends and strengthened habits around the new way of living further reinforce our confidence in data centre and logistics investments across our markets