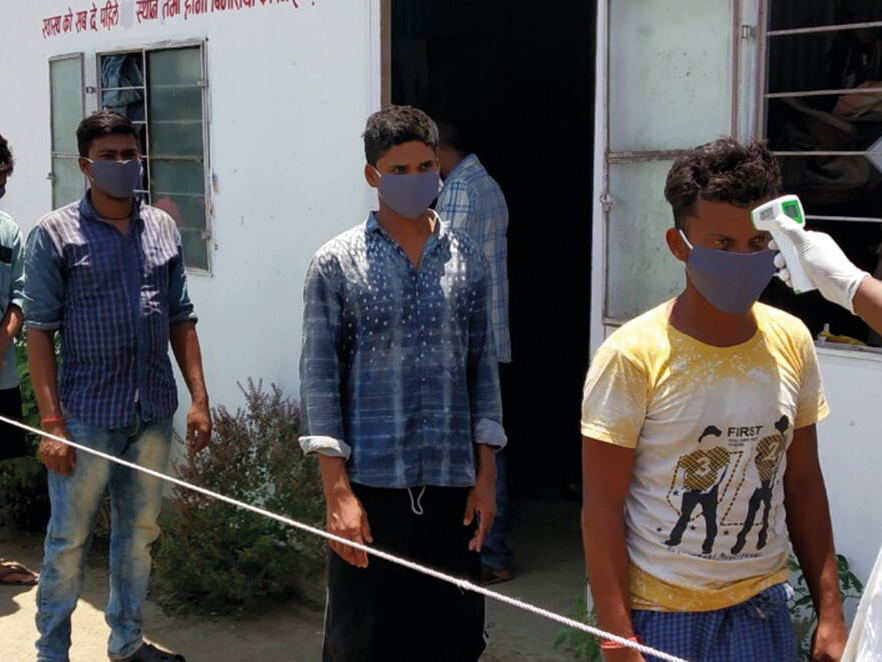 The Street View
The Actis view: COVID-19: Operational challenges in Real Estate, India
As we shuffle between "Zoom" and "Teams" moving from one virtual meeting to another; in response to the COVID‑19 crisis, our early fears of working from home compromising collaboration and team work are now behind us. Instead, we are interacting with our colleagues, partners, CEOs, and advisors more than ever and often not restricted by the conventional boundaries set by time and day of the week!
Between 24 March and 30 May 2020, India went through one of the longest and strictest lockdowns followed by phased relaxations from 1 June 2020. Government ordered non-essential services to close to control the pandemic, in an effort to delay community transmission while the Government worked to strengthen and expand health infrastructure to deal with the case load.
Closing of offices brought about a new work order, forcing people to quickly adapt to new ways of working, leveraging technology and cross skilling within teams. Clarity and frequency in communication with all stakeholders has become more important than ever as we tackle anxiety of the uncertainty caused by the pandemic. This has re-oriented our approach towards more collaboration, and investment of more time in communicating. And all this, while juggling home responsibilities and work schedule together.
Our business is about regularly visiting property assets we are invested in, and engaging with our teams on the ground that deliver or operate these assets. In the new normal of the COVID‑19 world, there are real limits to these activities. The pandemic has disrupted both demand and supply sides and certain fundamentals earlier taken for granted have now become risk factors that need active management.
Creating and retaining resilience in our asset portfolio have been at the centre of our attention. Team engagement comes first. Our first and foremost priority has been to take care of our teams, build morale and confidence and in many cases help adapt to the new work needs. The second was to quickly test liquidity in each asset and ensure adequate financing to meet any potential unforeseen need for cash arising from slow monetisation of assets. Our next set of priorities has been to build additional resilience in each asset by a combination of cost rationalisation, sales migration to online, and removal of inefficiencies across value chain. For example, we accelerated our virtual sales process during the lockdown and have now fully migrated to a virtual product experience. Today, a prospective buyer in any of our portfolio companies can virtually conduct site visit, understand the location, inspect the product, check availability, peruse the floor plan, and reflect on various views created by the designers and architects.
COVID‑19 is also creating attractive and compelling new investment opportunities. For instance, in India, COVID‑19 has helped accelerate creation of a real estate credit opportunity. Secular trends of urbanisation, rapid population growth, and a rising middle class will continue to support traditional real estate asset classes such as urban mid-income housing and office development. The behavioural changes precipitated by COVID‑19 are also accelerating the opportunity in logistics and data centres.
Leveraging technology to originate and source transactions and manage diligence is also part and parcel of the new normal. Where travel is not possible, we are reviewing sites and assets virtually, including at times through video calls with our advisors while they are visiting the site, to conduct preliminary underwriting.
COVID‑19 is also acting as a catalyst to push companies to embrace more ESG practices. As social distancing, hygiene routines, safety and health of employees, tenants, and other customers become the "New Normal", sustainable developments are finding preference among customers. We recognise that what we owe back to the society, and health and safety of customers, tenants, partners and construction workers is critical. For instance, ensuring the safety and well-being of construction workers has been of great importance to us during and after the lockdown as they are solely dependent on our portfolio companies for income and livelihood. During the lockdown, while the construction work stopped, our investee companies retained and took care of ~3,000 construction workers across portfolio companies by not only offering daily meals and accommodation, but through also ensuring adequate healthcare support; medical attention; regular check-ups; isolation and containment facilities; ambulance on demand, and tying up with hospitals to quickly attend to anyone infected at the site. While we did this because of our commitment to the cause of good social governance, our investee companies have also in the process become beneficiaries of stronger worker retention post relaxation in lockdown, and our sites have been quick to recommence work.
As the distinction between 'work space' and 'personal space' becomes blurred, it is important to allocate time for mental and physical well-being as well. One can choose from a wide range of in-house activities to remain fit and focus on good hygiene. Regular virtual catch-ups with colleagues and teams help drive a culture of collaboration and real-time connectivity. It also allows time for more in depth thought aligning strategies for the future and spending quality time with the family.