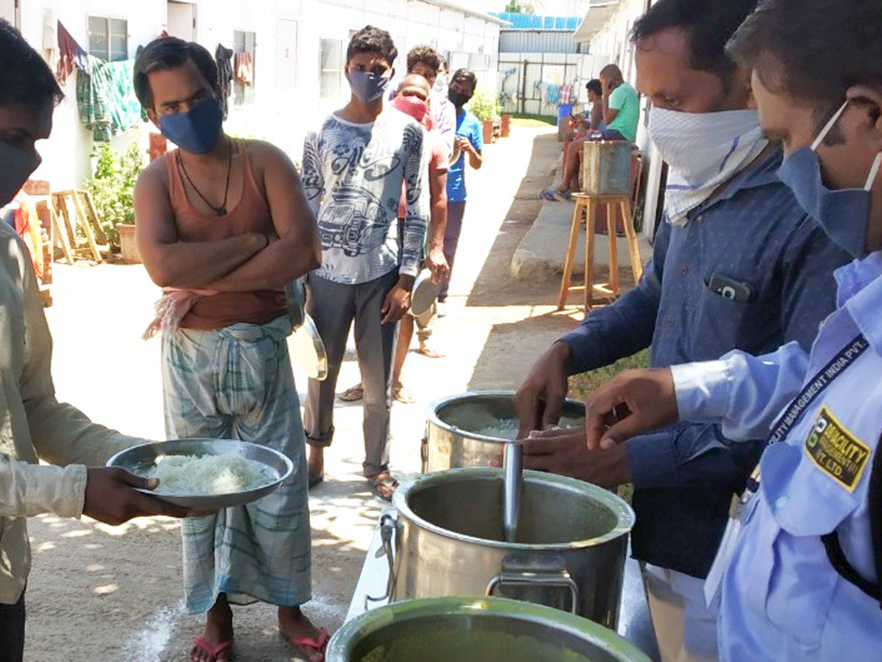 The Street View
The corporate view: COVID-19: Joyville, Real Estate
Food distribution on site
Sometimes life presents unprecedented situations – so called black swans. No business model would have allowed for disruptions caused by COVID‑19. Certainly, in my professional career spanning 25+ years, I have never experienced this kind of uncertainty. 
One thing is certain, our actions and/or inactions to manage the crisis will define us in future, and make us stronger both personally and professionally.
Joyville Shapoorji Housing Private Limited provides housing to the mid-income housing segment in India, the sweet spot in the Indian real estate industry. It is a partnership between Actis and Shapoorji Pallonji & Company Limited, which has a 150 year legacy of playing a crucial development role in India.
India, with the second largest population coupled with its nascent healthcare system certainly was and is staring at an unparalleled crisis to tackle as a nation. To break the chain, a complete lockdown was enforced from 25 March 2020 and with it the economy came to a grinding halt. We at Joyville had two options – (1) quickly accept the new normal and adopt; (2) wait for the situation to play out for a few weeks and then make our move.
I believe when challenges arise, it is better to take them on sooner than later. We moved towards making necessary changes in our route to market model within a week of lockdown to gain market share. Being a part of SP group with 150+ years of legacy and having marquee investors including Actis, every action must measure against creating positive impact for our stakeholders – our employees, site workers, vendors, customers and shareholders.
Social Impact
When the lockdown started in India construction was in full swing in four of the sites at Joyville with over 2,000 labourers. While the health and safety of our workers is always of utmost importance, during crisis the responsibility multiplies. We had to ensure that we take care of all our labourers so that they keep well both physically as well as mentally.
Our site leaderships immediately set up wellbeing protocols as below:
– Daily food arrangements for every site worker
– Access to doctors for regular health check-ups
– Provision of quarantine facilities within the labour camp
– Ambulance facility (24X7) tie up
– Safety protocol guidelines for social distancing, disinfecting and timetable implementation
– Entertainment facilities during this highly stressful time to keep labourers anxiety levels at check
With the help of the above measures, we were able to generate positive goodwill for Joyville amongst not just the workmen but also the local administration who were very appreciative of the efforts undertaken. A case in point is when the health minister of one of the states where our project is located visited our site, he was pleasantly surprised about the arrangements undertaken, appreciated our efforts and informed our competitors about our social leadership at the time of distress. Similarly, the local police close to another of our projects informed labourers of how Joyville stands above its peers in taking care of social wellbeing.
The show must go on – approach towards new sales during lockdown
Real estate by virtue of being capital intensive, invariably is the most important investment decision for a customer; and thus, without a physical site it is challenging to convert sales. We quickly realised that we had to change our strategy and switch to a completely digital one – to drive virtual meetings with prospective clients and for that to succeed it was imperative to first convince market participants to accept the new normal and work our way around it. It was very important to focus on the inputs during this period rather than outputs and celebrate each small wins enroute. Thus, started our daily routine of:
– Virtual team meetings to decide daily operational targets with a review at the days end
– Virtual engagement with channel partners not only to motivate them but also to facilitate customer meetings
– Developing a complete in-house digital customer engagement tool "Virturo" which gives customers a virtual tour of the site, master layout, unit layout, availabilities, location dynamics, market perspective and interiors with an aim to make digital become real.
– Customising product offerings suitable to the customer needs
– Enhancing motivation to sales and customer engagement team to exceed outputs
These well synchronised efforts help us to continue business and boost the confidence of the entire team.
All in all the last 2.5 months have been very challenging and it continues to remain so with the number of cases scaling up as the major cities in India slowly start opening up, but at the same time this has been a learning of a lifetime for everyone at both a personal and professional level. As they say "Tough times don't last forever, but tough people do" and these trying times will surely result in:
– Gains in market shares for companies with strong transparency and high governance level
– Delivery of projects on time playing a key role even more going forward.
– Customers focus shifting to an integrated green building-based ecosystem
– Market dynamics transitioning to a more contactless mechanism
– Dynamic companies with an ability to adapt to such new reality leading.
The key focus is to convert this crisis into an opportunity through taking measured calibrated steps and distinguishing ourselves from the competition. Steps include:
– Resuming construction activities and bringing it to pre-COVID‑19 scale as soon as possible and delivering on time to secure goodwill
– Kick-starting the momentum through launching of new projects and handing over apartments, with proper planning and execution
– Renewed focus on cost optimisation and drive efficiencies across the value chain
One needs a lot of grit and determination to tide over this phase and to stay focused and keep doing the right things. To achieve this, one should have proper value systems, high governance standards, a heart in the right place and a positive outlook towards life and livelihood. Needless to say, all the stakeholders of Joyville – Shapoorji Group, Actis, IFC & ADB are built on strong platforms and have imbibed Joyville with the right value constituents to help the management team move forward with more rigor and confidence.