Access to digital infrastructure enables communities to improve economic and social growth prospects. According to the International Telecommunication Union (ITU), globally it is estimated that an increase in 10% of mobile broadband penetration increases GDP growth by 1.5% worldwide.
This comes primarily from rising productivity and new job creation. We are increasingly realising that broadband connectivity is essential and becomes just as important as water and power supply. Latin America is no exception to this rule, albeit starting from low penetration rates.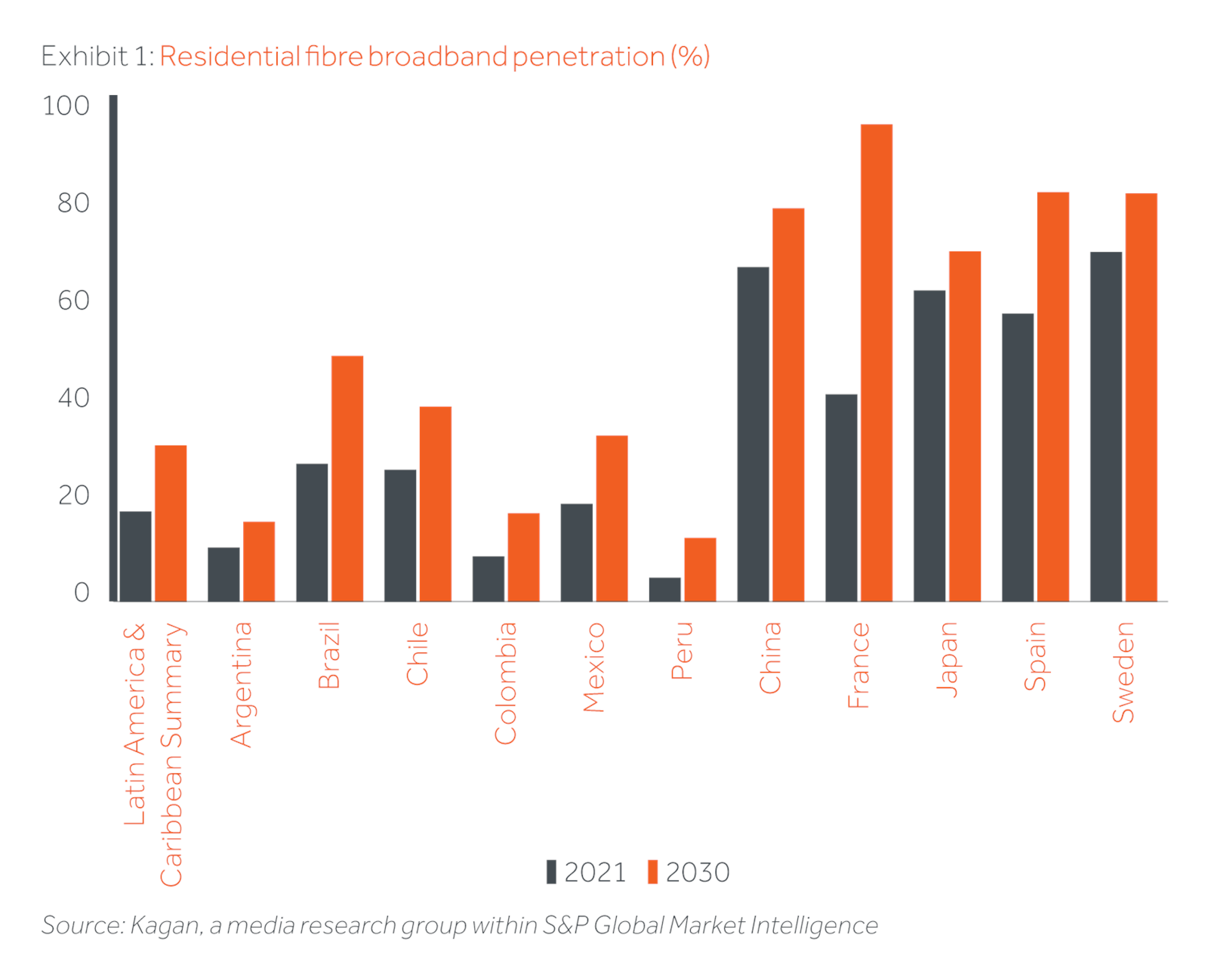 Actis is constantly looking for opportunities with a wide supply and demand imbalance of infra where deep operational expertise and capital deliver positive social impact and long-term return.
We see a huge opportunity to do that in the digital space in Latin America. According to Kagan, a media research group within S&P Global Market Intelligence, currently less than 50% of the population in Latin America and the Caribbean has broadband in their homes and an estimated 18% has fibre broadband (FTTH – Fibre to the Home) (see Exhibit 1).
According to Cisco 2% of the connections in Latin America are projected to be faster than 100 Mbps in 2023 while the global average is estimated to be around 40% (see Exhibit 2).
Despite the low availability of digital infrastructure in the region, internet usage is one of the highest among other regions in the world, proving the great demand and opportunity. For example, among the top 10 countries in the world where internet users spend the most time on social media, four are in Latin America.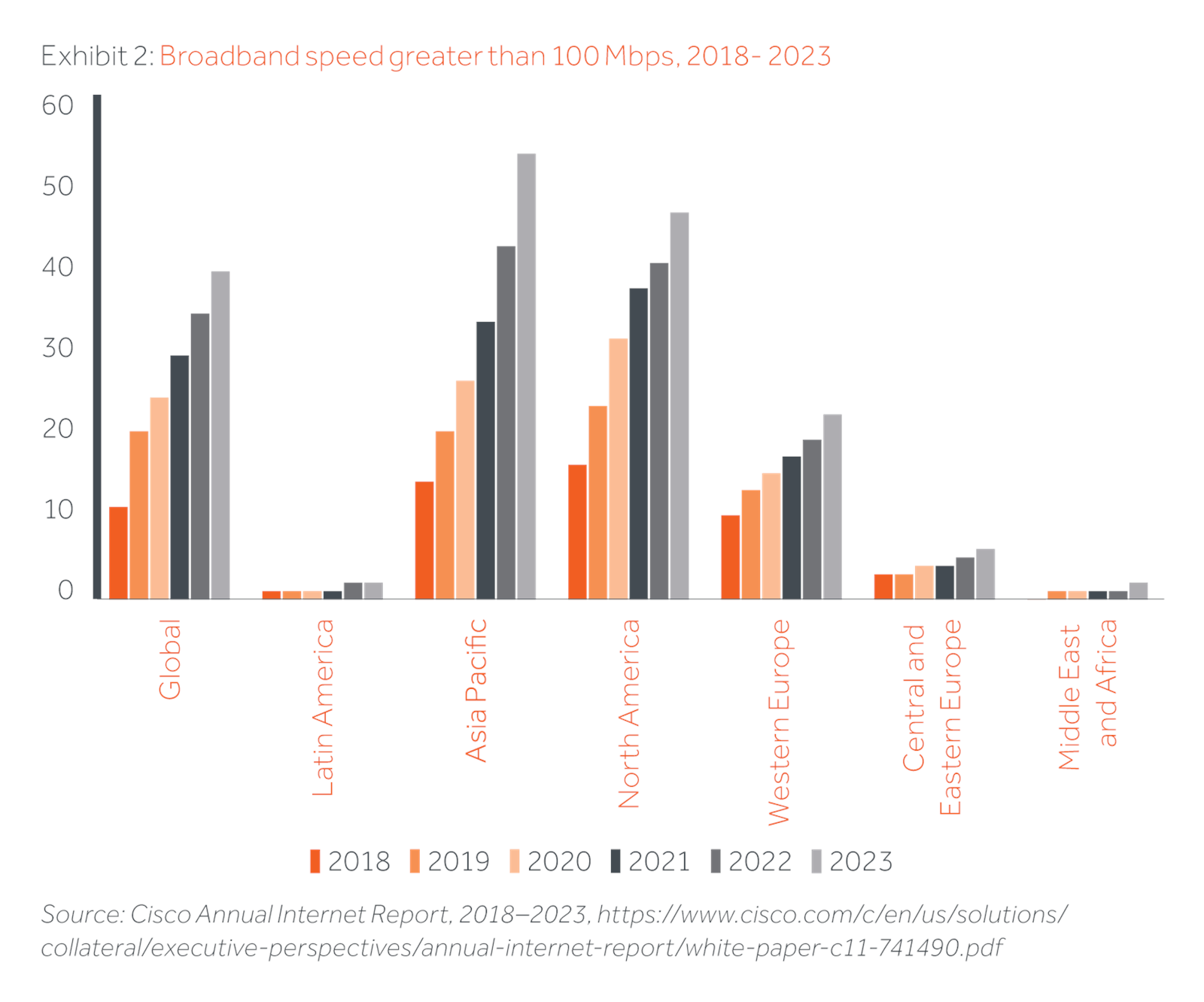 A massive amount of digital infrastructure is needed in the region across all spectra of the digital infrastructure value chain. One major milestone will be the deployment of 5G networks, bringing 10x higher speeds and 10x lower latency.
According to an ECLAC study for six selected countries in Latin America, around US$120 bn will be needed by 2030 to implement 5G technology.
In addition to traditional towers and antennas, 5G involves deployment of small cells connected with high-capacity back haul (which is the internet connection between the small cells and the network core) thereby enabling better 5G delivery in dense urban areas.
It is estimated that 3x more sites will be needed to meet demand for 5G coverage. The increase in traffic will also mean a greater number of data centres with servers running applications in the cloud.
In addition to the large and centralised data centres, edge data centres (which are smaller facilities that provide cloud computing resources and cached content, located close to the populations they serve, to enable organisations to reduce latency and improve the customer experience) will also be needed to allow the 5G service user to experience the low latency.
A massive amount of digital infrastructure is needed in the region across all spectra of the digital infrastructure supply chain
At this point, it is still not clear how telecom operators will monetise the massive investment required to roll out the 5G network, which will bring a lot of new products and applications but limited short-term revenue opportunity.
But the first carrier who deploys 5G will win a large market share. This 'catch-22' dynamic is even more accentuated in Latin American countries where average revenues from users (ARPUs) are one of the lowest in the globe.
This is the very reason why we see a strong case for neutral and independent players that could support the large investments required by the 5G in coordination with Telcos.
The development model pursued in 3G and 4G networks involved low sharing, with networks deployed for sole use by each telecom operator. Sharing was limited to passive elements such as telecom towers or real estate sites.
This is changing
Networks such as 5G and FTTH require a much higher investment than previous generation networks. Additionally average profitability of telecom operators has been pressured in the last decade since ARPUs for fixed and mobile services do not rise and the penetration of services has reached full potential.
The profitability equation for telecom operators in Latin America is even more challenging as the region has a low per capita income which translates into low levels of ARPUs across all services.
Thus, the new network deployment model should strive for maximum network sharing, using the concept of neutral networks, developed for multi carrier use, whether large or small operators focused on niche markets.
The savings of this model go beyond capex efficiency, but also opex, as these networks have lower unit costs of energy, space usage, preventive and corrective maintenance, and network management.
This increased efficiency will allow the digital infrastructure to arrive sooner and in more places as the economic viability equation of network deployment is optimised.
It is well known that one of the most important barriers to the spread of advanced telecom technologies in Latin America is the cost of the service to the final consumer and the impact on the average household income.
A more inefficiently developed network leads operators to charge a higher price for the final service. In this way, network sharing creates more conditions for the wide spread of broadband connectivity services.
The new network deployment model should strive for maximum network sharing…this increased efficiency will allow the digital infrastructure to arrive sooner and in more places
Another important benefit of neutral networks is their sustainability and environmental impact, with less resources and energy needed to provide digital infrastructure.
Neutral networks also allow operators to focus even more on customer service, product development and service experience
It will be through these elements that each operator will be able to differentiate itself competitively and not through infrastructure.
Carrier neutrality in Latin America is supported by regulatory trends. In Brazil, for example, Anatel, the local regulator for the telecom sector, created conditions in the 5G spectrum auction for a Neutral Operator.
In addition, Anatel is regulating the secondary spectrum market, allowing spectrum to be leased. This creates conditions for investments to be attracted for the development of networks and shared assets in the new 5G mobile networks.
There are opportunities to invest in developing shared network assets such as Fibre Neutral (FTTH) networks, as well as the 5G neutral network model across the region.
The 5G spectrum auctions have already started and it is expected that in the next three years most countries will be underway in implementing 5G. Countries with a more competitive environment such as Brazil, Chile, Colombia and Argentina will be the main focuses for a neutral network strategy as sharing can bring greater benefits.
Market development and opportunity is far from homogeneous across Latin America. It is vital to understand country differentials in order to identify the best strategies and opportunities. Some markets are more advanced than others with different market dynamics.
There are two major pathways for opportunities in Latin America: firstly, acquisition/development of assets to establish a neutral and independent player with the opportunity to release value and amplify the infra reaching for other players, and secondly, acquisition and expansion of wholesale infrastructure (tower, fibre, backbone, data centre) to support increasing demand and infrastructure gap in the region. The region is quite diverse.
Latin America's catch up on technology deployment and market development processes suggests momentum towards neutral networks will be intense. Some neutral network examples are appearing in markets such as Brazil, Chile and Colombia and it is expected that more projects should emerge.
This profound transformation will generate opportunities for investors to support the development of digital infrastructure by efficiently allocating capital and bringing important impacts to the economy and well-being for Latin Americans, who are avid users of digital services and social networks.