Artificial Intelligence is here to stay, driving a new age of societal and economic change brought on by technology that replicates human decision making intelligence. We are living in what has been termed the 4th Industrial Revolution. As Klaus Schwab, founder of the World Economic Forum said in 2016, "We stand on the brink of a technological revolution that will fundamentally alter the way we live, work and relate to one another"
Artificial Intelligence is the broadest description for defining a technological process that is capable of automated decision making. Within AI is "Machine Learning", where machines identify patterns in vast amounts of data for the purpose of drawing conclusions and learning from these in order to enforce behavioral change. The resultant opportunities through increasing innovation and productivity are huge. Recent reports by McKinsey and PWC have predicted that AI could incrementally contribute 14-16% or over $13trn to current global economic output, a productivity growth of 1.2% between now and 2030 through a combination of labor automation and innovations in products and services.
AI – A disruptive influencer?
AI is a disruptive influencer and there are therefore far-reaching consequences for all economies. We are already seeing the changes forecast for low skilled, labor intensive jobs across the world, particularly in the retail and car manufacturing industries through the introduction of AI. It is expected that 6% of all jobs in the USA will be lost to AI automation by 2021. McKinsey has predicted that automation will displace nearly 13% of South Africa's current work activities by 2020. The World Bank predicts a loss of 5 million jobs to AI worldwide by 2020.
An opportunity for Emerging Markets
In Emerging Markets there should be no fear of falling behind but instead we will see in this article examples of how countries are using disruption brought about by AI as an opportunity to bring positive change to such key sectors as finance, energy and education. The differences between Emerging Markets and more developed economies in terms of infrastructure and services could prove to be a positive advantage in that AI provides the opportunity to redefine how economies can work more efficiently without simply replicating long-standing processes and infrastructure from developed economies. Private Equity, as can be seen by rising deal volumes, is recognizing this trend (Exhibit 1)
Financial Inclusion
Given the fact that Emerging Markets have successfully leap-frogged stages in development in mobile telephony and banking similar growth dynamics could occur with AI. Data derived from digital transactions through the smartphone is a key enabler for AI development. AI is facilitating financial inclusion by developing algorithms that derive value from the vast amounts of untapped data accessible through smartphones allowing services to be offered to people not currently served by financial institutions.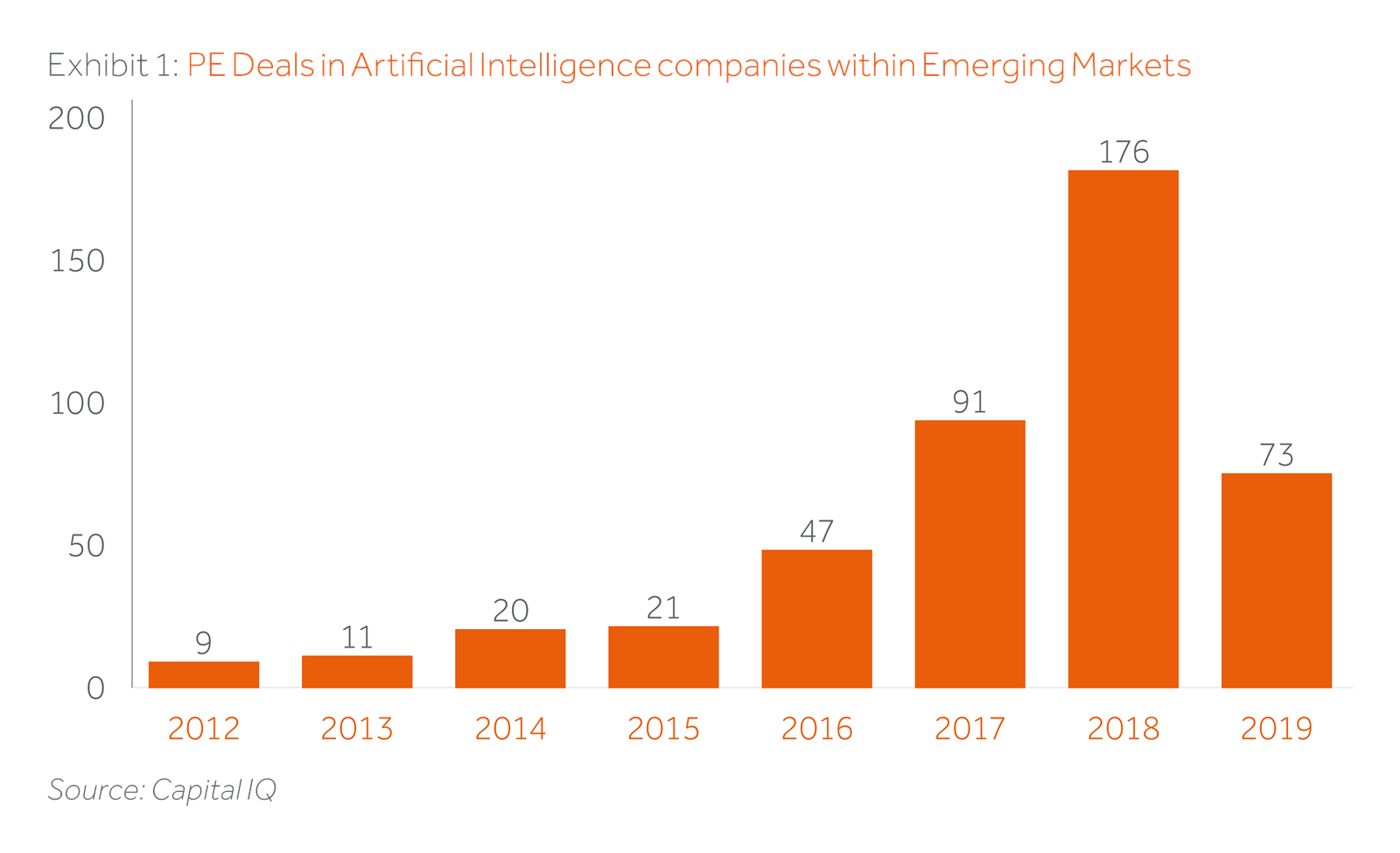 As we will see in Julian Kim's Street View on 5G in South Korea, High Speed Korea, the speed and bandwidth becoming available allows huge amounts of data to be transmitted, received and interconnected to multiple devices that can "talk" to each other. When AI is layered on top, this allows rapid and insightful services and decision making.
In the credit industry, artificial intelligence has helped traditional lenders approve loans by using thousands of pieces of individualized data that help assess credit worthiness. Using AI, Grameen Bank in Bangladesh gathered data on who the most likely loan defaulters were likely to be, and by managing this risk felt comfortable in lending billions of dollars of microcredit, as a result achieving a default rate of less than 1%.
Loan Apps are using Artificial Intelligence to transform the lending industry in Africa. Branch and Paylater, in Nigeria, are two of the leading AI players using deep learning technology to review smartphone data extracted from potential customers text messages and address books to make lending decisions based on estimated credit worthiness, eliminating the need for copious paperwork or guarantors. As a result, both have been able to reach millions of customers in Nigeria who are unable to be served by traditional banks.
Pine Labs, our FinTech investment in India offers AI influenced tailor made solutions to retailers and merchant banks globally. More than 75,000 retailers across India rely on Pine Lab's solutions to securely and regularly manage their payments. As with Grameen, Pine Labs provides quick business loans with bare minimum documentation and flexible rates.
Earlier this year, Rakbank, a retail bank in UAE teamed up with Pine Labs to develop an innovative and unique payment platform in the UAE that should transform the payments landscape in the region, converting "point of sale" terminals into a "point to acquire and engage", offering customers multiple value added services, such as instant instalments, access to diverse rewards, loyalty programs, top-ups, bill payments and instant discounts. Through one innovative payment process, improving the customer's banking experience by delivering value add and offering choice.
Energy Benefits
Extracting value from data in terms of renewable energy usage, Azuri Technologies, a leader in pay-as-you-go solar technology has introduced innovative AI solutions into remote communities in Sub Saharan Africa who do not have access to conventional power grids. Using AI, the solar usage of individual users are converted into data and this information is used to teach the solar panels how much personalized solar energy to capture on a daily basis.
By using machine learning algorithms combined with real time weather data from satellites, ground observation and climatic models, the future requirement for generated electricity from renewable sources can be forecasted that can allow better planning for meeting future customer needs and also improve equipment O&M and predict downtimes, thereby extending the life of equipment.
Prepare for the opportunity through Education
Such developments in AI only come through a laser like focus on education to increase advanced learning opportunities in new technologies. To be successful, labor needs to up-skill and become an influencer rather than a victim of disruptive technology change, exploiting the opportunities of AI through applying innovation on the back of enhanced knowledge.
Honoris United Universities, our Moroccan investment is leading the way in Africa in developing a 21st century learning environment, firstly by developing the infrastructure for learning and then secondly by developing innovative solutions leveraging off Artificial Intelligence. Honoris has opened Roudani campus, a city center facility that is open to students of all academic disciplines, designed specifically to allow cross specialty fertilization bringing together the school's business, law, health, finance, architecture and engineering faculties, working together on cross-specialty projects. Alongside this is the creation of Honoris Space, an innovation hub for students of all subjects.
Such focus on innovation and cross fertilization is already winning Honoris awards. Two laboratories at Ecole Marocaine des Sciences de l'Ingenieur (EMSI) have won awards at the recent International Exhibition of Inventions and Technological Innovations held in March 2019. One was for their SmarTraffic innovation, a decentralized system based on radiofrequency identification and image processing that is able to manage traffic in an optimal and intelligent way. It identifies vehicles in a state of emergency, for example, firefighters, ambulances or the police and controls traffic lights dynamically.
Another award was for SmartyPark, an intelligent parking solution using connected object technology implemented to available parking spaces in a city that allows real time positioning and guidance for the driver to a nearest parking space, optimizing real time parking and mobility within the city. This innovation guarantees a direct economic, ecological and social impact on city infrastructures.
Indian and Chinese technology giants such as Paytm, Baidu, Alibaba and Tencent are investing heavily in AI and establishing research labs. In China, the importance of AI is well recognized. The aging population (now 50% middle aged) is likely to fall short of the workforce numbers needed to maintain productivity at current levels. China is looking to use AI to build a new economic growth model that relies less on capital intensity and more on private consumption, services and innovation to drive growth.
In Feb 2019, Microsoft India announced it plans to train half a million young people in AI over the next 3 years and set up AI labs in 10 universities. Going forwards, over 800 higher education institutes in India will be ranked on their success in teaching innovation and entrepreneurship development. Google have created an AI research center in Accra, Ghana, bringing together researchers and engineers to focus on the applications of AI. Google also launched Launchpad Accelerator Africa through which 100,000 developers and over 60 startups have already been supported.
As Julian Kim will highlight in his piece, The Fourth Industrial Revolution – Are We Prepared?, the key drivers for success are a highly educated population with the necessary injection of capital to foster industry growth. South Korea is pre-eminent in technological innovation through decades of Research & Development enabled through focus on education.
AI will be an enabler through introducing web-based training that can teach complex skills to a widening workforce. This educational approach is beginning at school level. Hong Kong company, SenseTime has collaborated with the MOOC center of East China Normal University and middle school teachers in Shanghai to produce an AI textbook for high school students and 40 schools in China will participate in this AI program.
Honoris has launched a masters course in AI within both its IT and business schools and will integrate an introductory course in AI in all engineering qualifications.
In relation to vocational training, the level of teaching can increase in complexity based upon the intellectual and emotional response of each individual worker as they begin to demonstrate an understanding of skills taught. VIPKid in China has collaborated with Microsoft to implement an educational platform that uses the learners' webcam to assess his/her facial reaction to a new concept and sends prompts to the instructor on how well the learner has assimilated the skills taught.
The future is exciting
According to a recent report by Great Learning, an Indian online and hybrid education company, India has twice as many jobs in data science and machine learning as job seekers Focus must be on the upskilling of potential employees to take on the 97,000 jobs that lie currently vacant in India alone, a 45% jump in open job requirements compared to previous year.
Unsurprisingly, media attention has focused on the negative impact of AI on Emerging Markets, particularly the resulting job losses. Whilst not minimizing the disruptive effects of AI, which are inevitable, this article has tried to show the opportunity and progress already achieved across Emerging Markets through leveraging AI. However, the challenges of AI should not be under-estimated. How a country manages these disruptive influences goes hand-in-hand with how the positive benefits of AI can be harnessed.