Methane is an extremely potent greenhouse gas (GHG) with 84 times the global warming potential (GWP) of an equivalent amount of carbon over a 20-year time frame. In 2019, the oil and gas industry contributed approximately 82 million tons of methane to global emissions, roughly equal to the all the emissions from the entire global road transport fleet. 
The vast majority of methane (the primary component of natural gas) is destroyed during combustion in highly efficient gas power generation turbines; however, the natural gas supply chain causes potentially significant methane emissions.
Methane emissions can be 'fugitive' (e.g. due to a faulty seal or leaking valve) or deliberate and carried out for safety reasons.
There remains a high degree of uncertainty in estimates of methane emissions from oil and gas operations globally.
Natural gas has a lower lifecycle GHG emissions intensity than coal when used for power generation. IEA analysis shows that, on average, coal-to-gas switching still reduces GHG emissions by 50% when producing electricity.
Methane abatement
The IEA estimates that around 40% of total methane emissions could be avoided with measures that would have no net cost (at 2019 natural gas prices).
Options to reduce vented and fugitive emissions include:
Regular, proactive maintenance of valves, controllers and pumps (which emit methane in the regular course of operation) or replacing them with lower-emitting versions.
Installation of devices, such as vapour recovery units, to capture gas and pair it to an end use that is less harmful than direct release of vented emissions to the atmosphere.
Inspection of a facility at regular intervals, using drones or metering tools to scan equipment for leaks.
Gas procurement and certified gas
While satellites provide a way to identify large leaks and help end-users avoid the worst offending regions, they are not going to provide all the answers. Most notably, existing satellites do not provide measurements over equatorial regions, northern areas or for offshore operations.
The intensity of methane emissions varies widely across countries that produce oil and gas. Based on annual data for 2020, the IEA estimate that the emissions intensity among the worst performing countries is more than 100 times higher than among the better ones (refer to Exhibit 1).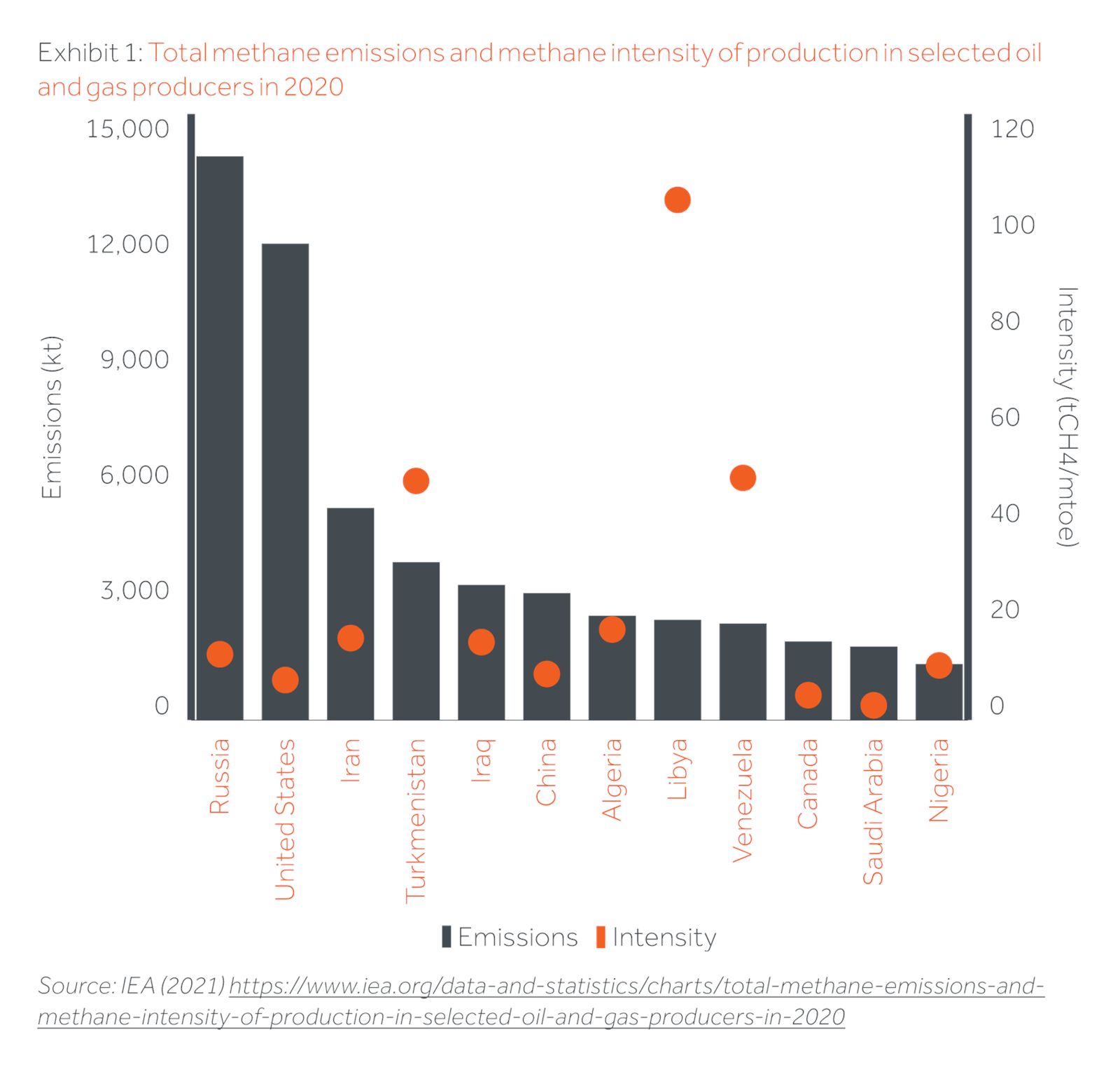 National and regional regulation can and will play a crucial part in reducing methane emissions in the energy sector in the longer term.
In addition, we're seeing the emergence of certification systems, developed by organisations like MiQ and Project Canary's TrustWell™, that will enable oil and gas producers to be assessed according to a universal standard, in which operators can be awarded 'Responsibly Sourced Gas' status.
While these certification schemes are relatively nascent it is hoped that, in regions where certified gas is available, sustainability-conscious end users will seek to demonstrate methane abatement in their supply chain by procuring certified Responsibly Sourced Gas.