The world needs hydrogen to reach net zero. The development of green hydrogen (using renewable energy) and blue hydrogen (using fossil fuels and carbon capture and storage) is essential in hard-to-abate sectors that cannot simply be electrified. These include vital chemical processes, such as desulphurisation and hydrocracking for oil refining, as well as the production of fertilisers and methanol. Hydrogen's importance also extends to sectors where there are few alternatives, such as steel production, maritime shipping fuel, and sustainable aviation fuel.

Global hydrogen demand today
94MT
per year

Hydrogen (from fossil fuels) today accounts for
2.3%
of global CO2 emissions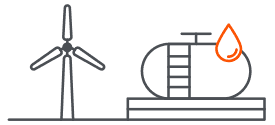 Green hydrogen demand by 2030
200 to 600MT
per year

This will require at least
3x
the total renewable capacity installed to date
As a highly abundant element that emits no carbon dioxide when burned, it is easy to understand the enthusiasm. Yet, hydrogen has been considered for applications where its suitability is unclear at best, this includes passenger cars, buses, and domestic heating, to name a few. Where there is a strong and viable alternative, such as batteries for cars or renewable energy-fuelled heat pumps in homes, these are far more likely to win out both today and over the long term.
Low-carbon hydrogen applications
This is not to say that the investment universe for hydrogen will be small. If we just focus on the areas where hydrogen makes the most sense, the volumes required are still substantial. To put this in context, just the decarbonization of sectors where hydrogen is indispensable, primarily fertilizers, methanol, and oil refining, would require close to 100 Mt of low-carbon hydrogen annually. To produce this amount of hydrogen via renewables, we would need to build 1.5 times the renewable capacity installed to date. Even the most conservative projections, aligned with experts like Michael Liebriech, foresee a future where low-carbon hydrogen demand reaches as high as 200 Mt per annum, a market valued at around US$300 billion.
Why smart policymaking is necessary
The reality is that clean hydrogen is far more expensive and less efficient to produce, store, and transport than the fossil fuels we use today. The cheapest green hydrogen developed today cost between US$2.5 to US$5 per kg, making it over 10 times pricier than the natural gas alternative. Over time costs will reduce as technologies evolve, demand increases and economies of scale start to materialize. Innovation in electrolyzers will increase efficiency, energy density, and stack size. Meanwhile, automated manufacturing and 'giga-scale' facilities are set to drive prices down, following similar trends to those seen in other technologies, such as solar PV or batteries. Nonetheless, hydrogen will still have significant barriers to widespread adoption, driven by the characteristics of the molecule.
Hydrogen gas needs 3 to 4 times the storage capacity of natural gas.
The extremely low temperature required to liquefy and transport hydrogen results in costs that in many cases exceed those of production.
Pipelines may be an obvious means of transporting hydrogen, but using existing infrastructure would require natural gas to have been phased out and infrastructure retrofitted, while building parallel lines is often unviable for private investors.
Government incentives and policymaking are therefore vital to encourage investment in viable hydrogen infrastructure and to create a market for hydrogen products.
Significant steps have been taken, especially in the United States, where the Inflation Reduction Act incentivizes green and blue hydrogen production through tax credits. Europe, too, is making promising headway with initiatives like the Hydrogen Bank and the ambitious plan to build 28,000 kilometres of hydrogen pipelines by 2030. Subsidies for the use of green hydrogen in the European Union, through long-term contract-for-difference auctions, are ensuring cost competitiveness for industries transitioning to hydrogen.
In markets such as Japan and South Korea, where phasing out coal-fired generation will take decades, governments are exploring innovative solutions like blending ammonia to reduce emissions. Despite the complexity and significant cost of this solution, given the lack of short-term alternatives, companies are gearing up to meet these government-set targets.
These initiatives are in turn spurring private-sector interest in low-carbon hydrogen projects, both for lenders and sponsors. The market for hydrogen projects and products is rapidly evolving beyond traditional applications, driving an increased demand for capital. Experiences from prior energy transition technologies, like solar PV and wind, tell us that declining costs and innovation can turn a trickle of adoption into a flood of acceptance.
Investment opportunities are strong, but only when aligned with hydrogen's true potential
We see plenty of opportunities, as models emerge structured around hydrogen limitations and true potential. For smaller projects, we see opportunities for local production where local consumption is needed. This is for example the case of a low-carbon hydrogen plant located next to a fertiliser factory or refinery. Meanwhile, larger "giga-scale projects" are interesting when focused on producing the cheapest low-carbon ammonia for export, to markets with limited renewable resources.
Given that electricity accounts for more than 60% of hydrogen's levelized cost, our expertise in renewables becomes a valuable asset. Our vast experience in regions rich in solar and wind resources, like the Middle East, North Africa, Brazil, Chile, and India, positions us well for projects aimed to produce green hydrogen and ammonia. Our history of working closely with governments and regulators, as trusted partners in critical infrastructure projects, allows us to navigate the complexities involved in converting promising ideas into tangible projects.
THE DEVELOPMENT OF COST-EFFECTIVE AND SUSTAINABLE LOW CARBON HYDROGEN APPLICATIONS IS VITAL IF WE ARE TO REACH NET ZERO. THIS PRESENTS SIGNIFICANT INVESTMENT OPPORTUNITIES, BUT CAPITAL AND POLICYMAKING SHOULD FOCUS ON AREAS WHERE THERE ARE NO OR FEW ALTERNATIVES.
We are actively evaluating and developing hydrogen opportunities, drawing upon our local knowledge and networks to capture what are often large projects. Given the scale required for many of these low-carbon hydrogen plants, forging the right partnerships is key. We leverage our extensive network and reputation in the energy sector to establish these partnerships.
Our in-house operations team has extensive experience working with equipment suppliers and manufacturers, enabling us to structure contracts that mitigate the risks associated with scaling up new and existing technologies. Our track record in developing intelligent finance solutions for complex situations positions us well to create and structure bankable projects, especially given our experience in securing long-term offtake agreements with high-quality customers.
As the market for hydrogen and its derivatives develops to meet the needs of a net zero global economy, we believe that there will strong appetite from investors for viable, high quality operating assets in the space, which will create exciting opportunities in years to come.
While scepticism about hydrogen may be justified in many cases, it is important to recognize the applications where it stands as the indispensable path to decarbonization. In these instances, where no viable alternative exists, hydrogen emerges as a massive opportunity—an opportunity equivalent to three times the cumulative renewable capacity built globally to date. Success in these investments will hinge on being able to see through the noise and focus on real opportunities backed by robust government policy and strong fundamentals.
EXHIBIT 1: LOW-CARBON HYDROGEN OFFERS A SOLUTION FOR THE "HARD-TO-ABATE" SECTORS, BUT HAS BETTER PROSPECT IN SOME SECTORS THAN OTHERS