Wind turbines use the wind's kinetic energy to generate electricity. The wind propels the turbine due to a difference in air pressure across the blades which spins the turbine's electromechanical system. The structural integrity of the rotor blades is crucial to ensure continuous power production and the safety of local stakeholders. Blade failures can cause significant economic losses and social impacts.
Unlike other components, such as gearboxes and generators which are commonly equipped with condition monitoring systems ("CMS"), wind blades operate without sensors reporting realtime data. Systematic inspection routines are critical to avoid poor outcomes, ranging from catastrophic failure to long repair downtimes and inferior performance.
Regular inspection and maintenance of these blades can lead to safety and long downtime challenges. Traditional methods such as "rope access" can take up to ten hours to complete and expose professionals to working at heights of up to 150 meters.
Echoenergia ("Echo"), an Actis Energy Fund 4 investee company, is using new technologies, such as drones, robotics solutions and AI to improve the quality, time, and safety of such tasks.
By using sensors and high-quality cameras, that allow drones to fly around wind turbines autonomously, the inspection tasks have been significantly improved. Artificial intelligence and machine learning also made the analysis of the resulting data more affordable, repeatable and accurate. In turn, this enabled the wind blade management platform to deliver data that drove the turbine operation and maintenance ("O&M") strategy and reduced costs.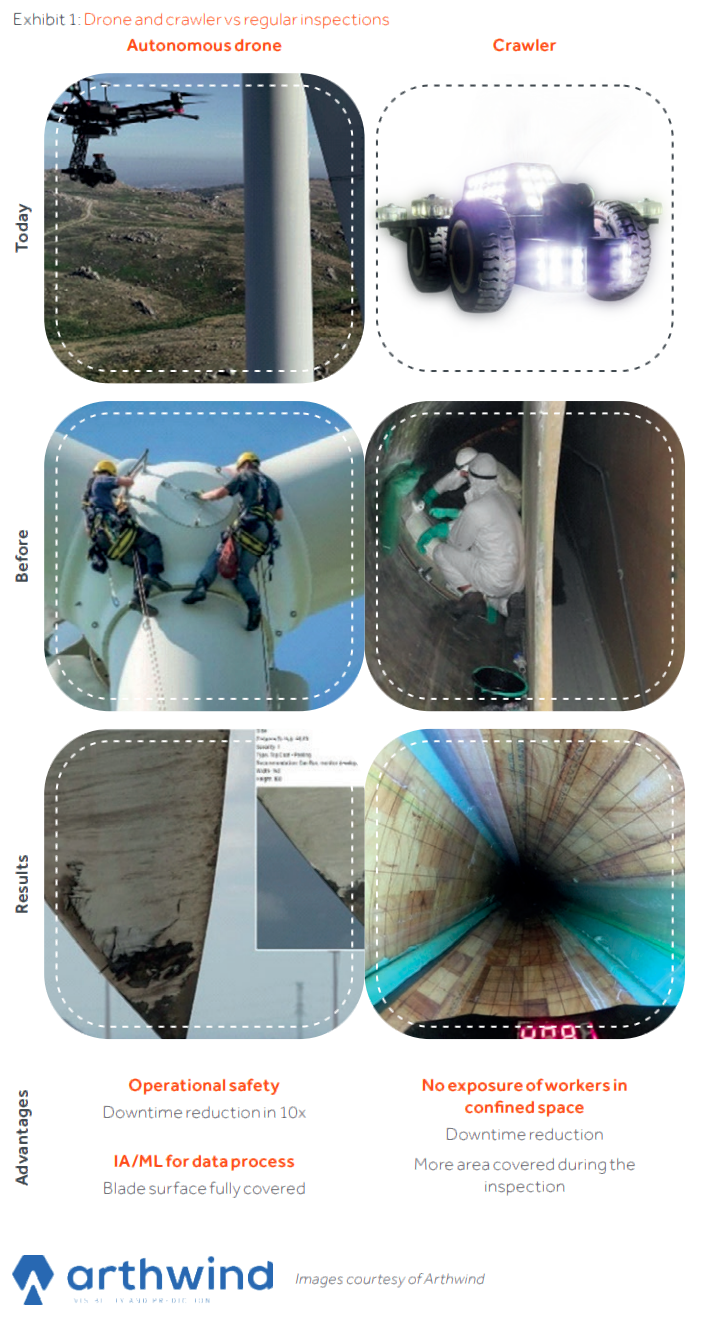 For internal blade inspections, Echoenergia uses mini robotic crawlers to deliver high levels of accuracy. This avoids people working in harsh and confined environments and provides more reliable and safer outcomes. Being small in size – typically less than 1 meter in length – robotic crawlers are capable of overcoming internal obstacles and accessing blade sections that were previously not inspected.
Both of these technologies were successfully applied in two of Echoenergia's wind farms (São Clemente and Tianguá), improving the inspection rate to an average of six turbines per day – where a rope access inspection would take from eight to ten hours. The use of this technology alone resulted in significant saving during 2020 of circa US$200,000 by reducing downtime and improving the identification of nascent issues. Health and safety of employees also improved.
As a direct result of these inspections, and the subsequent analysis of images with the aid of artificial intelligence, Echoenergia was able to identify POIs (Points of Interest) not mapped by the regular inspection performed by the OEM. These findings were then discussed with the O&M service provider to improve their maintenance plan.
With Echoenergia we continue to apply new technologies to provide a better understanding of blade condition, evaluate the adherence and quality of service providers and maximise production while improving safety.