Over the past decade, Latin America has made good progress in leveraging its strong natural resources to drive the energy transition.
Renewables are today the cheapest source of new electricity across most of the region and, after Europe, Latin America has the second cleanest power mix in the world, with 61% of the generation coming from zero-carbon sources such as hydro, wind, biomass, solar, nuclear, and geothermal plants. Brazil and Mexico, the two largest power markets in Latin America, will continue to shape the path towards decarbonisation in the region.
With new sources of electricity demand arising from air conditioning and electric vehicles in the next decades, energy capacity is expected to double by 2050 in Latin America. While wind and solar resources are expected to represent half of the capacity expansion (Exhibit 1), balancing the inherent intermittency of such resources with baseload energy will be crucial to enable reliable power supply and a sustainable energy transition in the region.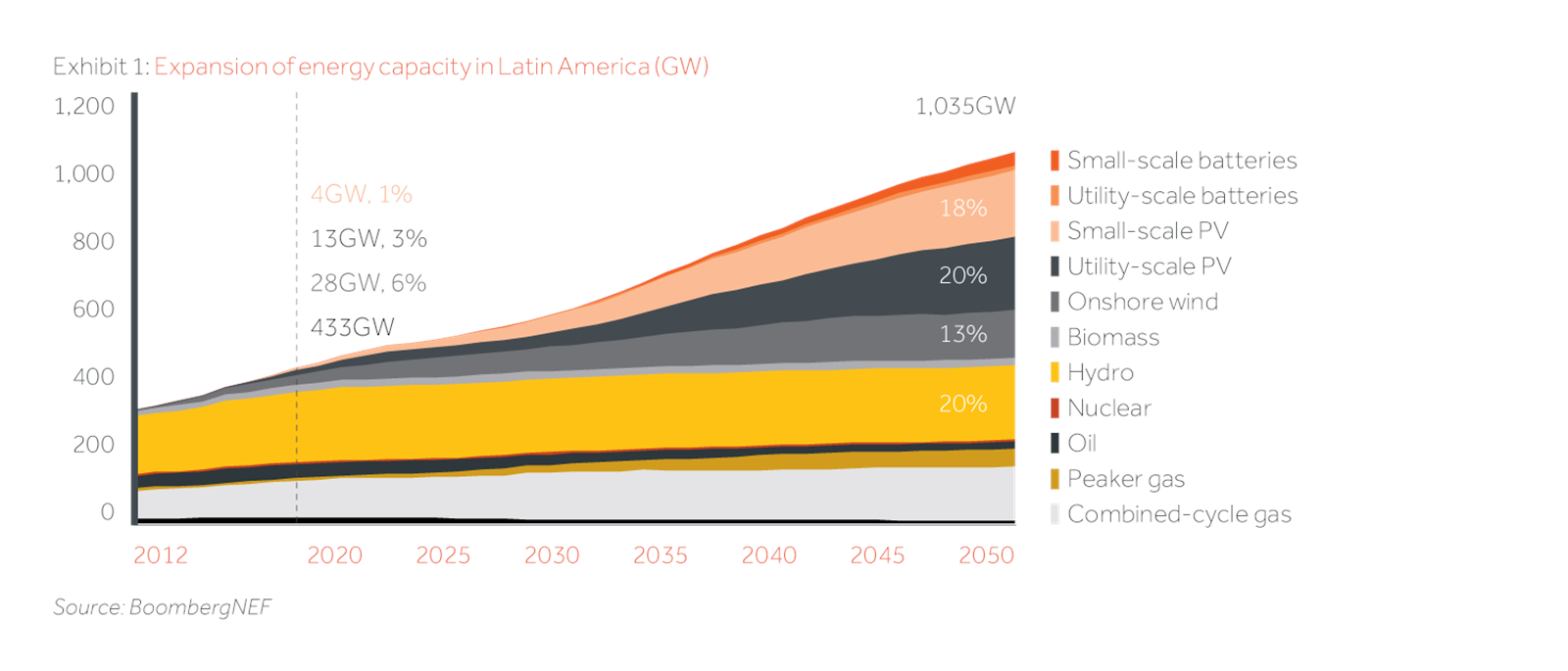 In Brazil, more than 75% of the country's installed capacity comes from renewable sources, which have also taken the lead in the country's energy expansion – 17 GW of wind generation were added to the grid in the past ten years, taking its overall share of the energy generation in Brazil from less than 1% in 2011 to 10% today.
However, the dominance of hydro in the power grid, nearly 60% of the energy output, has added hurdles to its continuing and sustainable expansion, as Brazil currently faces one of its worst hydrology crises – reservoirs are at circa 35% of capacity, just 2 percentage points above the level in 2001, when the country last implemented electricity rationing.
The current crisis has put Brazil's energy system at risk, leading to soaring energy prices and demonstrating that hydro reservoirs can no longer provide reliable baseload energy capacity to support the growth of wind and solar sources.
Following the electricity rationing in 2001, the Brazilian government designed the Priority Thermoelectric Program to spur investments in thermal power plants, which resulted in 9.1 GW of gas-fired installed capacity.
Such additions, however, are no longer enough to stabilize the system. With Brazil's power demand expected to double over the next 20 years, a mix of gas-fired and renewable power generation emerges once again as the ideal solution for Brazil, as it supports a decrease of carbon emissions and ensures that supply is reliable even when renewable energy generation is low.
Natural gas is increasingly viewed as a fuel with a dual role in Latin America's energy transition; first displacing crude oil for power generation, and second providing baseload power to complement renewables growth. To ensure gas continuing feasibility as a transition fuel, it is going to be critical to redesign its processes and promote initiatives that proactively decarbonise its value chain.
Using renewable energy to power gas production, installing methane leak detection technologies, and deploying CCUS (Carbon Capture, Utilisation, and Storage) or DAC (direct air capture) technologies are potential avenues to achieve this goal.
In Mexico, natural gas plants currently comprise over half of the country's generation capacity, due to abundant US shale gas imports that reduce the marginal cost of running existing gas plants. The increasing penetration of renewables, which currently account for a third of the generation, can be easily supported by the flexible nature of the existing natural gas generation at least for the next decade, before batteries become a cost-competitive alternative.
While Brazil and Mexico have big differences in their power grids today, the future composition of these markets tends to become more similar over time (Exhibit 2), as the region continues to balance further penetration of wind and solar sources with reliable gas-fired generation in the next decades.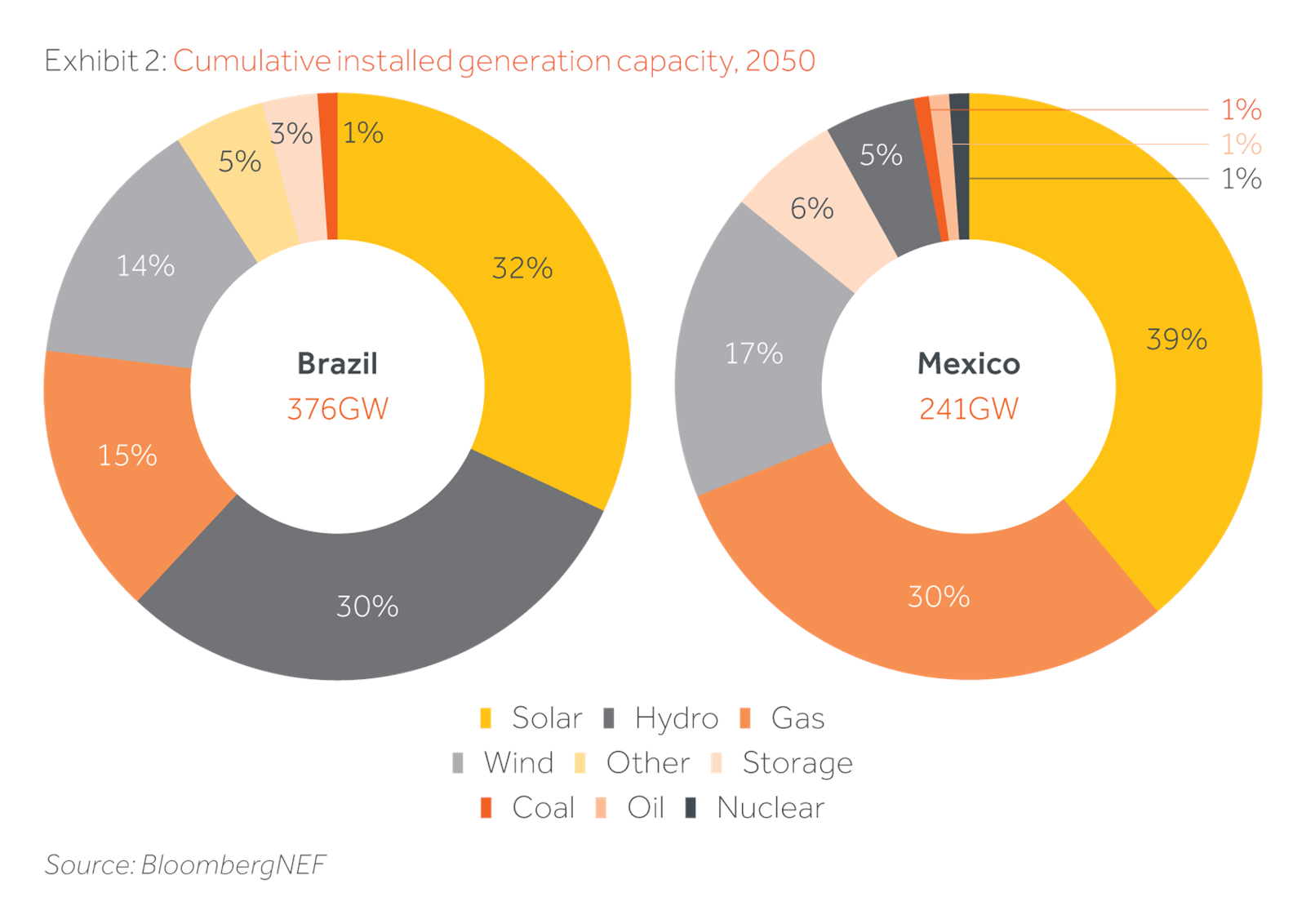 Within this context, considerable investments are needed to fund the energy transition in Latin America (Exhibit 3). After solar and wind, natural gas is the third energy source with the most investments needed in the next 30 years, with a total of US$100 billion expected to be invested in new gas plants, according to BloombergNEF.
In Brazil, more than 20 GW of new gas capacity is expected to be contracted through energy auctions in the next ten years – and due to the recent crisis triggered by the low hydro reservoir levels, the government has accelerated its plans to contract circa 3GW in 2021 alone.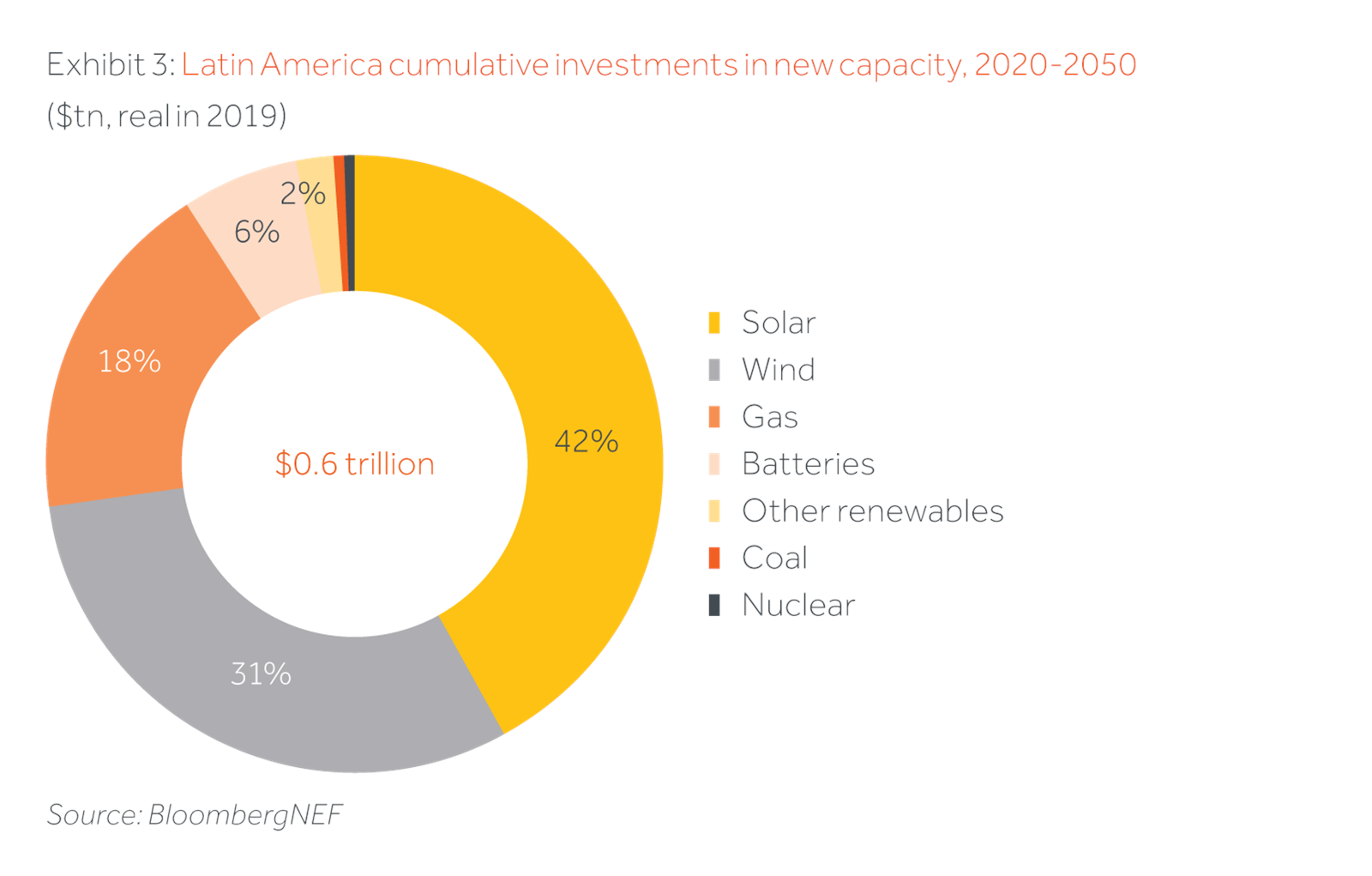 As energy demand doubles in the next few decades, wind, solar and gas will continue to play a significant role in the Latin American energy transition. In this scenario, it is clear there is an investment opportunity to implement our repeatable strategy of building leading renewables and gas power generation businesses in our core markets.
Throughout this process, as the world transitions to net zero 2050 over the following decades, we will remain focused on further incorporating decarbonisation initiatives to the gas investment thesis, facilitating the reduction of emissions through the several stages of the gas production and energy generation processes.