The Indian real estate sector has undergone a major transformation towards institutionalisation over the last decade. As a result, transaction activity has multiplied, adding exit depth for investors and reducing exit risk.
There is a growing recognition that India is set to overtake Germany and Japan and become the world's third largest economy, by 2030. Supportive and progressive policies are also helping to put India in the spotlight for global institutional real estate capital. We can see this in the number of global investors actively investing in the sector in India.
60%
of the global vaccines India produced in India
40%
of all generics consumed in the USA supplied by India
25%
of all medicines consumed in the UK produced by India
So far, the majority of global institutional capital has been invested in a limited set of property types – mainly office, residential and retail where there is a longer-term sector track record. Yet, as these mainstream property types have become more mature, underwriting has become tougher and potential returns lower.
A compelling opportunity exists outside the mainstream in alternative real estate property types. Some of these property types offer a promising early mover opportunity, akin to investing in the Indian office sector in the early years of its evolution, which went on to see significant value creation and create many winners.
Lifesciences real estate stands out among these alternative property types.
The Indian Lifesciences sector is expected to grow at a CAGR of 13% to US$427 billion by 2030. The sector has a long track record and has global relevance (Exhibit 1) even though less well known. India accounts for 60% of global vaccines production, supplies nearly 40% of generic medicines consumed in the USA and around 25% of all medicines consumed in the UK. India has the largest number of FDA approved plants globally, outside the USA.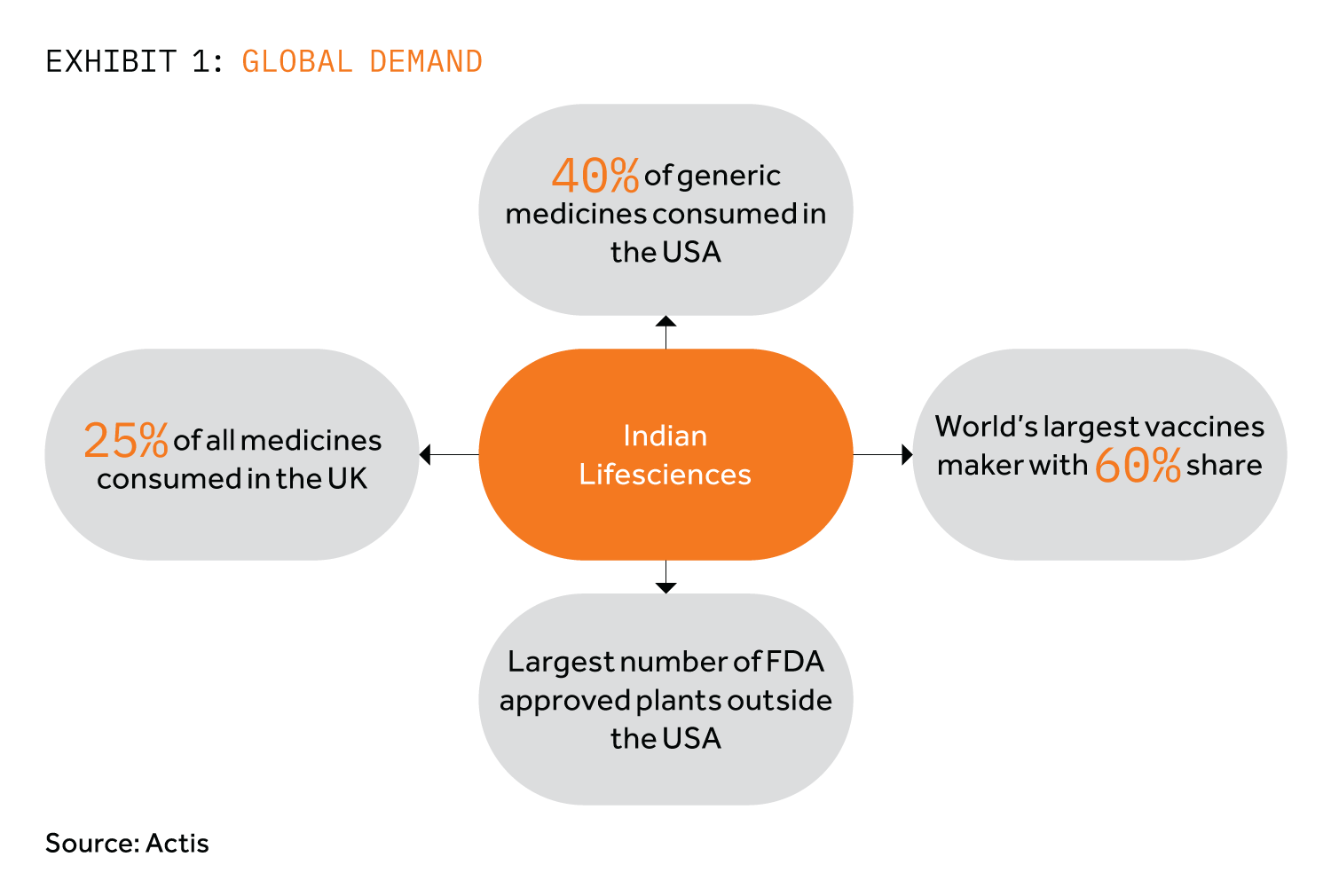 The sector is poised for growth acceleration (Exhibit 2). There are the local factors that will support this growth, for example, rising incomes, increasing insurance penetration/coverage, more focus on healthcare by the Government, and a new Government policy providing research linked incentives to the Lifesciences industry. Then, there are the global factors, including realignment of global supply chains in which India is a major beneficiary, an ongoing patent cliff that will unlock a market worth up to US$250 billion globally.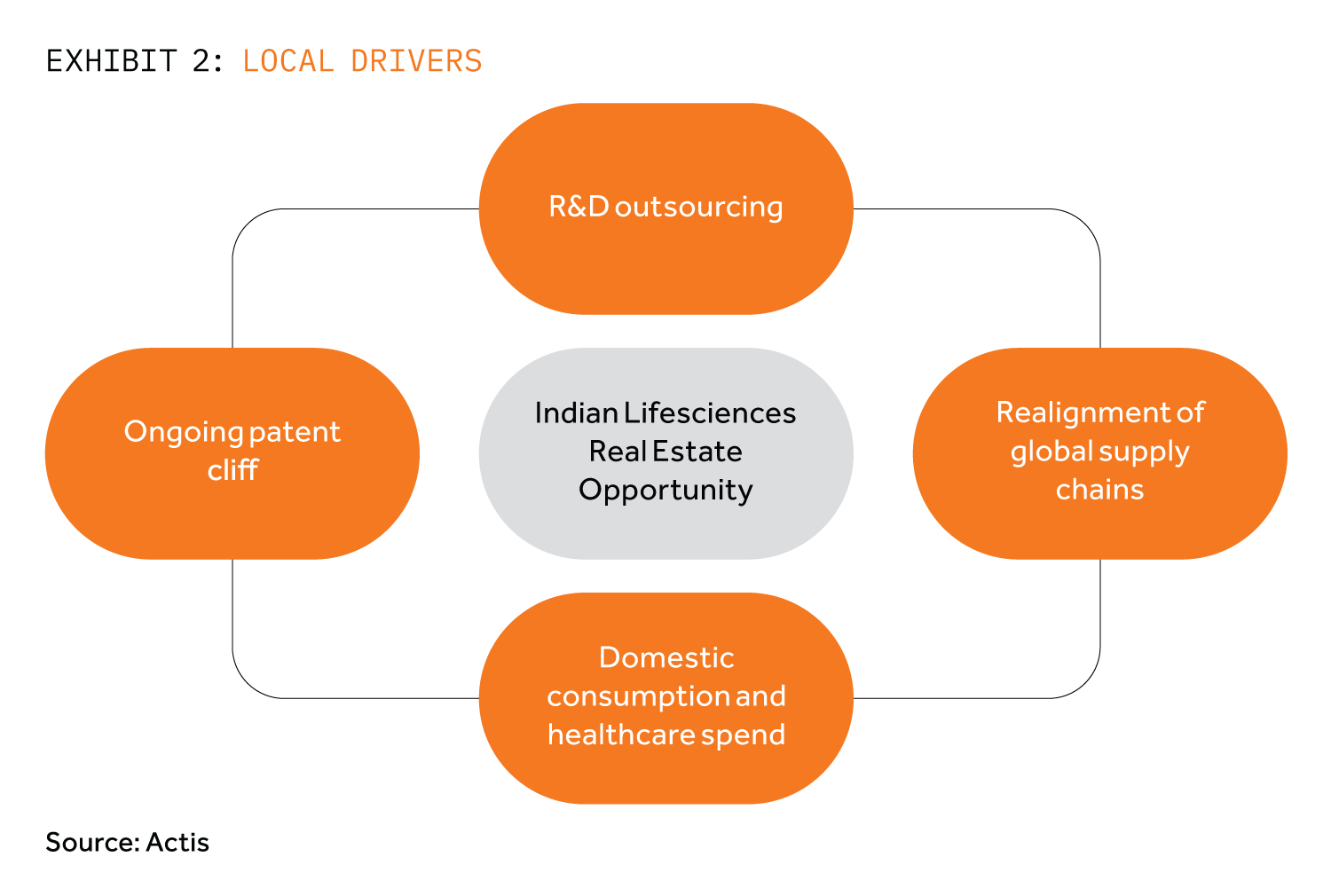 Last but not the least, India has one of the largest talent pools of chemistry, biology and biotechnology graduates available at very competitive cost. Research & development in India costs around one- third of that of USA and Europe, giving rise to a huge and growing potential for R&D outsourcing.
India's Lifesciences sector is poised for a decade of rapid growth, on the back of a rare confluence of these factors. Yet, no mainstream real estate developer is in the business of providing real estate solutions to Lifesciences tenants in India. Lifesciences corporations in India have largely had to self-build. In the process, they are forced to divert capital from their core business of Lifesciences into real estate development and management. Often, Lifesciences corporations are forced to operate from inappropriately- zoned buildings, or from facilities that lack the right support infrastructure and services to support their R&D or specialised manufacturing practice. Providing appropriate real estate solutions will clearly accelerate sector growth.
A total absence of mainstream developers in the sector means there is an opportunity to create a market leading builder- operator-owner of such real estate in India.
Lifesciences real estate was among the most resilient globally during COVID-19, and leases tend to be typically stickier in this sector in India, as tenants make meaningfully larger investment in their equipment and fit-outs compared to the building owners, and a heavily licensed regime discourages tenants from relocating.
Sector expertise is key to capturing the opportunity. Tenant requirements are unlike those in office, warehousing or industrial sectors, in both base building and services. It is both an art and a science to know the right balance between standardisation and customisation, the former being important in compressing go-live lead-times, and the latter being important to solve the clients' requirements.
Actis is building a market-leading builder-operator-owner of Lifesciences real estate in India, under the brand Rx Propellant. Team Rx Propellant has the unique distinction of being the only team
with credible experience and track record in designing, creating and operating Lifesciences real estate in India. With real estate solution offerings in Mumbai, Hyderabad and Bangalore, Rx Propellant covers all the important Lifesciences clusters in India.