The Korean government has long been committed to reducing greenhouse gas emissions across the country's industries. However, making deep reductions has proved challenging in the past: the economy is built around manufacturing-based exports which account for a significant share of the country's emissions. That means Korea still relies heavily on fossil fuel, most notably Liquified Natural Gas (LNG) and coal, as sources of power. Nuclear too makes up a significant portion of the power supply; indeed, nuclear looks set to increase in prominence over the next few years (Exhibit 1).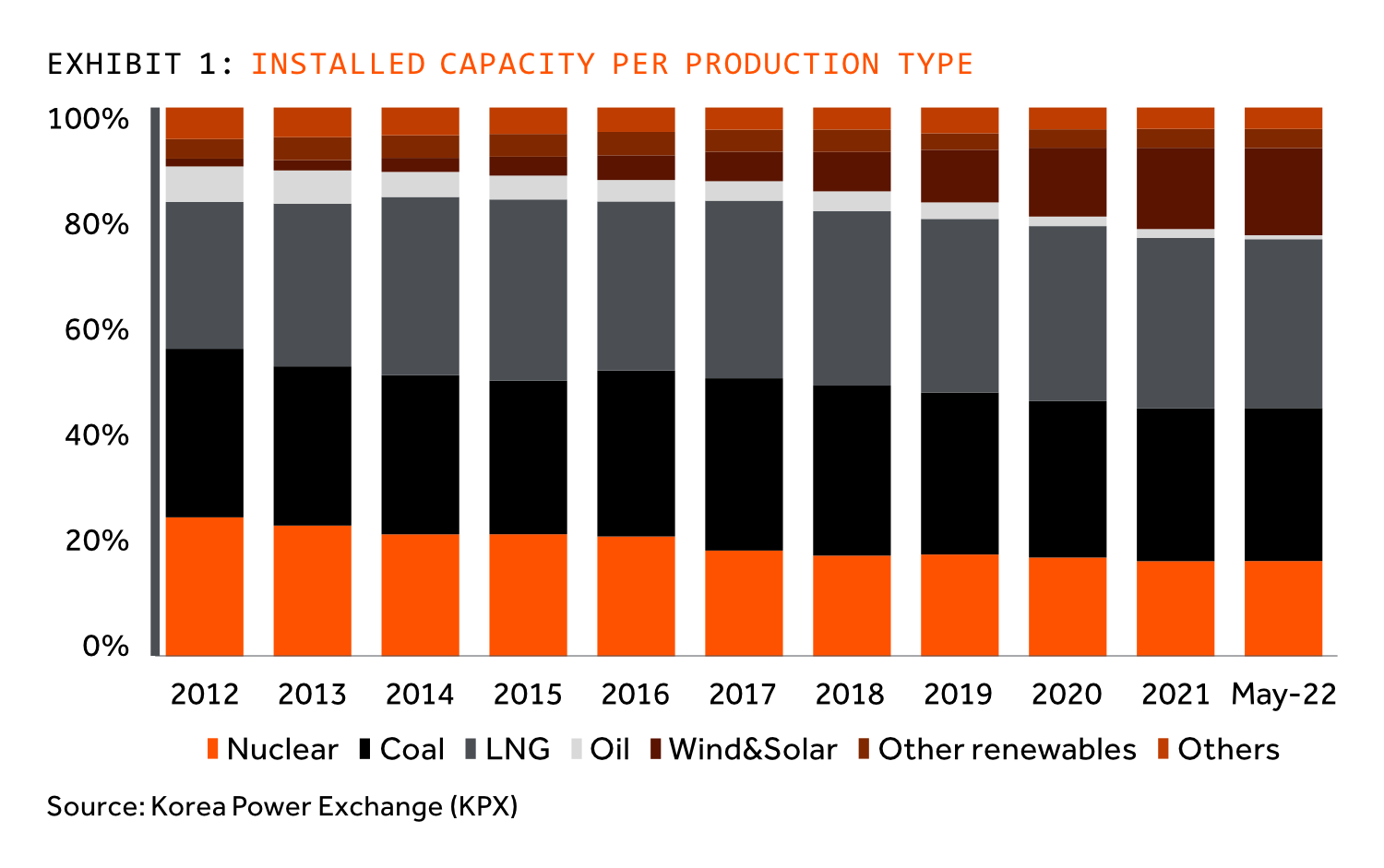 RENEWABLES HAVE YET TO BECOME COST EFFECTIVE
Renewable energy sources which include not just solar and wind, but hydrogen, biomass and others too, now make up around 16% of total capacity but account for just 5.6% of generation (Exhibit 2). The country faces the same challenges when it comes to the sector as others: addressing renewables' intermittent nature, the need to invest in better battery storage, and reshaping existing – or establishing new – grid systems to support the different power infrastructure that renewables require. Meanwhile the recent sharp increase in raw material prices – including for some that are vital for electric vehicle batteries – is an added concern. Until many of these issues are resolved, the country is likely to continue to rely on LNG and nuclear fuels to meet its needs.
These have become important over the years not least because of Seoul's relationship with Pyongyang. Since Korea is not able to pipe its gas across a land border, its energy strategy has developed over the decades to rely on imported fuels such as LNG. The turbulent relationship with the North therefore has a limited impact on the country's energy strategy.
Exhibit 2:
Power Generation per Production Type (YTD May 2022)
Source: Korea Electric Power Corp (KEPCO)
In spite of the energy challenges Korea faces, the recently elected conservative People Power Party administration led by President Yoon Suk-yeol seems determined not to go back to traditional energy sources like coal. But while it is continuing to foster the growth of the renewables sector, it also recognizes that the country cannot transition into clean power in the short term: it needs to have an energy bridge that can meet the country's growing energy demand while giving time for renewables to catch up. That means bolstering the role of nuclear in the energy mix, which had been de-emphasized by the previous administration.
Its recently-announced new energy policy highlights the challenges the country faces, as well as the steps it plans to take to overcome them.
"Nurturing both nuclear and renewables will be vital if Korea is to overcome its energy challenges, while meeting its own climate goals."
To that end, it called for a strengthening of the nuclear economic ecosystem, creating and growing a new energy market, and transitioning towards a green economy by establishing scientific initiatives in order to achieve carbon neutrality. It aims to boost the share of nuclear in the country's power mix to 30% by 2030, from 27.1% last year, while lowering the country's dependence on fossil fuel imports to under 70% by 2030, compared with more than 80% in 2021. When it comes to renewables, the country wants to establish a new distribution plan based on a more sustainable energy mix, strengthen next generation renewable technology, and improve the competitiveness of core turbine parts that rely heavily on imports. It also aims to provide incentives for low carbon solar production and encourage the commercialisation of building-integrated photovoltaics.
While growing back the reliance on the nuclear, importance of the renewables, especially wind and solar will continue to grow driven by the nationwide commitment to GHG reduction and the prolonged development process (from permitting to commissioning) for nuclear power plants (Exhibits 3 and 4). The new regime has kept the Nationally Determined Contributions (NDC) target by 2030 unchanged. The NDC target was set in 2015 and later was tightened in December 2021 meaning that growing reliance on the renewables is essential to achieve the target, especially given that the development of nuclear power plants as well as extension of the operating life still take a significant amount of time.
Exhibit 3:
Construction Schedule of Nuclear Power Plants
Source: World Nuclear News and the IAEA Power Reactor Information System (PRIS)
Exhibit 4:
Solar and Wind Generation Capacity (Annnual Growth)
Source: Korea Energy Agency
Korea's powerful manufacturing sector has given its backing to these plans
Korea's powerful manufacturing sector has given its backing to these plans. The country's major corporates have continued to pledge the importance of renewable energy generation in their own power mix (Exhibit 5). Yet there is still some way to go to achieve the country's goals. The share of power generated by renewables is still far too low within the manufacturing sector. That puts added pressure on President Yoon's new administration to ensure the country sticks to the path it has set out. The country faces a set of challenges it has not faced for decades. Nurturing both nuclear and renewables will be vital if Korea is to overcome its energy challenges, while meeting its own climate goals.
Julian Kim is a member of Actis' Asia Real Estate team focusing on investment origination and divestment in Korea.