Sustainable energy is at the heart of the global strategy to tackle the climate emergency. The transition from burning fossil fuels to a cleaner, sustainable energy mix with more renewable energy generation complimented by battery storage will, over time, decarbonise the power sector.
However, while renewable energy is rightly recognised as the 'poster child' of the transition to a climate-resilient, low-carbon economy, the industry must address social challenges to ensure a Just Transition. In this article, we explore some of the issues associated with the supply of critical metals to support the global renewable energy transition and how Actis is managing this risk.
Wind turbines, solar power plants, and battery storage technologies (henceforth collectively referred to as energy transition technologies) rely on minor critical and rare earth metals including lithium, copper, uranium, silver, tellurium, platinum-group metals and rare earth elements such as dysprosium, neodymium, lanthanum, praseodymium, europium, and cerium.
While this list not only poses a challenge worthy of the most advanced spelling bee, each of these metals is critically important for improving operational performance and reducing levelized cost of energy transition technologies.
For example neodymium and dysprosium in wind turbines make generators more efficient, because no electricity is required to induce a magnetic field and improve grid compatibility, and the use of cobalt in batteries is vital to ensure they won't overheat or catch fire.
Exhibit 1 demonstrates the various critical and rare metals used in the manufacture of wind turbines, PV solar and batteries.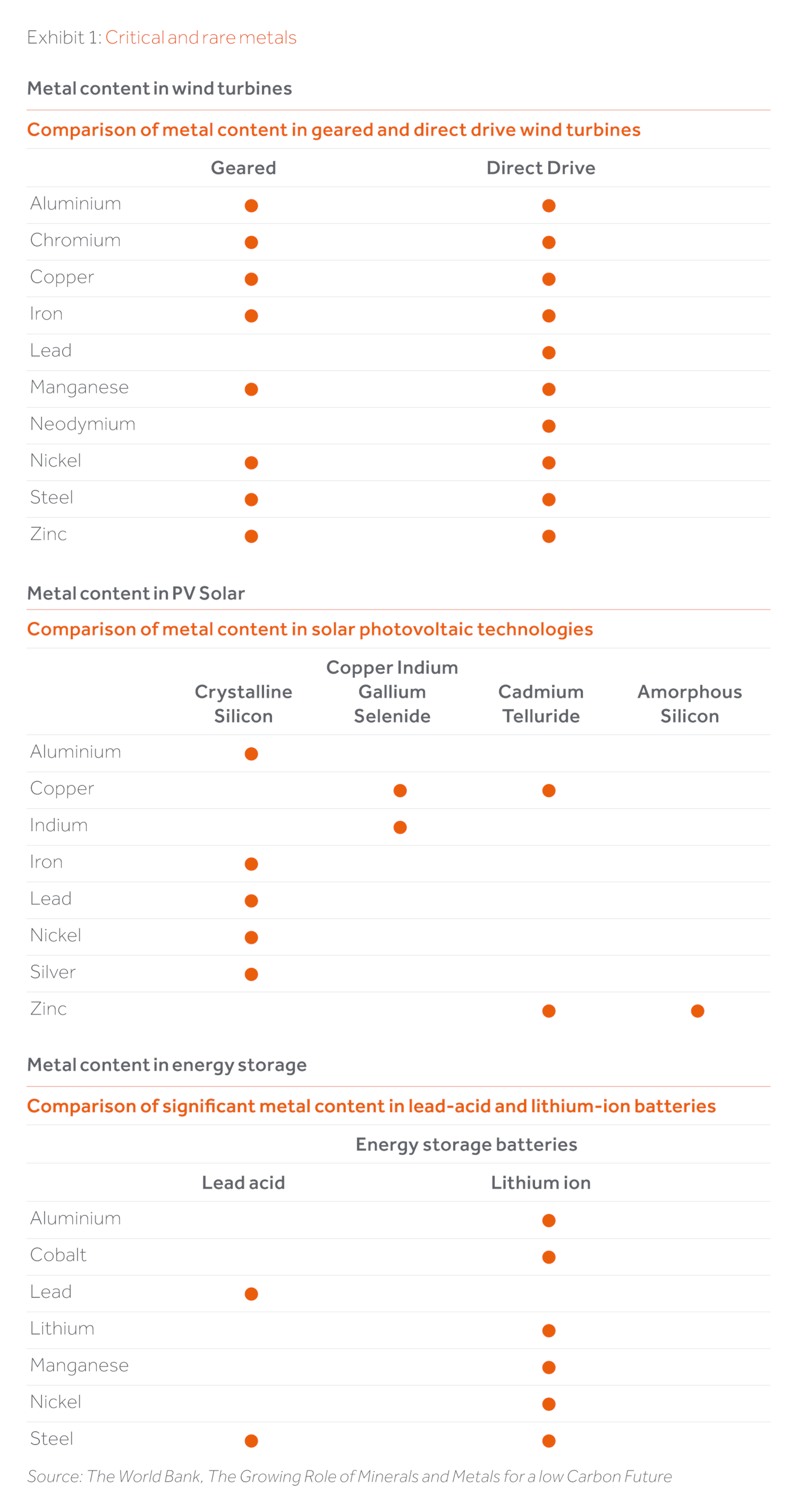 So, what are the concerns about critical metals?
Renewable power plants need up to 40% more critical metals per unit of power produced, depending on technology, than conventional fossil fuel power systems. Supply chain risk and social impact of critical metals play a central role in assessing the attractiveness of renewable energy.
The supply chain of critical metals has several key uncertainties related to the reserves, availability, application and recycling, making it very complex to predict.
Reserves are highly concentrated by geography, scaling of production of a new mine takes about 10 to 20 years, and mining relies significantly on the production of common metals, as it is usually not economically viable to produce critical metals on a standalone basis. For instance, tellurium is a by-product of the refining process of copper and indium, a by-product of zinc refining.
Critical metal mining is afflicted by human rights issues. Copper and cobalt deposits, abundant in southern DRC are mined by legitimate, internationally recognised mining companies, side-by-side with unregulated "artisanal" miners.
Children with little or no safety equipment are mining tens of metres below the ground, digging for cobalt and copper, and the material they produce, once sold to traders, is indistinguishable from legitimately mined minerals. This presents an acute challenge for turbine manufacturers, solar panel producers, battery assemblers and purchasers of their products…like Actis energy platforms.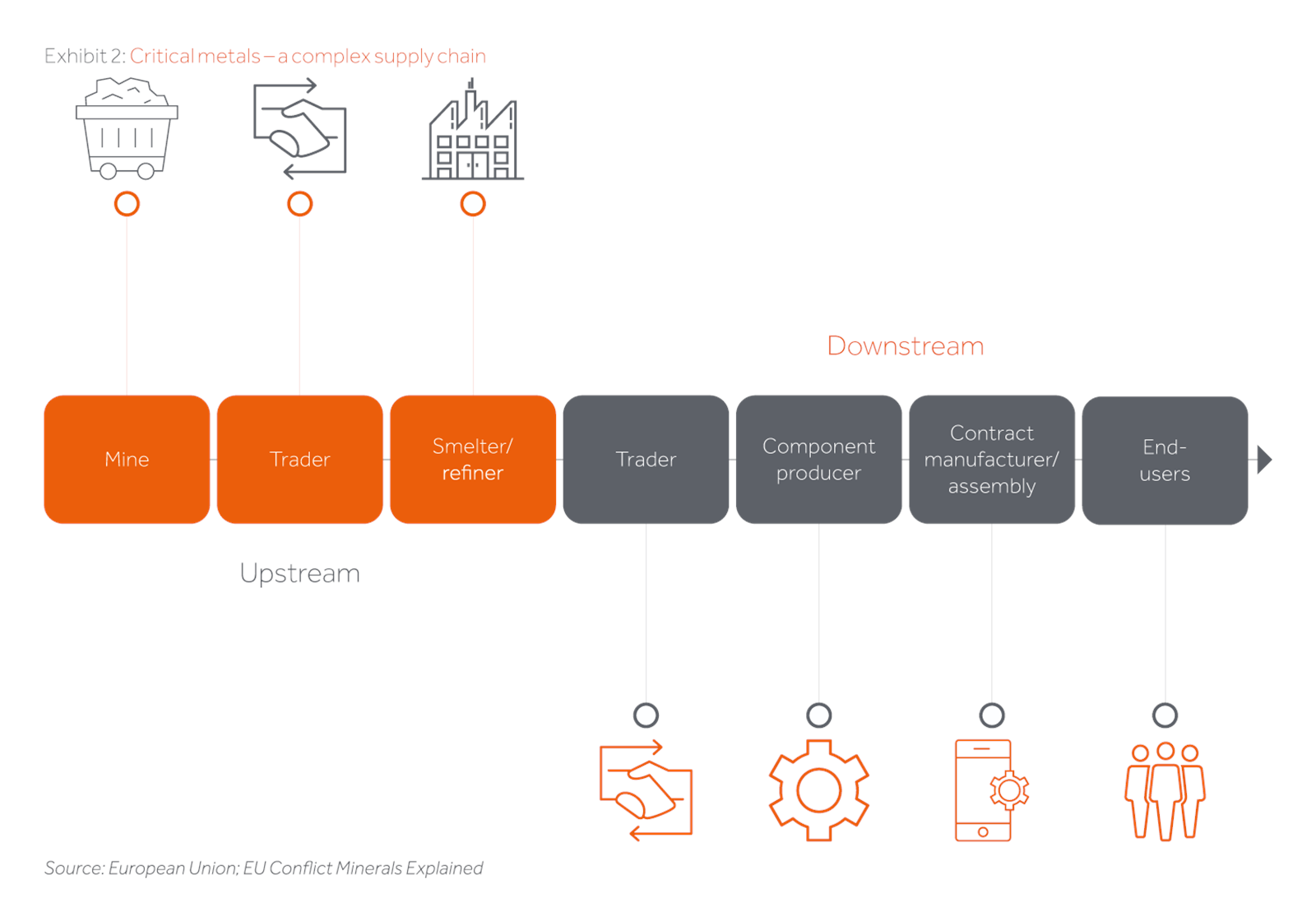 So, what is Actis doing with regards to the supply chain of suppliers?
Engagement with suppliers to understand the due diligence they are undertaking to ensure traceability of critical metals in their supply chain is key to managing the risk.
Actis' Responsible Investment team, together with the Energy Operations team, work with current and prospective suppliers across our Energy Infrastructure business to understand the policies and codes of conduct and the supply chain management process they have implemented.
We seek to understand how suppliers are risk rated, how resources are deployed to work with higher risk suppliers, what associations and certifications they are signed up to, and the type of audits and inspections that take place.
While undoubtedly difficult, auditing the supply chain down to the smelter level has become recognised as the minimum acceptable level of assurance, in an ideal world we should aim to trace critical metals to individual mines.

Actis' suppliers have dedicated teams working with organisations like the Responsible Minerals Initiative to make sourcing decisions that improve regulatory compliance and support responsible sourcing of minerals from conflict-affected and high-risk areas.
This is only the start of the challenge to ensure we can maximise the benefits of the low carbon transition while minimising the hardships of workers and communities – The Just Transition.